Wildfire in Kazakhstan Sparks Corruption Complaints
Clearing out entrenched corruption – abetted by an autocratic system in which the roads that are paved are those the president walks on – is a monumental task.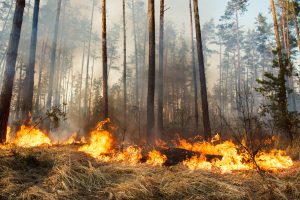 In a June 11 meeting with residents of Kazakhstan's Abay region, affected in the past week by devastating wildfires that have claimed at least 15 lives and scorched 60,000 hectares, President Kassym-Jomart Tokayev heard from one woman who complained about a lack of paved roads in the region, hampering firefighting efforts.
"The officials told us: 'There are no funds to build the road.' But when you were coming, they repaired everything."
Staring blankly as she spoke, Tokayev in a video posted to the presidency's social media accounts, nodded and replied: "It's impossible, by the time I arrived, the roads suddenly began to be patched up. Complete disgrace. I read about it, I know. They will be punished."
A day earlier, Tokayev fired Emergency Situations Minister Yury Ilyin. 
At least 15 people, mostly emergency workers, have died fighting the fires, which began in the Semei Ormany nature reserve. Authorities say the cause may have been a lightning strike.
RFE/RL's Kazakh Service reported comments by Tatyana Budyuk, the wife of Alexei Gubaev, one of the men who died fighting the fires, in which she questioned why he was out there, heading to fight the fire in his private car. "Why is it that there are never any spare parts available for the vehicles in the forestry department? It seems like all the vehicles are constantly broken down, and they have nothing to fix them with," she said.
The centering of the narrative that corruption is at the heart of many tragedies in Kazakhstan in official state materials is an astute piece of political maneuvering. It taps into a legitimate public gripe rooted in inequalities between rural and urban centers in the country that are obvious to citizens. It also feeds on widespread perceptions of corruption in government and Tokayev's desire to be cast as an anti-corruption crusader.
Tokayev, who has proposed his regime as a "Listening State," made sure he's been seen listening. The Kazakh president canceled a scheduled state visit to Vietnam, headed to the affected region, and declared June 12 a day of mourning.
The unfortunate reality is that natural disasters happen, and climate change all but assures such disasters will happen more often. This makes it even more critical that the structures intended to confront such disasters are not hollowed out by corruption. But clearing out entrenched corruption — abetted by an autocratic system in which the roads that are paved are those the president walks on — is a monumental task. It goes to the heart of politics in Kazakhstan, which have long been dominated by singular powerful figures.
A functioning government in a country as large, geographically, as Kazakhstan necessitates competent officials far from the capital. The president cannot be everywhere all the time. But competent officials could become political threats, and so an autocratic system does not empower distant officials to take action; it pressures them to make the leader happy.
Another fire is worth remembering: The February 2019 fire in Astana, which killed five children home on a frigid night seeking warmth from a stove. Paul Stronski, a senior fellow in the Russia and Eurasia Program at the Carnegie Endowment for International Peace, reflected in an article for Eurasianet at the time that the fire "epitomize[d] many of the country's social problems, as well as the widening gap between the government and the governed."
"Citizens now often blame the country's pervasive culture of corruption and wasteful spending for such horrific deaths. This anger about lax oversight – of the country's financial resources, of its rapid urbanization, and of its poor – exposes a lack of public confidence in state structures."
A month later, President Nursultan Nazarbayev resigned and the Tokayev era began. Four years later, there remains a lack of public confidence in state structures.