After Years of Promises, Will Thaksin Finally Return to Thailand?
There are several reasons to think that the fugitive former PM might actually be becoming home.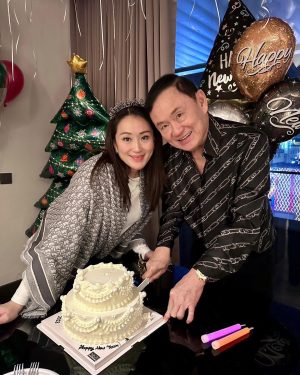 On Wednesday, Paetongtarn Shinawatra, the daughter of Thailand's former Prime Minister Thaksin Shinawatra, announced on Facebook that her father plans to return home on August 10, after 15 years in self-imposed exile.
"I can't believe what I am about to write. Dad is coming back on Aug 10 at Don Meung airport," Paetongtarn wrote. "My heart and everyone in our family feel overwhelmed, happy and worried, but we respect Dad's decision."
The announcement came amid a prolonged political deadlock in Thailand following a general election in May. The election was won by the progressive Move Forward Party (MFP), but the party has been blocked from taking office due to conservative opposition in Parliament, which votes to select the country's next prime minister.
Thaksin, who was elected twice by considerable margins, was ousted in a military coup in 2006 and left Thailand for good in 2008 to avoid facing prison on corruption charges that he claims were politically confected. Since then, he has made numerous promises to return without them ever eventuating, including just prior to the May 14 election.
However, there are reasons to think that Thaksin's return might actually eventuate this time. On August 4, Parliament is set to convene to make a third attempt to select the country's next prime minister, and there is a high likelihood that the successful candidate will hail from Thaksin's own Pheu Thai Party (PTP).
For many years the bete-noire of Thailand's conservative elites, Pheu Thai now seems very much the lesser of two evils, following the emergence of the Move Forward Party (MFP). At May's election, the MFP won a stunning victory, winning 151 seats of the 500 seats in the House of Representatives, on a radical platform that included pledges to reform the military, abolish conscription, and break up the country's powerful business monopolies. Most explosively, from the standpoint of conservatives, is the MFP's pledge to amend the lese-majeste law, which criminalizes criticisms of the monarchy and the royal family, an institution that sacralizes Thailand's heavy concentrations of wealth and privilege.
For this reason, conservatives, including the 250 military-appointed senators, have closed ranks to prevent the MFP's leader Pita Limjaroenrat from forming a government. this has not translated into power. On July 13, senators joined with conservative House members to block his nomination for prime minister. On July 19, these forces prevented him even from renominating himself for a second vote.
The MFP has now agreed to allow Pheu Thai to nominate a prime ministerial candidate, and support the formation of a government under its leadership. The likely candidate is Srettha Thavisin, a real estate mogul who is viewed as relatively palatable to Thai conservatives. Of course, in exchange for their support, more conservative parties and military-aligned senators have demanded that Pheu Thai dump the MFP from its coalition, threatening to cast the largest House party into opposition – and the country into another round of street protests.
But all of this raises the possibility that a Pheu Thai-led government will have been formed, and will be waiting to be sworn in, at the time of Thaksin's planned return, potentially with conservative support. Whatever the situation in the streets, this would produce perhaps the most amenable conditions for Thaksin's rehabilitation. Sure enough, caretaker Deputy Prime Minister Wissanu Krea-ngam stated this week that should Thaksin return, he will be transferred to court and then to prison upon his arrival. But once in custody, he can then request a royal pardon – one that would likely be granted after a decent period of incarceration in presumably accommodating environs, given his age and wealth.
I've written before about the strange realignment that has taken place in Thai politics since the emergence of a more radical – and as the election proved, popular – alternative to Pheu Thai. Indeed, the mere fact that Thaksin's rehabilitation is now palatable to the Thai conservative establishment indicates how threatened the latter is by the rise of the MFP.
There is a lot that is unclear about how this realignment will play out: whether Pheu Thai will enter into a coalition with establishment parties, how this might impact its support, and how the MFP's legions of youthful supporters might react if the party is shunted back into opposition. However, it is clear that whatever happens will mark not a resolution of Thailand's cyclical political crisis, but simply some rearrangements within the main camps.