An Open Letter to Joe Biden From a Southeast Asian
Contrary to the ongoing strategic tensions, most people in the region welcome good relations with and between the United States and China.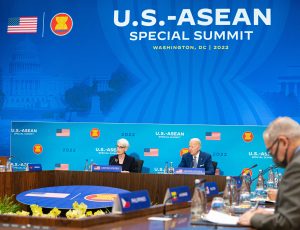 Dear President Biden,
I am Edmund, a citizen of Singapore, a country in Southeast Asia. I fondly recall your visit to my nation in 2013. As vice president in the Obama administration, you strengthened the U.S.' good relations with Singapore and Asia. During your trip to Singapore, you also visited one of my favorite food centers at Adam Road. My students and I had the pleasure and privilege of welcoming Dr. Jill Biden to the National Library, too.
We are delighted that you are the president of the United States of America. You have our support and best wishes. On April 25, 2019, when you announced your bid for the presidency, you said, "America is unique in all the world. America, folks, is an idea, an idea stronger than an army, bigger than any ocean. More powerful than any dictator or tyrant. It offers hope to the tired, the poor, your huddled masses, yearning to be free."
In Southeast Asia and other parts of the world, we share the hope for peace, progress, and prosperity. As the leader of the global power, you are a vital channel of peace and well-being. I thank you and your administration for the ongoing efforts. We wish you success.
We are glad that Secretary of State Antony Blinken recently managed to have constructive dialogues with President Xi Jinping and other leaders in China. Both countries would like to stabilize relations. As you said about the visit and the U.S.-China relations, "We are on the right path here."
We have a common saying, "Actions speak louder than words." President Xi warmly greeted Blinken and shook hands with him, at the Great Hall of the People in Beijing, an important venue usually reserved for welcoming heads of state. As President Xi acknowledged,
"The two sides have made progress and reached agreement on some specific issues. This is very good."
One key action that the United States can take to further improve relations and resume military-to-military dialogue is the lifting of sanctions on China's defense minister, Gen. Li Shangfu. He was sanctioned in 2018, after the purchase of combat equipment and aircraft from Rosoboronexport, Russia's major arms exporter. The lifting of these sanctions would be a significant gesture of goodwill and could help enhance relations and dialogues between the United States and China.
President Biden, I believe that you share President Xi's hopes for peace and his view that the common interests of both countries should be valued and the respective success of each country should be regarded as an opportunity, instead of a threat to each other. Indeed, the international community does not want to see confrontation or conflict between the United States and China or have to choose sides between the two.
Singapore and various countries in Southeast Asia welcome good relations with and between the United States and China. We have a shared commitment to a stable, rules-based global order. The Association of Southeast Asian Nations (ASEAN) and the United States are also committed to freedom of navigation and unimpeded flow of maritime commerce in the South China Sea.
The U.S. has played a leading and constructive role in the Asia-Pacific for more than half a century. Let there not be an arms race in our region, leading to conflicts and war. We hope for ongoing peace between China and Taiwan.
In a recent survey conducted by Adam Liu from the Lee Kuan Yew School of Public Policy at the National University of Singapore and Xiaojun Li from New York University Shanghai, and involving more than 2,000 respondents in China, only 1 percent wanted a military assault on Taiwan, before the island's presidential election in January 2024. One third said that war would not be acceptable.
This survey research data does not support the idea that the public demand in China for a swift mounting of a full assault on Taiwan has spiked sharply since Tsai Ing-wen became the leader of Taiwan in 2016. Though President Xi does not rule out the use of force, he articulated at the congress last November that China would "continue to strive for peaceful reunification with the greatest sincerity and utmost effort."
We hope that the U.S. will continue to uphold the "One China" position that has been maintained since the 1970s, when the United States recognized the People's Republic of China as the sole legal government of China and acknowledged the Chinese position that Taiwan is part of China. In the Shanghai Communique of 1972, the U.S. also declared that it "reaffirms its interest in a peaceful settlement of the Taiwan question by the Chinese themselves."
By maintaining the official American policy of "One China" and contributing to the current status quo of peaceful co-existence, there is a higher likelihood of peace in the region. This peace is essential for progress and prosperity in our world.
President Biden, it has been eight years since you welcomed President Xi to the White House in April 2015. Both the United States and China are cherished friends of Singapore and Southeast Asian countries. We look forward to another successful meeting between you and President Xi, leading to cordial relations and collaboration between both countries, as well as greater stability and harmony in our world.
China, the U.S., and our world are affected by climate change. This June, the temperature in Beijing breached 40 degrees for the first time in nine years. Climate change mitigation and adaptation can be a major area of cooperation led by both countries, contributing to a better world and a brighter future. China is also willing to work towards a peaceful resolution between Ukraine and Russia. We share the hope that more good can be achieved in the journey ahead.
We warmly welcome Dr. Jill Biden and you, as well as President Xi and his spouse, to visit Singapore. Heartfelt appreciation to you for your caring and dedicated contributions over the decades to the progress in the U.S. and region.