Has Vietnam Changed Its Tune on a Diplomatic Upgrade With the US?
Comments by U.S. President Joe Biden last week seem to suggest so, but there is reason to remain skeptical pending further confirmations.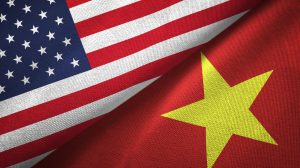 On Friday, U.S. President Joe Biden made a comment hinting that Vietnam may soon agree to upgrade relations with the United States to a "strategic" level.
Speaking to donors to his 2024 re-election campaign at an event in Freeport, Maine, Biden said that Vietnam's leader – presumably Prime Minister Pham Minh Chinh – wants to meet him for talks at the G-20 summit in New Delhi in September to discuss elevating U.S.-Vietnam relations.
"I got a call from the head of Vietnam, desperately wants to meet with me when I go to the G-20," Biden said, according to a Reuters report. "He wants to elevate us to a major partner, along with Russia and China."
For some time, the U.S. has been pushing to elevate its ties with Vietnam to a "strategic" partnership this year, which marks the tenth anniversary of the establishment of the current "comprehensive" partnership. Defense Secretary Lloyd Austin and Vice President Kamala Harris have both recently expressed their desire for an upgrade, and Secretary of State Antony Blinken, during his visit to Vietnam in April, said that an elevation of formal ties could occur "in the weeks and months ahead."
The U.S. president's comment hints that the pessimism about the possibility of an upgrade to the "strategic" level may be misplaced.
Most observers of Vietnamese foreign relations believe that Hanoi is less keen on an upgrade than Washington, partly because of its concerns about the likely reaction from China and partly because it already enjoys a "strategic" partnership in everything but name. Some have also argued that Vietnam's leadership remains concerned about the potential "internal interference" by the U.S. government, despite U.S. officials on several occasions pledging that Washington respects Vietnam's political system.
Indeed, despite a rapid strategic convergence between the two former wartime foes, particularly since the last upgrade in relations in 2013, things have entered a period of relative stagnation as of late. As Bich Tran wrote for the Washington, D.C.-based Center for Strategic and International Studies last year, "there are signs that Washington and Hanoi are losing momentum in bilateral security cooperation and passing opportunities to make necessary preparations for the upgrade to happen."
So is Vietnam about to abandon its supposed concerns and press ahead with an upgrade before the year is out? Given the vagueness of Biden's comments, it is hard to say. For instance, the U.S. president is wrong about Vietnam, whatever its views on a strategic partnership, wanting to elevate the U.S. to the same level as Russia and China. These nations both have "comprehensive strategic partnerships" with Vietnam, the highest designation in Hanoi's diplomatic taxonomy, reflecting the close historical and geographic proximity to Vietnam's ruling communist party, and there is no discussion (nor really any likelihood) of raising U.S. ties to this level. (Vietnam also enjoys comprehensive strategic partnerships with India and South Korea.)
It is also unclear from Biden's comments whether Vietnam's leader expressed an actual desire for an upgrade or was merely making diplomatic small talk. As always, time will tell – but any meeting between Chinh and Biden on the sidelines of September's G-20 meeting will bear close watching.