India-Pakistan Cricket Politics Heat up Ahead of 2023 ODI World Cup
India is hosting the event, but Pakistan is demanding that its games be played at a neutral site.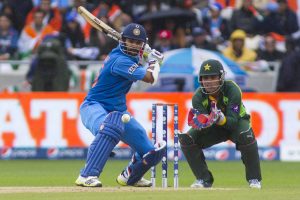 The cricketing world is buzzing with controversy as Pakistan has chosen to establish a government-level committee to look into its participation in the 2023 One Day International (ODI) World Cup, which will be held in India this October. Pakistan's action has worsened already poor relations between the two neighboring countries. The decision to consider skipping the coveted tournament arises from the existing political tensions and safety concerns regarding Pakistan's participation in India.
According to ESPN Cricinfo, Pakistan's Prime Minister Shehbaz Sharif has constituted a ministerial committee to determine if Pakistan will participate in the ODI World Cup, which will be held in India from October to November 2023. Foreign Minister Bilawal Bhutto Zardari will preside over the committee. The committee's major goal is to provide suggestions about Pakistan's travel intentions to India. The Prime Minister will make the final decision on Pakistan's participation in the tournament based on these suggestions.
Earlier this week, Pakistan's Cricket Board, the governing body of cricket in Pakistan, said that it would seek approval from the government to go to India for the tournament. The decision has elicited varied emotions from fans throughout the world, who are disappointed and frustrated by the politicization of cricket. The stakes are high, as Pakistan is currently ranked world number two in men's ODI cricket, with India at number three.
The drama began earlier this year when the Board of Control for Cricket in India (BCCI), demanded that the 2023 Asia Cup, which will take place in August-September, be held in a neutral location rather than Pakistan. Otherwise, India threatened a boycott. Jay Shah, secretary of the BCCI and head of the Asian Cricket Council, stated, "A neutral venue for the Asia Cup is not unprecedented, and we have decided that our team will not travel to Pakistan for the Asia Cup."
It was eventually agreed that the Asia Cup would follow a hybrid model, with Pakistan hosting four games and Sri Lanka hosting nine others – including any game involving India. That means Pakistan's own team will be forced to travel for the two games against India (and a possible third, should both teams make the final).
Now, Pakistan is demanding similar accommodations for the ODI World Cup, so that its team doesn't have to travel to India.
"If India is seeking a neutral venue and embraces the hybrid model [for the Asia Cup], then we'll use the identical hybrid model in the World Cup," PCB chairman Najam Sethi told The Indian Express back in May.
Sethi expanded on that in comments to Reuters: "So let Pakistan play its matches in Dhaka or Mirpur, or UAE or in Sri Lanka… This is the solution going forward, until such time that India agrees to play Pakistan, in Pakistan and outside Pakistan, bilaterally."
"India should not be facing a situation in which we end up boycotting the Asia Cup and also the World Cup, and then India ends up boycotting the Champions Trophy [which Pakistan will host in 2025]. That will be a huge mess," Sethi added.
He dismissed India's stated rationale of security concerns, pointing out that "[e]very major country has toured Pakistan in the last few years" and Indian teams from various other sports have as well. "Why can't the Indian cricket team come to Pakistan?"
This is not the first time politics has played a role in sports between India and Pakistan. The bitter rivals haven't played a bilateral cricket series since 2012. Their meetings have been restricted to multinational competitions like the Asia Cup and the World Cup, when they have little choice but to square off.
Pakistan's team hasn't played in India since 2016, when India hosted the T20 World Cup. And India's cricket team hasn't visited Pakistan since 2008, when Pakistan hosted the Asia Cup.
The cricket rivalry between India and Pakistan is one of the most heated in the world. Officially, the two sides have met 203 times, with Pakistan winning 88 times and India winning 72. The rivalry is frequently viewed as a metaphor for the two nations' wider political and military conflicts.
There were expectations that Pakistan's former administration – led by Imran Khan, himself a former cricket star – would re-establish cricket links with India, but tensions like the Kashmir conflict have made it impossible. A terrorist attack in Indian-controlled Kashmir killed 40 Indian soldiers in 2019. India suspected Pakistan of being behind the strike, and both countries were on the verge of war. Since then, there has been little advancement in normalizing ties between the two nations.
Senior International Cricket Council (ICC) officials visited Pakistan in May to ensure Pakistan's participation in this year's ODI Cricket World Cup in India, which had been jeopardized due to political issues. However, the PCB requested guarantees from the council. PCB has expressed its willingness to play in the Cricket World Cup only if India travels to Pakistan for the 2025 Champions Trophy. However, it was stated that the government would make the final decision on participation.
Expressing their sorrow at the circumstances, cricket gurus from around the world have also chimed in. Ricky Ponting, a former Australian captain and well-known commentator, voiced his dismay, stating that "cricket has long served as a medium for bridging gaps and fostering friendship between nations. It's terrible that politics has taken precedence over the sport we all enjoy."
The increase in nationalist feelings on both sides has made it harder for legislators to authorize bilateral cricket series between the two countries. Outside of big competitions, India and Pakistan are unlikely to play any bilateral matches in the current context.
India and Pakistan's choice to boycott each other's sporting events squanders an opportunity for peaceful exchange. Cricket is a great unifying factor that has the ability to help bridge the rift between India and Pakistan.
Cricket has previously been employed as a diplomatic instrument. In the aftermath of the Kargil War, for example, India and Pakistan played a cricket match in 1999. The game was viewed as a sign of peace between the two countries.
The cricket rivalry between India and Pakistan is more crucial than ever. Cricket can help bridge the gap between the two countries, perhaps leading them to cooperate on the pressing issues threatening both of them, including terrorism, poverty, and climate change.