Is Vietnam's Economic Blip a Blessing in Disguise?
The current stagnation could shock the ruling Communist Party into putting economic policy back into sensible hands.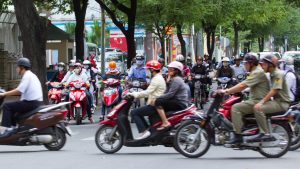 Pick up an article about Vietnam's anti-corruption campaign and chances are it will be described as a "blazing furnace." That's a confection of its architect, Communist Party chief Nguyen Phu Trong. But give ear to something else he said recently, that one has to be careful "to kill the mouse but not to break the vase." The former conjures the revolutionary zeal to the anti-corruption campaign that began in 2016, its actual desire to remake communist cadres in the blinding heat of righteousness and piety. The latter, though, conveys its deep conservatism, the unwillingness to remake the vestibule in which corruption has bred. Yet, seven years on, the furnace is at risk of overheating and the vase is now shaking.
The Communist Party of Vietnam (CPV) looks to be increasingly unsure of itself, perhaps because the ideologues who have colonized the committees, led by Trong, cannot find successors, and so are paranoid about what comes after. Après nous, le déluge. But the hubris of early 2023, when the CPV could compel the "resignation" of leading officials, including a state president, has turned to doubt.
After dismissing those Politburo members earlier this year, the decision was made not to replace them with new members in the elite decision-making body, which now has its smallest number of delegates since 1986. That may give Trong, the three-term party chief, even more power to handpick his successor. (Surely, someone else must take over in 2026!) But it's more probably a sign of insurmountable differences between the various tendencies within the CPV over the next guard who will take over in three years – a "possible stalemate among different party factions," as Zachery Abuza recently put it. Granted, Prime Minister Pham Minh Chinh and other senior leaders survived a vote of confidence from the Central Committee in May (albeit not by a re-energizing margin) so that should provide some stability. Yet, Abuza suggested that may have only been because of "a lack of an obvious replacement" for Chinh.
But the Communist Party "vase" has remained undented up until now because it was perched safely upon the sturdy mantle of economic growth. Now that support is being shaken, too. Exports in the first five months of this year were down 11.6 percent; industrial output fell 2 percent. Foreign sales of smartphones, Vietnam's biggest export earner, dropped by 16 percent. The economy grew by just 3.3 percent in the first quarter (although it picked up to 4.1 percent in the second quarter). Still, Vietnam's government expects growth of 6.5 percent this year. That may have to be revised downwards, and it was already lower than the 8 percent achieved last year.
The purge of senior CPV officials trusted by the business community has certainly not helped. That includes Nguyen Xuan Phuc, a former prime minister who became state president in 2021 but lost that job this January after "resigning" for apparently not curbing graft among his underlings. One can debate how much personalities matter within a stratified organization like the CPV, but those resignations rattled the business community. It isn't that the Party has overnight become anti-business. But there's a feeling within the business community that its ideologues, who are now in charge, are instinctively suspicious of the private sector (and, potentially worse, simply don't understand how most businesses operate).
None of the Politburo members, except National Assembly Chairman Vuong Dinh Hue, a former finance minister, has any real experience in economic management. (Given his recent poor showing at May's confidence ballot, Hue's succession to the post of party general secretary in 2026, a prediction of some commentators, might not be assured.) In the moralistic atmosphere of Trong's "burning furnace," business mistakes and deals gone awry are automatically seen as the result of graft, not incompetence or sheer bad luck. That has led to foot-dragging.
Of course, the current economic malaise isn't simply the result of an anti-corruption campaign. Downturns in the West and China are dragging down Vietnam's exports, which were worth around 93.3 percent of its GDP in 2021. "Ironically, by intertwining itself with supply chains, Vietnam may have become more vulnerable to the troughs, as well as gaining from the peaks," Daniel Moss, an Asian economies columnist, wrote recently in Bloomberg. Nonetheless, foreign investors are jittery. They're particularly incensed by the government's inability to keep the lights on. Some are optimistic, seeing this as only a cyclical blip, mostly the result of events outside of Hanoi's control. Others, though, say government policy will decide how protracted this downturn becomes.
Yet your columnist had an interesting conversation with a diplomat recently. Make of it what you will, but it was their opinion that this economic downturn will turn out to be a blessing in disguise. The Politburo has grown arrogant. Hubristically, it has intervened too much in the economy, either by instilling a moralistic fear of making mistakes or by purging experienced economic hands. Perhaps giddy from the "doi moi myth" that it was the CPV that has driven Vietnam's economic growth, they forgot that the economy has typically performed best when the government has taken a hands-off approach and trusted economic experts on reforms and legislation.
Maybe this is the wake-up call the Communist Party needs, as my diplomat source suggested. The anti-corruption campaign shows signs of dying down. Chinh, the prime minister, has opened new streams of investment. If Hue becomes the uncontested frontrunner to succeed Trong as the next party general secretary, he would presumably try to return a degree of economic knowledge to proceedings.