Missing in Action? Australia's Muted Response to Cambodia's Autocratic Turn
Australian officials played an important role in creating the country's democratic system, but have been puzzlingly silent as Prime Minister Hun Sen has leveled it to its foundations.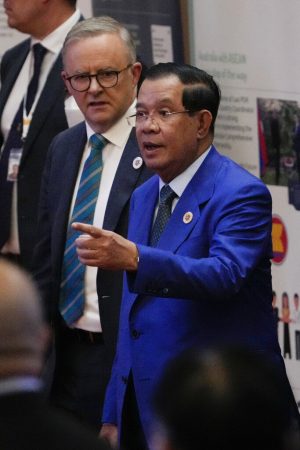 In 2013, the Cambodian opposition leader Kem Sokha gave a speech in Melbourne, Australia, to a crowd that included members of the Cambodian-Australian diaspora. It was also broadcast on YouTube by the Australia-based Cambodian Broadcasting Network. While Cambodia under Prime Minister Hun Sen is now far from a democracy, Cambodia's 1993 Constitution guarantees Cambodians the right to vote and stand in elections. According to his lawyers, Sokha spoke about transitioning Cambodia's Government by democratic means from Hun Sen and his Cambodian People's Party (CPP).
In March of this year, Sokha was sentenced to 27 years imprisonment for treason for allegedly conspiring with the United States to overthrow the CPP via a "color revolution." The key alleged evidence for the conspiracy was his Melbourne speech. Speaking after Sokha's trial began, Hun Sen in November 2022 appealed to the Cambodian people to "please stay calm and allow the court to do its job according to the law." After a pre-trial detention period that the United Nations deemed "arbitrary" and a trial held partly in secret, the court appears to have done the job Hun Sen wanted it to in convicting Sokha: a group of U.N. experts, including its special rapporteur on the independence of judges and lawyers, condemned the verdict as "politically motivated" and described it as part of an "ongoing pattern of the misapplication of laws to target political opponents."
In the aftermath of the sentence, Australia's Ambassador to Cambodia Justin Whyatt issued a tweet in which he expressed Australia's "deep disappointment" at the verdict, writing that Australia would continue its dialogue with Cambodia to encourage space for genuinely contested elections. It was the only official public statement by the Australian government; Foreign Minister Penny Wong remained silent, as did the Department of Foreign Affairs and Trade (DFAT). The tweet was not accompanied by any public action. Shortly afterwards, business appeared to resume as usual. The Australian Embassy in Cambodia's first media release after Sokha's sentence was issued jointly with the Cambodian government to celebrate the launch of a new rice variety. According to the press release, Hun Sen named the rice "Champei Sar 70," in honor of the 70th anniversary of diplomatic relations between Australia and Cambodia.
Phil Robertson, the deputy director of Human Rights Watch's Asia Division, criticized Australia's "very weak sauce" response to what he describes as "an earthquake for democracy and human rights in Cambodia." "I'm 'disappointed' when someone serves me lukewarm coffee," Robertson wrote. "I expected a higher degree of outrage from DFAT when an opposition leader is sent to 27 years for giving a speech in Australia talking about democratic politics. Canberra can do better than this."
Australia's public position on Sokha's sentence is but one example of what advocates for human rights and democracy in Cambodia see as an oddly muted reaction to the increased repression of opposition and civil society by Hun Sen in advance of last Sunday's national election, which, as expected, saw the CPP win the vast majority of the seats in the National Assembly.
The Australian silence in advance of Sunday's election was all the more surprising given the way that Cambodia's political repression has played out in Australia itself. On July 20, The Sydney Morning Herald reported that the Australian Federal Police and police in the state of Victoria have opened a criminal investigation after the Victorian State Labor MP Meng Heang Tak was sent a letter saying that his name appeared on an assassination hit list with other prominent opponents of the Cambodian government.
Tak, who was born in Cambodia, provided a copy of the letter to The Diplomat. Among other things, it reads: "These people including yourself will be targeted for death by my Cambodian third hand squad who will be flying there to do the clean-up." In addition to "Tak Meng Heang and family," the list includes, "Any Australian member of Parliament…Members of Khmer living in Australia who oppose Samdech Hun Sen." It ends, "TAKE THIS AS A WARNING."
Speaking on Friday, Tak said that the letter he received is just one example of interference and intimidation of the large Cambodian diaspora community in Australia. In the 2016 census, the number of Australians born in Cambodia numbered 33,149. Tak's comments follow a February address by the Minister for Home Affairs Claire O'Neill at the National Security College of the Australian National University (ANU) in Canberra, in which she described foreign interference by intimidation of diasporic communities in Australia by authoritarian regimes as one of Australia's greatest internal security challenges.
While O'Neill named Iran in her speech, the Australian Broadcasting Commission subsequently reported that the Cambodian Government is another major regime of concern. In her speech, O'Neill described the need to increase open conversation about such interference, characterizing the gap in public awareness as a national security risk. The CPP has previously denied that the party is involved in any intimidation of diaspora communities in Australia. According to The Sydney Morning Herald's reporting, the CPP has also denied any knowledge of the threat against Tak.
A 'Point of Pride'
To rights advocates, Australia's stance on these issues is all the more curious given its history of close involvement in Cambodian affairs. Australia's former Foreign Minister Gareth Evans was once lauded as "the godfather" of a peaceful and democratic Cambodia, according to Robertson. Under Evans' leadership, Australia initiated the diplomatic strategy that resulted in the signature of the 1991 Paris Peace Agreements, paving the way to the end of Cambodia's long civil war and the introduction of nascent democratic institutions. Jeremy Dicker, a former Australian diplomat, now managing editor of the international affairs journal International Intrigue, says that even today Australia's role in sponsoring the Agreements remains "a point of pride" for Canberra.
In some ways, this pride is curious, given how little of the country's democratic legacy remains. "Democracy is dead in Cambodia," Teav Vannol, president of Cambodia's Candlelight Party, declared at the end of May, after it was disqualified from participating in the election for dubious reasons, removing the one viable opposition party from the contest. Since 2017, when Sokha's Cambodia National Rescue Party made decent inroads at that year's commune election, following up its strong showing at the 2013 national election, Hun Sen has systematically intensified the suppression of opposition and civil society.
In recent months, however, the regime's activities reached a crescendo as Hun Sen, who has been in power for more than 38 years, has prepared for what Robertson calls a "North Korean-style dynastic succession" to his son Hun Manet. The national election served as a prelude for the planned transition, which Hun Sen formally announced yesterday would occur on August 22. Even before the Candlelight Party's disqualification, recent reporting about Cambodia read like a checklist from an autocratic playbook: the forced closure of one of the country's last independent media organizations; scores of politically-motivated arrests and prosecutions of opposition leaders, unionists and other activists; and the harassment of opposition leaders.
"The election will be a sick joke and what Hun Sen has done with the voice of the Cambodian people is a sick joke," said Jared Genser, a prominent international human rights lawyer representing the political activist Theary Seng. Seng is an American-Cambodian lawyer and longtime critic of Hun Sen who was imprisoned after a mass trial last June.
Less evident from such headline-grabbing moves is the increase in the intimidation of and violence against ordinary Cambodians perceived to be critical of the government. The Cambodian League for the Promotion and Defense of Human Rights (LICADHO) was one of Cambodia's first national-level human rights organizations. It began its work conducting voter education and pre-election monitoring during the U.N.-administered 1993 elections. It now has a medical office providing free assistance to human rights victims and prison inmates. LICADHO's Director of Outreach Naly Pilorge said that the clinic has seen a sharp increase in the number of opposition-aligned individuals subjected to beatings in advance of the election; LICADHO recorded 10 assaults on Candlelight Party members in the first five months of 2023, half of which occurred over two weeks in March. "I've been working for LICADHO for a long, long time," Pilorge says, "and it shocks me." On the ground, Pilorge describes the atmosphere as "suffocating."
When representing Australia at the signing of the Paris Peace Agreements, Gareth Evans said, "Peace and freedom are not prizes, which, once gained, can never be lost. They must be won again each day." It's lesson Robertson says that Australia has now walked away from Cambodia, in what he characterizes as a betrayal of its legacy that is at odds with the democratic values that it espouses internationally. In addition to making stronger public statements about Hun Sen's anti-democratic measures, Robertson says that Australia should use its Magnitsky-style sanctions regime against government and military figures complicit in human rights abuses and condition development funding on concrete improvements in the political situation.
The calls for stronger action on the part of Australia's government have been echoed by some members of the Cambodian-Australian community in Australia, who protested in Melbourne on  July 16, calling on the Albanese government not to recognize Sunday's "undemocratic election." The protest was organized by  MP Meng Heang Tak. While appreciative of some of the measures the government has taken, Tak was clear: "We want the government to respond to the current situation in much stronger terms. There is much more that needs to be done to send a clear message to Hun Sen that violence and repression in the region will not be tolerated. For several years now, the Cambodian community has been calling for targeted sanctions against those involved in violence and repression in Cambodia."
To the extent that Australia has criticized the recent anti-democratic developments in Cambodia, these statements have all been issued via Ambassador Whyatt's Twitter account rather than made by Foreign Minister Wong or DFAT. The absence of any comment from Wong in the lead-up to the election is of particular concern to Sue Coffey, the Australian author of "Seeking Justice in Cambodia: Defending Human Rights in Australia" and a member of LICADHO's board. "The Minister has been missing in action on Cambodian issues since coming to office," Coffey says. "She should have spoken strongly against the 27-year jail sentence for Kem Sokha and the banning of the Candlelight Party. It's not enough that the Ambassador comments on these issues. Australia needs to take the problems facing Cambodia far more seriously."
The criticism of Australia's response to the Cambodian government's increased repression raises the question of why it is in Australia's strategic interests to maintain this stance. "This is a classic clash between our values and our interests," Dicker explains. "We would want our government to act in a way that reflects our own democratic principles but it is also crucial that, as a country in our region, Australia maintain a meaningful dialogue with Cambodia's politicians and its military to voice our perspectives on what Cambodia's decisions mean for the rest of us."
In the context of the rise of China, Cambodia's decisions are not only regionally but globally significant. It is well documented that China has significant investment in and influence with Cambodia that, Dicker says, is seemingly impacting the way Cambodia is navigating its region. Although denied by both countries, Western officials say that Cambodia will grant access to the Chinese military to its Ream Naval Base, the Chinese-funded refurbishment of which is nearing completion, according to BlackSky satellite pictures released this week.. Regime-friendly Chinese and Cambodian investors are also jointly building what the Lowy Institute describes as "a massive supposed 'resort'" on the Cambodian island of Koh Rong, which sits on the strategically important Gulf of Thailand, "the specifics" of which "are hard to reconcile with its supposed civilian purpose."
Making public criticisms of the Cambodian government, when the regime is clearly sensitive to perceived foreign interference, could swiftly end a dialogue that Australia perceives as necessary for the region in the face of China's assertiveness, Dicker says. As a Cambodian with relatives that died during the Khmer Rouge, Pilorge is not forgiving of such considerations. "Countries and citizens should not be treated as political pawns. Cambodians should not be played by Australia, the United States, Western Europe, Japan or any other country as a pawn to counterbalance China," she says.
Smart Diplomacy?
There is another characterization of Australia's stance, however, which is that its public positioning in advance of the election was simply smart diplomacy. Discussing past criticisms of the Australian government's relative silence on Hun Sen's autocratic excesses, a member of the Australian security establishment expressed the view that Australian diplomats could maintain the country's messaging on the importance of democracy in Cambodia more effectively without resorting to what the official termed "megaphone diplomacy." Their view was that using private bilateral meetings to air this messaging would be more constructive while not damaging Australia's relationship with Cambodia to the extent that its access, influence, and projects with the regime would lessen.
To Robertson and Genser, that thinking is wrongheaded. "We keep hearing the line that it is more effective to raise these things in private. Well, then, where is the evidence, where are the results?" Robertson asks. Genser expresses a similar view: "What have you achieved for Cambodian democracy by pursuing that strategy? Or is the goal simply to achieve nothing?" Before Sunday's poll, both Robertson and Genser agreed that the human rights situation in Cambodia was so dire that, if Australia was serious about its concerns for Cambodian democracy, it urgently needed to take more action. "If Australia can't stand up now, when will it ever?" Robertson asked.
It is perhaps precisely because Hun Sen has so effectively destroyed the trappings of democracy in Cambodia that Australia assumed its current position, Dicker intimates. "There are probably some pretty hard deliberations in capitals like Canberra and elsewhere about whether saying anything publicly would deliver any outcome when Hun Sen is in such complete and total control," he says.  "How much would make stronger public statements result in any difference? We have to think soberly and clearly about what the impact of Option A or Option B would be."
Katrin Travouillon, a lecturer at ANU whose research traces the transformation of Cambodia's political system since the signing of the 1991 peace accords, echoes Dicker's assessment that Australia's decision-making was likely borne out of a pragmatic assessment about the inevitability of Hun Sen's victory in Sunday's national election and the likely transfer of power to Hun Manet.
"Decisive struggles for power in Cambodia are no longer fought between political parties, but by families. To understand and engage these actors and their evolving networks, diplomatic actors rely on open channels of communication with the CPP," she says. Travouillon's comments are notable in light of the fact that the prime minister-in-waiting Hun Manet met with Foreign Minister Wong on her visit to Phnom Penh in August 2022 and as recently as March 31 with Ambassador Whyatt. Travouillon, however, added a coda to Dicker's remarks that is fitting given the wily nature of Hun Sen and his party and its engagement with the international community: "The CPP will know exactly how to engage these interests to their advantage. That much is clear."
In Cambodia, Pilorge is resigned to what the post-election future could bring for LICADHO. She says it is a question not of if, but when, LICADHO will be shut down, but nonetheless remains hopeful: "It doesn't mean that a better future for Cambodia is extinguished for good, only that it will need to be reanimated and reborn." To achieve this Pilorge says that the "usual policy responses by the international community are not enough." Speaking ahead of election day, Tak had a similar message to the Australian government: "Sunday's sham election will be a dark day for Cambodians both in the country and here in Australia. We want to see the government condemn the electoral process in the strongest possible terms and continue to push for a return to a pluralist democracy, as enshrined in the Cambodian constitution."
On Monday, in terms reminiscent of a statement issued by Australia's then Foreign Minister Julie Bishop after Cambodia's unfree 2018 national election, Ambassador Whyatt tweeted a statement expressing Australia's "serious concerns" about Sunday's election. It states what was abundantly clear for many months before election day, that "the lead up to the July 23 poll…undermined the ability of all Cambodians to be informed, to express their views freely and to have a genuine choice in how they are governed." He added, "We express our concerns as a longstanding friend and renew our desire to work with Cambodia towards these aspirations."
Minister Wong, however, has so far maintained her public silence and whether Australia's words will be matched by any action remains to be seen. Shortly after the release of Whyatt's statement, Cambodia's Ministry of Foreign Affairs issued a press release that did not mention the critical comment from the Australian envoy. Instead, it thanked Australia for an apparent pledge of AUD 83.6 million in development assistance for the coming year, which it said would help support Cambodia's "economic and social progress." In its final line, the statement described Canberra's continued support as "a vivid testimony to the ever-growing strength of deeply cherished friendship and solidarity between Cambodia and Australia."