Mongolia Leans in to Feminist Foreign Policy
Last week, Mongolia hosted a "Female Foreign Ministers' Meeting," bringing together several countries discussing feminist foreign policy.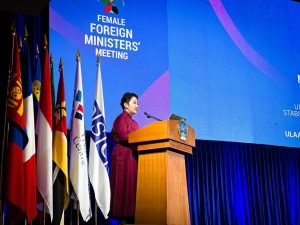 On June 29 and 30, Mongolia's Foreign Minister Battsetseg Batmunkh hosted foreign ministers from France, Germany, Indonesia, Liechtenstein, and South Africa as well as representatives from international organizations in Ulaanbaatar. They discussed issues related to gender equality, including ways to tackle the climate crisis and food insecurity, resulting in the "Ulaanbaatar Declaration." Mongolia, which recently joined the "Feminist Foreign Policy Plus Group" at the United Nations – an alliance of countries engaging in the topic – says it will hereby contribute to promoting feminist and gender transformative approaches to multilateralism and foreign policy.
Feminist foreign policy wants to strengthen the rights, resources, and representation of women and marginalized groups, in the proven knowledge that more inclusive decision-making leads to more sustainable diplomatic and peace processes. Germany's government became the seventh country to commit to a feminist foreign policy (FFP) in late 2021. Since then, more states have announced their commitments, including Chile and the Netherlands.
They have joined a reform-minded club – one that promotes a sharp new understanding of security that puts the interests of people, rather than states, at the center. For governments, this means aiming at status quo assumptions, national interests, and relations with other states. While FFP's implementation and focus may vary from state to state, it is still a commitment to fundamental transformation.
Some fear that the state-oriented implementation of feminist foreign policy runs the risk of conveying a White, Western understanding of feminism. These critics see the usual German and Nordic finger-wagging in FFP. However, many so-called non-Western countries are streets ahead of their European counterparts. Remember that, while Annalena Baerbock was celebrated as Germany's first-ever female foreign minister, Batmunkh is already Mongolia's third. The German Foreign Ministry is famously male-dominated.
The FFP banner is useful precisely because it allows Germany to forge partnerships with powers outside the West. The German Foreign Ministry is inviting delegations from other countries on information trips – most recently from Colombia, a country with which Germany would like to expand cooperation in the energy sector. As for Nordic finger-wagging, Sweden's newly elected government, in fact, scrapped its predecessor's feminist foreign policy, almost on day one. And the signs are that Sweden regrets leaving the club, precisely because it provides a way to reach non-Western powers.
Opponents also say that feminist foreign policy sounds simply unrealistic given the state of the world. Autocratic strong-men like Xi Jinping and Vladimir Putin are asserting their right to define the future of international order; military power is trumping diplomacy and economic ties; and the national interest is increasingly at the expense of human rights. In the middle of these disturbing trends, FFP might seem like a "pie in the sky" idea.
It is true that feminist foreign policy's aims are countercyclical and offer an antidote to power politics and the centralization of power. It can lead to equal partnerships, giving less considered countries access to the inner circle of international politics and thereby helping overcome global inequalities that often manifest themselves in geographically or economically determined alliances. In the same breath, it will strengthen values globally – strongly needed in the current times.
But in many ways, moreover, its methods and sensibility are in tune with the times. With its broad understanding of security, it offers a necessarily comprehensive approach to the fact that crises are no longer limited by geography or sector, and that responses must go beyond answers to military conflicts to address risks such as the climate crisis, food security, and health. And while it may be a bitter pill for some to swallow, acknowledging that a feminist foreign policy can serve geopolitical interests can benefit the case.
Sandwiched between China and Russia, with no access to the sea, Mongolia is highly dependent on its two neighbors. Not just economically – although the economic impact of Russia's war on Ukraine has been immense for Mongolia, which is highly vulnerable to food scarcity and prices as well as currency fluctuations. This is even further exacerbated by the climate crisis that has left its mark on the steppe-rich country, especially due to extreme weather events.
But geopolitical dynamics are also a constant sword of Damocles hanging over the country. Mongolia, which has historically valued good relations with its "third neighbors," is sensitive to the importance of building alliances to strengthen its sovereignty – without alienating its immediate neighbors.
The effects of the Russia-Ukraine war on Mongolia show how intertwined crises are. Feminist foreign policy, with its comprehensive understanding of security, takes this into account and seeks to offer comprehensive solutions. But not only that. In times of increasing bloc formation, it provides the opportunity for multilateral cooperation beyond gender, putting a marginalized country on the agenda of others.
For Mongolia, which would be the first Asian country to commit itself to a feminist foreign policy, this could therefore be an opportunity to expand cooperation on an equal footing and get some needed attention – without raising the hackles of China and Russia.