One Step Forward, Two Steps Back: Freedom of Expression Still Under Attack in Maldives
President Solih's election in 2018 raised hopes for improved press freedom in the country. But journalists still face harassment, intimidation, and attacks.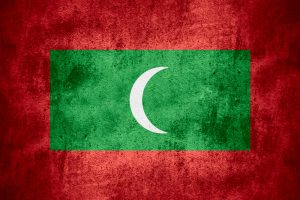 There will be a lot more at stake than the top job when Maldives goes to polls in September to elect its next president. Despite the country's reputation as a paradise of idyllic atolls, the country has a dark history of crackdowns on freedom of expression, which have left journalists murdered, threatened, and effectively gagged.
Attacks against journalists, bloggers, and human rights defenders in Maldives frequently stem from allegations of blasphemy and restrictions on religious freedom. A lack of justice for victims is made worse by the state's failure to break the stranglehold that religious groups, who justify violence based on religious ideology, have within Maldives.
Since 2021, Maldives has dropped 18 places in the World Press Freedom Index. It now ranks 100th out of 180 countries in the annual index by Reporters Without Borders, a sign of the deteriorating press freedom in the country.
One of the most shocking examples was the 2017 killing of Yameen Rasheed, a blogger who had received deaths threats for satirizing the political and religious establishment. Rasheed was stabbed to death in the stairwell of his apartment building, in a brutal act of violence.
Rasheed's murder came three years after his friend, Ahmed Rilwan, a journalist known for exposing political corruption, was subjected to an enforced disappearance. In 2019, the Commission on Deaths and Enforced Disappearances (DDCom) confirmed that Rilwan had been killed and accused an extremist group of being behind his death. Remarks made by a DDCom member in December 2022 linking ex-President Abdulla Yameen to Rilwan's abduction and killing has prompted the former president to threaten legal action against the Commission. 
Despite the arrest of three suspects in June 2022 in connection with Rilwan's enforced disappearance, Rilwan's family still await answers and justice for his abduction, with comments made by the DDCom far from signalling the end of the investigations into the case.
In another example of repression, one of Maldives' oldest non-governmental organizations, the Maldivian Democracy Network, was forced to close its doors in 2019 after the government banned it following pressure from hardline religious groups. Its director, Shahinda Ismail, and several staff members faced threats after the closure. 
In 2012, lawmaker Afrasheem Ali was stabbed to death after expressing his support of freedom of opinion on religious matters. Blogger and activist Ismail Hilath Rasheed was also stabbed in the neck in 2012, but survived.
President Ibrahim Mohamed Solih was elected in 2018, vowing respect for human rights and raising hopes for improved press freedom in the country. Although there's been a drop in violent attacks against journalists, they still face harassment, intimidation, and attacks when covering opposition protests, particularly in the run up to elections. 
In addition, different types of restrictions on freedom of expression have emerged. 
In November 2018, soon after taking office, the Solih administration repealed the Anti-defamation and Freedom of Expression Act. However, in July 2022, it passed the Evidence Act, which contains provisions that permit courts to force journalists to reveal their sources if they deem it necessary. This is despite Article 28 of the Constitution, which states "no person shall be compelled to disclose the source of any information that is espoused, disseminated or published by that person."
Although Solih promised in September 2022 to amend the Evidence Act, changes to its provisions have yet to take place. Meanwhile, a proposed amendment to the General Elections Act, if passed in its current form, would further restrict the ability of media to report on the upcoming presidential election freely and fairly.
If the political leadership of the Maldives is serious about turning over a new leaf on freedom of expression, it must address the legislative gaps that permit violations of press freedom to continue in the country, such as the Evidence Act of 2022. It must also investigate the opaque ways in which advertising revenue is allocated among media houses and hold state officials accountable for decision making that cannot justify these allocations.
Journalists who have alleged sexual harassment and other pressures by state officials in exchange for training opportunities and exclusive access to stories must be afforded protection and justice, without which the chilling effect on the media will continue to manifest in the coming months. 
Rilwan's enforced disappearance must be promptly, thoroughly, impartially, independently, transparently, and effectively investigated. Those suspected to be responsible must be brought to justice in fair trials without recourse to the death penalty. 
And finally, the mammoth task must begin of dismantling the crippling hold of religious groups, who justify violence based on religious ideology, in Maldives. As we have seen, blasphemy accusations continue to be used by these groups to advocate for hatred and violence, in clear violation of  the right to freedom of expression. 
The upcoming elections provide an opportunity for presidential candidates to make commitments to do just that. It is time to end the repression of free speech and free press for good in Maldives – but that requires leadership at the very top. The world is watching as September 2023 draws closer, and we will keep watching and campaigning for these fundamental human rights.