Political Storm Brews in Election-Bound Bangladesh
Despite efforts by the government to decimate rivals, the opposition BNP is drawing huge crowds at rallies.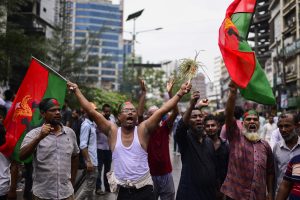 In 2018, Bangladeshi journalist Shahidul Alam was picked up by police, tortured, and imprisoned for 107 days, after he gave an interview to Al Jazeera television. Following a high-profile international campaign for his release, he is now out of jail. But he is not off the hook, since the Bangladeshi government is persisting with criminal proceedings against him for "hurting the image of the country."
Another Bangladeshi journalist Shafiqul Islam Kajal was "disappeared" in 2020 for 53 days before being "found" and sent to jail for another 237 days before being released.
Fast forward to July 2023. Both Shahidul Alam and Kajal, who otherwise are known to be non-partisan, joined a massive youth rally organized by the opposition Bangladesh Nationalist Party (BNP) in Dhaka.
At the rally, Kajal openly talked about his experience of "enforced disappearance." "I was blindfolded, my hands were tied… I was requesting my captors to please kill me or let me go," he recounted.
That rally where Shahidul Alam and Kajal were present is part of the BNP's countrywide protests. Gayeshwar Chandra Roy, a member of BNP's standing committee, told The Diplomat that from January to July 2023, the party organized at least 80 rallies across the country, with large crowds participating.
The BNP rallies are aimed at pressuring Prime Minister Sheikh Hasina to hand over power to a neutral caretaker government to oversee the conduct of a free and fair election. Bangladesh is set to hold its next general election in January 2024.
BNP activists say that an election under the ruling Awami League (AL) will not be free. They want Hasina to resign.
Elections in 2014 and 2018 that were held under the AL government were not deemed credible by the international community, except for India, China and Russia.
According to Al Jazeera, people from all walks of life are joining the BNP rallies, despite state intimidation and police harassment. Increasing economic disparity, the rising cost of living, lack of accountability of people in power, absence of a fair voting mechanism, and persistent harassment of critics are among the reasons for people joining BNP rallies.
On July 25, Tarique Rahman, the acting chairman of the BNP and son of former Prime Minister Khaleda Zia and former President Ziaur Rahman, called on the masses to join the BNP rally in Dhaka. "This rally is not a rally of a political party to avail power" but "a rally for a safer Bangladesh, a Bangladesh where journalists could write freely, human rights defenders could work freely, and civil society could put forward their opinion freely without intimidation or fear," Rahman said. It is a rally "to reclaim stolen voting rights" of 120 million Bangladeshi voters.
Many of those attending BNP rallies were not voters when the BNP was last in power in 2002-2006.
BNP General Secretary Mirza Fakhrul Islam Alamgir told The Diplomat that "young people in Bangladesh realize that their backs are against the wall, and they must fight back. These are ordinary people whose livelihoods are destroyed, whose brothers were killed and who cannot afford to live a decent life. They want democracy, they want to take back their country."
Since Hasina came to power in 2008, the Bangladeshi economy has done well. However, problems are visible of late.
Prices of essential commodities have skyrocketed, unemployment has reached an all-time high, all while a group of kleptocrats have amassed wealth. In July 2023, S&P Global Ratings lowered Bangladesh's long-term credit outlook from stable to poor, citing risks that the "country's external liquidity position could deteriorate while foreign exchange reserves remain under pressure" next year.
Human rights organizations point out that the BNP has been under severe state repression over the past decade. Zia was in jail before being allowed to return home in 2020 due to ill health. Rahman is living in exile in London. BNP leaders have been forcefully disappeared, extrajudicially killed, or imprisoned. Despite these efforts to weaken the BNP, the party appears to be well organized.
BNP insiders say that following the U.S. imposition of sanctions on Bangladesh's paramilitary force, the Rapid Action Battalion (RAB), and six of its former officials for human rights violations, law enforcement agencies have changed their tactics. Instead of shooting people dead, they are now using indiscriminate beatings, firing rubber bullets and tear gas, arrests, and more surreptitious techniques like surveillance through spy tech, and shutting down the internet in rally areas to limit opposition mobilization and activity.
"Opposition parties have to organize and resist," Shahidul Alam said. "The massive public discontent is in their favor."
In the AL's view, however, the BNP's public support doesn't count for much. It is planning for elections under the Hasina government whether or not the BNP participates, according to a recent report in Daily Prothom Alo.
A highly placed source in the AL told The Diplomat on condition of anonymity that the party is looking at engaging a team of high-level European lobbyists, who include a former prime minister, several former European parliamentarians, and former diplomats, to manage Bangladesh's relationship with the EU and the United States after a possible one-sided election i.e., one that is boycotted by major opposition parties.
Geoffrey Macdonald, a South Asia expert at the United States Institute of Peace in Washington D.C., said that "if the BNP boycotts the election, it would be an important signal that the electoral process is unfair." However, if the AL government "can establish conditions in which opposition parties can campaign freely, the media can write critically of all parties, and election rules are applied equally, then this election could be considered acceptable even without the BNP's participation," he told The Diplomat, adding that "the government has more work to do to establish these conditions across Bangladesh." Macdonald was referring to violence against an independent candidate Hero Alom during a by-election in Dhaka in July.
Apparently, some AL leaders believe that if Democrats lose the 2024 election in the U.S., an AL government would find a way to reconcile with a Republican administration. However, a Republican administration may not be any easier to work with.
In a letter dated July 27 to the U.S. ambassador to the United Nations, a group of 14 U.S. Republican members of Congress accused the Hasina government of terrorizing, torturing, and even murdering Bangladeshi citizens. The letter called on the ambassador to work toward removing Bangladesh from membership of the U.N. Human Rights Council, and preventing RAB officials from participating in U.N. peacekeeping mission.
The legislators said they are "highly skeptical that the Hasina government will permit fair and transparent elections," and have called for a free election in Bangladesh under U.N. supervision.
The BNP is drawing huge crowds. It may not be easy for the AL to organize an election without BNP participation (if there is any such plan), and remain in the good books of the international community. Additionally, such a move will be countered by the BNP.
"If Hasina goes ahead with an election without the BNP, we will try to peacefully resist that," Roy said.
Days after The Diplomat spoke to Roy, he was beaten, bloodied, and detained briefly by the police for participating in a sit-in on July 29. He was released later. Photos of him bleeding have appeared in the media. Roy is a member of Bangladesh's Hindu minority population.
"We will bring this country back to democracy. The people of Bangladesh will ensure that the next election is held under a non-partisan government," Alamgir said. However, it appears to be a long and hard road ahead of the BNP.
Before the BNP's grand rally on July 28, over 800 of its activists were sent to jail. Local newspapers have reported that the police and AL activists have acted in tandem against the opposition. A Daily Star report described this party-state nexus to disperse the opposition as a "joint operation." The Bangladesh Communist Party, long known to be a tactical ally of the AL, strongly criticized the police-AL attack on the opposition in a public statement.
Police and the AL claim the BNP's July 29 sit-in was violent. Hasina has described BNP as terrorists and called on people to remain vigilant so that the BNP cannot damage the country. On July 30, police filed 11 cases against 549 BNP leaders and activists. This is in addition to the cases already filed against 5,000 BNP activists on July 19.
The months ahead will see more confrontations. A kaalboishakhi (storm) is brewing in Bangladesh and nobody knows how this storm will play out.