Prabowo Gains Ground Ahead of Indonesia's Presidential Election
Despite his checkered past, the defense minister is commanding surprisingly strong support from young Indonesians.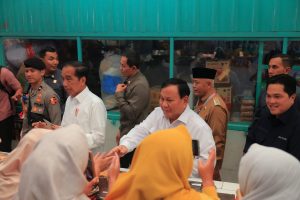 On Sunday, the Indonesian polling agency Indikator published the results of a survey asking 1,220 prospective voters who they are likely to support at next year's presidential election. Leading the three most likely contenders, albeit by a slim margin, was Defense Minister Prabowo Subianto, a Suharto-era special forces commander who has twice run for the presidency.
According to Indikator, the poll showed Prabowo with the support of 36.8 percent of respondents, narrowly ahead of Central Java Governor Ganjar Pranowo with 35.7 percent and former Jakarta governor Anies Baswedan with 21.5 percent, according to a summary by Reuters. In a two-way race, Prabowo had a clear lead over Ganjar, 49.5 percent to 40.9 percent.
The Indikator survey was just the latest to show the former special forces commander pulling ahead of the youthful and charismatic Ganjar. A survey released earlier this month by the pollster Lingkaran Survei Indonesia showed Prabowo in the lead for the first time, with a 34.3 percent approval rating, ahead of Ganjar (32.7 percent) and Anies (22.1 percent).
What was striking about the Indikator survey, however, is that it was heavily weighted towards younger voters, with more than 60 percent of respondents below the age of 42. This was intended to provide an accurate sample of Indonesia's youthful demography; according to Indonesian electoral data cited by Reuters, more than half of registered voters, around 107 million people, are under 40. The results suggest that Prabowo may at last be in reach, after failed bids against President Joko Widodo in 2014 and 2019.
Prabowo seems an unlikely choice for younger voters, compared with his relatively youthful rivals. (Both Ganjar and Anies are 54 years of age.) Prabowo, who rose through the military ranks under Suharto's New Order administration, and was once a son-in-law to the Indonesian generalissimo, has been credibly implicated in a litany of human rights abuses, including atrocities committed in the conflict zones of East Timor and Aceh, and the abduction of pro-democracy activists in the final months of New Order rule.
During his two election campaigns, he also promised quite explicitly to roll back some of the democratic reforms that had been introduced after Suharto's fall. In a 2015 paper, Edward Aspinall of the Australian National University in Canberra described Prabowo as an "oligarchic populist" who represented "a classically authoritarian-populist challenge of a sort that is common in democratic regimes characterized by pervasive patronage politics, weak institutions, and highly decentralized governance." According to Aspinall, Prabowo's pitch in 2014 was based on the twin planks of strident nationalism and a pledge to cut through the "environment of deceit and money politics" by presenting himself as "an anti-political outsider who could provide the strong leadership Indonesia needed."
It is hard not to see a vague family resemblance between Prabowo's near-misses and the successes enjoyed by Philippine President Ferdinand Marcos Jr., who won a large election victory last year. The victory capped off a decades-long attempt to rehabilitate his family's image and override public memory of the grand-scale corruption and human rights abuses that occurred under Marcos Sr.'s period of Martial Law.
According to a recent report in the South China Morning Post (SCMP), Prabowo may have learned from those earlier losses to the more unassuming Jokowi, and has made efforts to recast his image ahead of the next election campaign. According to the SCMP, his clenched-fist image has been "replaced with an image of an even-tempered and easy-going politician, sharing viral selfies wearing a hoodie sporting his Gerindra Party branding." He has also made efforts to take a "softer tact" in his speeches and connect with young Indonesians on social media.
Whether or not Prabowo prevails to win the Indonesian presidency remains to be seen. But his continuing popularity, like the return of the Marcoses in the Philippines, says something significant about both the power of political marketing and disinformation to efface past abuses, and the political conditions that give such appeals purchase. It also suggests that while young Indonesians have been at the forefront of the country's long struggle for popular sovereignty, the political attitudes of the country's youth are ambivalent and hard to press into a simple ideological mold.