Singaporean Parliamentary Speaker and MP Resign Over 'Inappropriate' Affair
The resignations follow the rare arrest of a cabinet member amid a probe by the country's Corrupt Practices Investigation Bureau.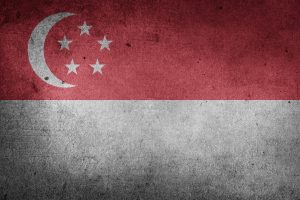 The speaker of Singapore's parliament and another lawmaker from the ruling People's Action Party (PAP) have been effectively sacked for having an extramarital affair, a rare sign of turbulence in the upper echelons of the party which has governed the city-state since independence.
Prime Minister Lee Hsien Loong said yesterday that he had accepted the resignations of Parliament Speaker Tan Chuan-Jin, a former army brigadier general, and PAP lawmaker Cheng Li Hui. Lee said that the conduct of the pair fell short of the "high standards of propriety and personal conduct" expected of all lawmakers, The Associated Press reported.
The Singaporean leader said that he first learned that Cheng and Tan were having an affair after the 2020 general elections and advised them to end it, according to the AP. However, Lee said he discovered new information this month suggesting the affair was still ongoing. "I think it's simply inappropriate," Lee said, adding that the PAP "has to maintain party discipline and standards of conduct."
In his letter of resignation to Lee, which was released to the press, Tan did not directly mention the affair. Instead, the 54-year-old, who was appointed speaker in 2017, referenced his personal conduct which "added to the hurt" he had caused his family. "We have spoken about my personal conduct before," Tan wrote in the letter. "There are areas where I have fallen short. I need to take responsibility for them."
Tan also referenced a separate minor scandal, a "hot mic" incident on April 17 in which he was recorded in parliament muttering the words "f***ing populist" under his breath as a lawmaker from the opposition Workers' Party gave a speech demanding more support for low-income Singaporeans. In his letter to Lee, he said that the profane comment "raised broader questions over my neutrality and impartiality as speaker."
Cheng, in her own letter of resignation, said she was "very sorry to be resigning in these circumstances, and would like to apologize to the party, as well as to my residents and volunteers."
The forced resignations come at a time in which the placid façade of the PAP has been unsettled by a corruption scandal involving Transport Minister S. Iswaran and hotel tycoon Ong Beng Seng. The pair were arrested last week, after Lee approved an investigation into their conduct, although the Corrupt Practices Investigation Bureau (CPIB) has yet to say what they are accused of doing.
Since its independence in 1965, Singapore has succeeded in taming corruption by offering civil servants unusually high salaries while instituting harsh punishments for anyone transgressing the law. Accordingly, such scandals are incredibly rare. As Kirsten Han noted in her excellent Singapore-focused newsletter this week, "this hasn't happened to a minister for 40 years."
In some of Singapore's Southeast Asian neighbors, these sorts of scandals would be relatively unremarkable. But they represent a major challenge for the PAP, which has built its legitimacy on its reputation for clean, effective governance and incorruptibility, and often looked with smugness at the perpetual scandals of other Southeast Asian countries.
Now, with this corruption probe followed by the similarly rare resignation of two high-ranking PAP officials, the party is experiencing a rare shock to its squeaky-clean image. As one analyst told the South China Morning Post, "For a country so dependent on stable and solid leadership provided by the PAP, these developments are a huge setback, a body blow to Singapore."
The PAP's hold on power is not in immediate danger, given the host of political and structural advantages that it enjoys. But it is not hard to understand why Lee felt the need to act decisively in both of these instances. As the PAP moves further and further from the moral penumbra surrounding the late founding father Lee Kuan Yew, these sorts of scandals could slowly begin to abrade the party's image.