Thai Parliamentary Speaker Indefinitely Postpones Next Prime Ministerial Vote
The two houses of Parliament were due to convene on July 27, but will now await a Constitutional Court ruling questioning the blocked renomination of MFP leader Pita Limjaroenrat.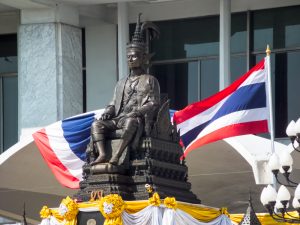 The speaker of Thailand's Parliament has postponed a vote for the next prime minister by the two houses of Parliament, extending the political deadlock that has taken place since the general election on May 14.
The vote was due to take place tomorrow (July 27), but Wan Muhamad Noor Matha said he was delaying it indefinitely, pending a Constitutional Court ruling on the rejected renomination of Pita Limjaroenrat, the head of the progressive Move Forward Party (MFP).
"There won't be a meeting on July 27," Wan Noor told reporters at Parliament. "I will inform when the next meeting will be held."
Tomorrow's vote comes after Parliament twice blocked Pita, whose party won the most seats at the election, from taking the prime ministership. The first vote took place on July 13, when conservative parties and the military-appointed Senate voted against his nomination, and the second on July 19, when they prevented Pita from renominating himself for a second vote, claiming that it violated parliamentary by-laws.
Wan Noor's postponed the session due to a petition to the Constitutional Court to review the decision that blocked Pita's renomination, the Parliament's secretary general told lawmakers in a letter, as Reuters reported. "Therefore it is appropriate to cancel the third parliamentary meeting on Thursday 27 July 2023," the letter said.
The petition was filed by the independent ombudsman's office following a request from the MFP, which argued that parliamentary regulation could not take precedence over the Constitutional rules for nominating a prime minister. It argues that these allow a single candidate to nominate themselves for prime minister more than once.
A likely vote has been further delayed by the decisions of Thailand's cabinet to approve an additional public holiday on July 31 in a bid to spur tourism and private consumption. This ensures that the government will effectively shut down from July 28 until August 2, meaning that any ruling by the Constitutional Court will not take place until the first week of next month at the earliest.
The postponement adds to growing uncertainty over when a new government will be formed, and what might follow. After two failed bids by Pita, the MFP has announced that its coalition partner, the Pheu Thai Party, which came in second at the election, will now have the chance to form a government. But based on meetings between Pheu Thai and other parties this week, likely that it will be forced to abandon the MFP if it wishes to attract the necessary support from conservative House members and Senators. Should it refuse to do so, the only other outcome is some form of minoritarian government made up of establishment and military-backed parties – one that would consign the two largest parties, which together hold a majority in the House of Representatives, to the opposition.
If either of these outcomes eventuates, it is likely to produce outrage among jilted MFP supporters, and a possible return to large street protests. (Student groups have already held a number of protests in Bangkok since July 19, with promises of more to come.) While this will have its own impact, a period of rudderless caretaker government under Prime Minister Prayut Chan-o-cha, who has already announced that he will retire as soon as a new government takes office, followed by possibly renewed political crisis is a recipe for political dysfunction and continuing economic stagnation.