US Announces Visa Bans, Aid 'Pause' After Flawed Cambodian Election
The announcement has raised doubts about a potential diplomatic reset between Phnom Penh and Washington.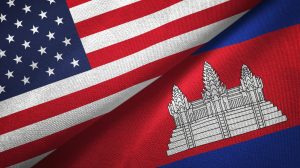 The United States announced today that it will suspend some foreign assistance programs in Cambodia and impose visa bans on individuals it says undermined democracy in the country, after Prime Minister Hun Sen's party romped to its expected lopsided victory at yesterday's national election.
After polls closed yesterday, the ruling Cambodian People's Party (CPP) declared a landslide victory, with preliminary results showing that it won 120 of the 125 seats in the National Assembly. The result came after a concerted campaign of repression, in which the main opposition party was barred from running and opposition activists subjected to threats, intimidation, arrest, and physical attacks. The government even changed election laws to allow the prosecution of anyone advocating a boycott of the poll, after exiled opposition figures called for Cambodians to spoil their ballots in protest.
In a statement yesterday, State Department spokesperson Matthew Miller said that the Biden administration was "troubled" that the elections were "neither free nor fair."
"Ahead of the elections, Cambodian authorities engaged in a pattern of threats and harassment against the political opposition, media, and civil society that undermined the spirit of the country's constitution and Cambodia's international obligations," Miller said.
In response, he added, Washington "has taken steps to impose visa restrictions on individuals who undermined democracy and implemented a pause of certain foreign assistance programs." The individuals were not named.
The CPP cakewalk came after a similarly frictionless electoral contest in 2018, which contributed to the chilling of the already cool relations between Washington and Phnom Penh. As with this year's election, the 2018 poll followed the banning of the popular Cambodia National Rescue Party and the arrest of its leader Kem Sokha for treason. Liberated from any meaningful opposition for the first time since the creation of Cambodia's democratic system in the early 1990s, the CPP went on to win all 125 National Assembly seats.
A crucial factor in both 2018 and 2023, as compared to earlier elections, was robust support from China, which reduced Hun Sen's reliance on Western development assistance, and so made him less susceptible to outside pressure to improve governance and introduce democratic reforms. All told the no-contest 2018 election reflected Hun Sen's unilateral abrogation of the international settlement that created Cambodia's democratic institutions in the 1990s.
All of this has created tension in U.S. policy toward Cambodia, between its longstanding desire to stand up for democratic principles and a more recent perceived need to counter the expanding Chinese influence in the country.
This State Department's response is not surprising, given the actions that it has taken over the past five years, during which time it has sanctioned a number of Hun Sen's cronies and threatened a range of further measures. But the threat of further travel bans does raise doubts as to whether Hun Sen's impending handover of power from Hun Sen to his eldest son, Hun Manet, expected to take place within a month, will result in any improvement in Cambodia's relations with the Western democracies.
The first change in Cambodia's leadership in more than 38 years does appear to offer a rare opportunity for a reset in relations, and it is likely that Hun Manet, who graduated from the West Point military academy in 1999, will seek improved relations with the U.S. and European governments. However, the State Department's response to yesterday's election suggests that Washington is expecting the new regime in Phnom Penh to take the first step toward an improvement in relations.
Whether Cambodia's incoming prime minister will be willing  (or even able) to do so remains unclear. As for his father, Hun Manet's primary imperative will be to maintain the power of the CPP, a nearly existential question for the party's key powerbrokers, even if this strains ties with the West. Any political gestures would therefore likely be limited in both scope and duration, and would likely fall short of what Washington would consider meaningful.
Realistically, the future trajectory of relations depends largely rather on whether or not the U.S. is willing to adopt a more pragmatic policy toward Cambodia – one that recognizes both the political realities in the country and the limits of U.S. power to alter them. Based on recent history, such a shift appears unlikely.