Vietnam Imprisons 54 Officials Over COVID-19 Flights Graft Case
Among the most prominent officials were high-ranking members of the ministries of foreign affairs, public health, and public security.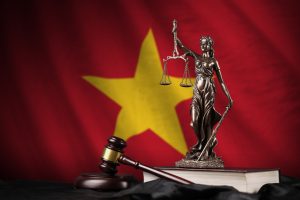 On Friday, one of Vietnam's largest-ever bribery cases concluded with hefty prison terms for 54 people, including a former deputy foreign minister and several senior diplomats.
They were accused and convicted of involvement in the so-called "repatriation flights" scandal, in which diplomats and companies requested bribes from Vietnamese citizens abroad who wanted to return to the country on charter flights organized at the height of the COVID-19 pandemic. These shenanigans attracted a range of charges, including giving bribes, receiving bribes, brokering bribes, "abusing titles and powers," and appropriating assets by fraud.
According to reports in the state-run newspaper VTC, 25 officials were found guilty of taking bribes worth a total of $7.4 million. Life sentences were handed out to four former high-ranking officials at the ministries of foreign affairs, health, and public security, among them Pham Trung Kien, assistant to a deputy minister of health, who was found guilty of receiving more than $1.79 million in bribes.
Among the other high-profile defendants were Vice Foreign Minister To Anh Dung, who was sentenced to 16 years in prison, after he was found guilty of taking around $907,000 in bribes, state media reported. Vice Foreign Minister Vu Hong Nam, the former ambassador to Japan, was sentenced to 30 months in prison, while former Vietnamese ambassador to Malaysia Tran Viet Thai received four years.
The trial, which began on July 11, is the latest milestone in the years-long anti-graft campaign that has been waged by Nguyen Phu Trong, the chief of the Communist Party of Vietnam (CPV).
The repatriation flight scandal, which has believed to have generated an estimated $200 million in illicit income for those involved, was one of two COVID-19-related graft cases, the other involving overpriced COVID-19 test kits. These scandals prompted the forced resignation in January of President Nguyen Xuan Phuc, and the cashiering of two of the country's four deputy prime ministers, including former Foreign Minister Pham Binh Minh. The scandal also led to a purge of the Ministry of Foreign Affairs, in which consular officials posted to embassies in Russia, Malaysia, Angola, and Japan were sacked and expelled from the CPV. Other officials, including the current ambassador to Malaysia, the former ambassador to India, and the consul general in Fukuoka, Japan, were reprimanded.
These scandals were particularly damaging to the CPV's image given the sacrifices that Vietnamese citizens were required to make to stem the spread of the coronavirus.
Termed dot lo, or "burning furnace," Trong's anticorruption campaign is a response to the graft and nest-feathering that has become widespread as Vietnam's economy has boomed over the past two decades, a trend that threatens to undermine the CPV's moral and political legitimacy. By applying extreme heat to the problem, Trong hopes to "burn off" corrupt officials, leaving the party both morally cleansed and politically relegitimized. The problem is that it is exactly Vietnam's system of "market socialism" under one-party rule that has created such opportunities for graft in the first instance.
There is thus a sort of tail-chasing character to the CPV's dilemma – its attempt to use the powers of the party-state to resolve its own contradictions – that ensures that such scandals will continue to be a periodic feature of Vietnamese political life for the foreseeable future.