A New Filipino Leader for Southeast Asia's Islamic State
It's not clear if Abu Turaife can garner support from IS adherents in the region and galvanize local militants or whether pro-IS groups in the Philippines are on the decline.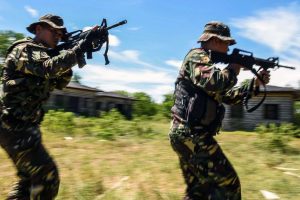 The recent announcement of a new Filipino leader of the Islamic State (IS) terror group in Southeast Asia has generated a buzz in the online sphere.
Esmael Abdulmalik, also known as Abu Turaife, the leader of the Turaife faction, one of the two pro-IS factions of the Bangsamoro Islamic Freedom Fighters (BIFF) terror group in the southern Philippines, was touted recently by pro-IS media channels as the new emir. 
Abu Turaife allegedly stepped up to the regional IS top spot after the killing of his predecessor, Maute Group leader Faharuddin Hadji Sattar, also known as Jer Mimbantas and Abu Zacharia, in a Philippine military operation in June of this year.
Analysts offered differing opinions on whether Abu Turaife would galvanize support for the terror group in the Philippines and the wider region.
For one thing, the new leader may bring new tensions to Southeast Asia and encourage nationals from the region to join IS, according to an Indonesian analyst.
"The announcement was very concerning, but predictable," Ulta Levenia Nababan, the lead researcher at Jakarta-based think tank Galatea, told The Diplomat.
"According to my research findings with Semar Sentinel [a think tank] in 2019, he was indeed very influential. I did not manage to meet him, but I met his senior, Kagi Karialan, and made a short observation of the Turaife camp in Maguindanao province.
"Kagi Karialan had 50-100 men but Abu Turaife had around 100-200 militias because he was hosting remnants of the Marawi siege from the Maute Group after they were defeated in Marawi."
Kagi Karialan is the moniker of Mohidin Animbang, who leads the non-IS-aligned Karialan faction of the BIFF, a splinter from the Moro Islamic Liberation Front (MILF), a former rebel group which now administers an autonomous region called the Bangsamoro Autonomous Region of Muslim Mindanao (BARMM).
The Maute Group, along with another pro-IS group, the Abu Sayyaf Group, laid siege to the southern city of Marawi in 2017 in an attempt to establish a territory for the so-called Islamic State East Asia (ISEA) wilayat, or province, which reportedly encompassed the Philippines, Indonesia, Malaysia, and Thailand.
A fierce five-month urban battle ensued before Philippine government troops retook the city from the clutches of the IS militants in October of that year. 
According to Ulta, Karialan further said that Turaife welcomed foreign terrorist fighters mainly from Malaysia, Singapore, Indonesia, and some Arab nations after the Marawi siege. Karialan said he was unsure about their nationalities, though he knew they were not Filipinos.
"Before they [Turaife and Karialan] broke up, Turaife also offered Karialan to host those foreign terrorist fighters (FTFs) in exchange of funds from ISIS but Karialan rejected it," said Ulta, who conducted field research in Mindanao in 2019.
"I think, with this new designation for Turaife, it would again open up the possibility of more foreign terrorist fighters into the southern Philippine terrorism movement or conflict. My assessment is that Turaife is still very keen to welcome those FTFs and fight with them against the Philippine government."
Ulta said last year's information indicated Abu Turaife was injured in attacks by the Philippine military, but  has likely now recovered and is again raising tensions in the region. 
"Also those terrorists who were under the Anshar Khalifah Philippines or AKP previously led by Tokboy Maguid are now with Turaife," said Ulta, referring to another local terror group aligned with IS.
"This is why I think Turaife as a new IS emir will bring new tension in the region and probably will provoke Southeast Asian nationals to join him."
A Philippines-based analyst said Abu Turaife's appointment was unexpected but still logical. 
"Last year, he was very sick and this has led some to believe he actually died. Not many jihadists from the last seven years are alive, so if there was a choice, then Turaife is natural – combining credibility as a preacher, fighter and someone who already became a name," said Georgi Engelbrecht, senior Philippines analyst at the International Crisis Group.
"Most of his fighters are relatives and as a Maguindanaon, he may not have a lot of soft power over Maranaos or the Tausugs. Given the Abu Sayyaf (ASG) in Sulu is in disarray in any case, and the Maute remnants are also without a leader after Zacharia's killing, we can probably expect each theater to focus on their own issues," explained Engelbrecht, referring to the two major ethnic groups in Mindanao.
Engelbrecht said the position of emir is highly symbolic, but in terms of operational capabilities, the militants are under serious pressure as they would need more adaptive and creative leaders. 
"Turaife is old school and an old guard, so we know it will be difficult for him to both operate on his own in central Mindanao, let alone control fighters elsewhere," he said.
"I think the loss of Salahuddin Hassan was also a big disadvantage to the militants. At some point, he and Turaife were not even in one organization, it seemed he did his own thing. In any case, after he died, some of his men returned back to Turaife while others ventured out," Engelbrecht added, referring to another slain Filipino IS leader for the region.
Despite his potential menace, Abu Turaife is confronted with the formidable task of convincingly asserting his emirship and gaining the unwavering allegiance of his followers, said a Malaysian analyst.
"We know that he had been turned down for the role before, which signals his reluctance to take charge for his own reasons. The fact the group continues to follow the declaration protocol, confusing as it was, suggests their belief in the relevance of their existence to the expansion efforts of IS in the region," Munira Mustaffa, executive director and principal consultant at Chasseur Group, told The Diplomat.
"This is notwithstanding the overall diminishing and weakening of the organization, and I supposed the counterterrorism efforts have not been substantial enough to quell its persistence or cease its potential resurgence. Its militant members, stubbornly optimistic, continue to operate as an active insurgency, despite the ongoing Philippine military pressure."
Munira, a former analyst at Malaysia's Southeast Asia Regional Centre of Counterterrorism, said it remains uncertain whether Abu Turaife's announced leadership will substantially affect or influence any militants in Malaysia, considering their divergent political agendas and long-term and short-term objectives.

"The prospect of receiving support from Malaysia appears slim due to these preference divergences," she said. "The fact that this announcement is unofficial implies a detachment from the operational priorities of central IS, suggesting the general status of IS in the region is dwindling and that they are now, or have been, operating independently from IS. 
"In contrast, IS remains an enduring problem in the Middle East and Africa," she added. "Therefore, the IS brand in Southeast Asia, the so-called ISEA, may hold some symbolic value, but it might not have any substantive value beyond that."
Similarly, Engelbrecht said he believed that apart from a short buzz in the online sphere, there will not be substantive reaction on the ground to the announcement.
"Turaife's relatives and perhaps the members of Salahuddin Hassan's group would try to get a boost out of it, but the Maute remnants and the ASG have other things to focus on," he said. 
"I'm not sure if there will be a competition to Abu Turaife even though the Maranaos would probably wonder why not another Maranao replaced Zacharia."
Engelbrecht said IS has definitely weakened in Mindanao. 
"Usually, these movements are also tied to the legitimacy of the peace process and the overall sphere of things. Should the BARMM underperform and issues between government and the MILF remain at times tense, then it might get revitalized," he said.
"The key date for this is 2025. But again, not all frustrated rebels would jump on a jihadist alternative," said Engelbrecht, referring to the year the Bangsamoro Parliament election is scheduled to take place in BARMM.
"Well, the usual caveats – all politics and conflict are highly local, there are mixed results from government/regional interventions and you cannot kill an idea by force. A key period to watch will be the village elections in late October this year.
"I feel ISEA / Southeast Asia is not much of a priority (for IS) anymore."
A spokesman for a military command in Mindanao said they have not received any information on Abu Turaife as the new leader of IS in the Philippines and the region but operations against the various terror groups were ongoing.
"We have decisive military operations, intel operations and civil-military operations to neutralize these terrorists like DI, BIFF and Abu Sayyaf Group," Maj. Andrew Linao, the spokesperson for the Western Mindanao Command, told The Diplomat. 
"We are also declaring areas clear of terrorists and ready for further developments like Sulu province and Zamboanga peninsula."
DI is short for Dawlah Islamiyah or Islamic State, an umbrella term for pro-IS terror groups. It is also sometimes used to refer to the Maute Group.
The Philippine military in July announced that the southern island province of Sulu had been cleared of Abu Sayyaf bandits, although sub-leader Mudzrimar Sawadjaan, also known as Mundi, a bomb expert wanted by the Philippines and Malaysia, is still at large was reportedly last seen in Basilan province.
He was tagged in suicide bombings in Sulu including by Indonesian IS terrorists.
The newly installed Philippine military chief, Gen. Romeo Brawner, also in July said the nation expects to see total victory against Moro militants by the year's end, a familiar statement made by almost all previous chiefs during their respective tenures.
Whether Abu Turaife will garner support from IS adherents in the region and galvanize local militants to support him back home, and whether pro-IS groups in the Philippines will cease to exist by the year's end or remain, only time will tell.