Atambayev Allies Courting Diplomatic Relationships
Kyrgyzstan's Social Democrats have limited influence on domestic politics. What to make of their sustained push for international partnerships?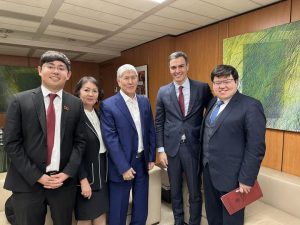 Six months have passed since Kyrgyzstan's former President Almazbek Atambayev decamped for Spain, and it was only a few weeks ago that there was any glimpse of him.
On August 5, Temirlan Sultanbekov – an Atambayev loyalist and head of the Social Democrats, one of the offshoots of Atambayev's party – posted a photo of himself with Atambayev, Atambayev's wife and son, and Spanish Prime Minister Pedro Sanchez. Sultanbekov's post was not an update on the former president per se, but to congratulate Sanchez on his party's success in recent elections.
Atambayev traveled to Spain on February 15 to get medical treatment for a herniated disc and unspecified heart issues. Just two days prior, he had been serving an 11-year prison sentence for releasing a crime boss from jail with a false cancer diagnosis. After Kyrgyzstan's Supreme Court overturned Atambayev's sentence, the Spanish prime minister sent a letter to current Kyrgyz President Sadyr Japarov, offering a "humanitarian invitation" for "comrade Atambayev."
The lifted sentence does not entirely wipe Atambayev's legal slate clean. He is on trial for charges of murder, attempted murder, threatening official representatives, hostage taking, and the forcible seizure of power during violent clashes in August 2019 at his residence near Bishkek. More than 170 people were injured and one security officer was killed in the standoff at Koi-Tash, his residential compound.
The clashes at Koi-Tash only exacerbated a rift in Atambayev's party, the Social Democratic Party of Kyrgyzstan (SDPK). About a year after Koi-Tash, the SDPK split in two. Allies of then-President Sooronbai Jeenbekov flocked to the Birimdik party, which re-registered in September 2019, while Temirlan Sultanbekov – who had joined the SDPK at 18 – established the Social Democrats. Also high up on the party roster was Atambayev's youngest son, Kadyrbek.
The Social Democrats did not manage to cross the 7 percent quota in the October 2020 parliamentary elections, nor in the follow-up elections in November 2021. (Though one Social Democrat – Seidbek Atambayev, Kadyrbek's older brother – won a spot in parliament in a single seat district.) However, the Social Democrats have found relative success in local politics. They secured spots in city councils of seven cities, including Bishkek, and 685 party members were elected deputies in village councils, mainly in Chui, Naryn, and Issyk-Kul regions.
While the Social Democrats are not as influential in Kyrgyz national politics as the SDPK was, the party has actively pursued international partnerships. In July 2023, the Social Democrats became a member of the Progressive Alliance, a network of social democratic political parties with some 140 members worldwide. In August, Sultanbekov visited Mongolia to attend a meeting of the International Conference on Asian Party Politics (ICAPP). While in Ulaanbaatar, he met with the speaker of parliament and other government officials about strengthening cooperation between the two countries.
The Social Democrats don't just make jaunts abroad for informal diplomacy; they have also facilitated visits to Kyrgyzstan. On August 1, Bishkek billboards greeted a member of Madrid's city assembly, Hana Jalloul, in Kyrgyz and Spanish. The trip marked the first international visit for Jalloul, who leads foreign policy for the Spanish Socialist Workers' Party. "It is a great honor for us!" Sultanbekov wrote on Facebook about the visit. "The friendship between us will only grow stronger and stronger!"
This relationship between Kyrgyzstan's Social Democrats and Spain's Socialist Workers' Party is significant against the backdrop of European attention to Central Asia. Kyrgyzstan and other Central Asian states are not covered in the European Neighborhood Policy, which offers favorable access to support in development and security. But the EU is the largest aid donor to Central Asia and has promoted regional cooperation, and diplomatic efforts and financial support have ramped up since Russia escalated its war in Ukraine.
Kyrgyzstan hosted the first European Union-Central Asia Economic Forum in November 2021, and Japarov welcomed the president of the European Council, Charles Michel, to Cholpon Ata in June 2023 for another summit. These forums have offered space for Central Asian leaders to discuss concrete steps to deepen cooperation.
But Sultanbekov and the Social Democrats show that there is another path for diplomatic development.
What's especially interesting is that Sultanbekov has not framed his maverick relationship-building as a challenge to Japarov. Sultanbekov strongly criticized Japarov following his rise to power and during the Kempir-Abad scandal. But his tone has changed since Japarov intervened on behalf of Atambayev in February.
Spain stepped into its six-month EU presidency on July 1, 2023, and the Social Democrats' relationship-building efforts combined with Japarov's formal diplomatic engagement could secure Spain's attention on Central Asia.