China's Digital Silk Road and Malaysia's Technological Neutrality
Like other nations in Asia and Africa, Malaysia has shown considerable agency in navigating the tech war between the United States and China.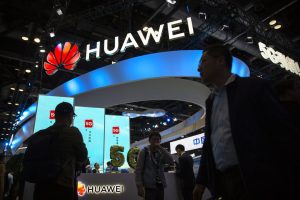 The ongoing tech war between the United States and China is increasingly driven by ideological, normative, and political tensions. The development of 5G technologies and the strategic hedging of third countries represent a perfect case in point.
In May of this year, the news broke that American and European Union diplomats had warned the Malaysian government about possible national security risks should the Chinese firm Huawei be involved in building the country's second 5G network. There has since been heated discussion in the Malaysian media about the wisdom of the 5G rollout. Southeast Asian countries often engage in processes of hedging between great power initiatives, hewing to a so-called "third way." In the context of the tech war, members of the Association of Southeast Asian Nations (ASEAN) have tended to position themselves as technologically neutral. However, mounting pressure from both the United States and China is shrinking their room for maneuver, pushing them toward the point where they may have to pick sides.
Coincidentally, we found ourselves in Kuala Lumpur as these debates unfolded and the below analysis draws from the many formative meetings we had with a range of actors. These conversations reflect Malaysia's specific situation, but they also reflect larger debates over the use of Chinese technology worldwide.
Nuancing China's Export of Digital Authoritarianism
In 2015, the Chinese government launched the Digital Silk Road (DSR) as the digital arm of the Belt and Road Initiative (BRI) that had been announced two years earlier. The framework has since expanded to more than 160 countries worldwide. Chinese companies involved in the DSR have diversified into collaborating with recipient states on a much broader set of issues, including countries' AI capabilities, telecommunications networks, surveillance technology, Smart City programs, and cloud computing, as well as e-commerce and e-health initiatives.
The increasing use of AI and other critical technologies in our everyday lives has sparked debate over the different systems shaping the uses of such technologies, what is often seen as a competition between digital authoritarianism and liberal democracy. Indeed, the challenges posed by emerging technologies to the current international order have a strong normative thrust, as developments in this field may lead to the redefinition of the world's rules, norms, and institutions of governance. In this context, China is said to be using tech investments to promote digital authoritarianism and spread illiberal norms. Conversely, the U.S. and its allies are associated with forms of technology that are imbued with liberal norms such as democracy, freedom, and privacy.
There is indeed the possibility that certain technologies may contain normative elements, and Chinese companies as well as the government have been keen on promoting a "model" of techno-authoritarianism in line with directives from President Xi Jinping. Huawei's training programs, for example, raise concerns about China's export of its Golden Shield Project, also known as the Great Firewall of China. At the same time, research conducted in other Southeast Asian countries such as Indonesia suggests that the security risks posed by Huawei technology pale next to priorities such as upskilling future generations of tech workers and digitalizing the domestic economy. Previous research has also shown that "the demand for these technologies and how they are used depend more on local political conditions than Chinese grand strategy," as Jessica Chen-Weiss has argued. Viewing these exports of Chinese companies exclusively as a one-way street is thus limiting and takes attention away from key issues, such as recipient countries' agency and the political agendas and self-interests that relevant actors pursue when engaging with China.
The Digital Technology Ecosystem in Malaysia
Our visit to Malaysia came shortly after a letter that the EU and U.S. sent to the Malaysian government, warning it of potential risks to its national security if Huawei were involved in building the country's second 5G network. In 2021, the Malaysian government established Digital Nasional Berhad (DNB) under the Minister of Finance to undertake the deployment of 5G infrastructure and networks nationwide. Upon a public tender, DNB entered a 10-year partnership with the Swedish company Ericsson to deliver a single wholesale 5G network. The crux of the matter, in this case, is that the current government has decided to reverse its national policy towards an open market approach in which Huawei is allegedly lobbying to play a role. Practically, this means that the network that DNB is currently rolling out will be privatized upon completion of 80 percent national coverage and a new tender will be opened to construct a parallel network. Our meetings with different stakeholders informed us about various dynamics at play in this issue.
First, China's involvement in the provision of telecommunication technology to Southeast Asian countries predates and expands beyond the DSR. China's tech giants have been active in the region long enough to be considered as reliable partners by governments and local companies alike. In Malaysia, companies such as Huawei, ZTE, Alibaba, and Hikvision are an integral part of the technological ecosystem. Hikvision's surveillance cameras dot the streets of Kuala Lumpur. WeChat Wallet, Dianping, and Alipay are popular digital payment platforms across the country. Huawei's equipment tops popularity rankings, even within government agencies.
The impact of Chinese companies in the daily life of many Malaysians expands far beyond flag-ship projects such as Alibaba's electronic world trade platform (eWTP) and its logistics center near the Kuala Lumpur International Airport. Their long-term presence has helped create mutual trust between Chinese companies and the Malaysian government and telcos, thus paving the way for future engagement. In a recent interview, Communications Minister Fahmi Fadzil declared that Malaysia will remain a free market and that local telcos will be allowed to decide on whether to collaborate with Chinese equipment makers during the rollout of the second 5G network. The decision not to exclude Huawei from participating in building up Malaysian 5G networks was therefore portrayed to us as based mainly on the company's long-standing economic relations with local municipalities and businesses.
Second, internal rather than external dynamics primarily informed the government's decision. These conversations have taken place in a larger debate around the state-owned 5G network and the advantages and disadvantages of the single wholesale network approach. In this sense, these discussions not only reflect the country's strategic positioning between China and the U.S. and its allies, but also and most importantly the development of Malaysia's digital infrastructure.
Here, the concerns revolved mainly around the interplay between the country's telcos and the government, as well as technical issues such as coverage and reliability of the network. Data security and privacy were highlighted as something that historically had not been a primary concern in the lives of Malaysians, and national security was not raised as a potential problem when discussing the involvement of Chinese companies.
Decisions over which external actors should be involved in supporting the country's shift to a more digitalized economy seem to be mainly driven by economic calculations and strategic motivations. Ericsson was indeed awarded the initial 5G tender on the grounds of having proposed the cheapest and most attractive package. Ultimately, Malaysia is not picking any side in the tech war between the U.S. and China. If anything, the decision to openly engage in discussions with Chinese companies signals that Malaysia's top priority remains to upgrade its economy in the fastest way possible.
Third, long-term considerations about Malaysia's role in the regional context played a big role in the government's decision. Malaysia's digital economy is one of the country's fastest growing sectors, a development prompted primarily by the unveiling of the Malaysia Digital Economy Blueprint in 2021 and the establishment of the Digital Investment Office to attract more investments in digital services.
During our meetings, we were also told that Chinese investors look at Malaysia as a gateway to the whole region, not the least thanks to its geostrategic position along the Straits of Malacca and the South China Sea. Chinese tech companies have long been active in the country because they see Malaysia as a promising and stable environment in which to invest. Malaysia offers much more than cheap manpower. Its talent pool features skilled personnel who often speak both English and Mandarin fluently, as well as several other languages. Training programs such as those promoted by Huawei promise to further upskill the next generation of tech workers and digitalize the domestic economy.
The Malaysian political elites have, in turn, responded to China's engagement with pragmatism and embraced Chinese-led initiatives such as the BRI. For instance, different stakeholders labeled Alibaba's eWTP as instrumental in expanding the regional business of Malaysian SMEs. In the long-run, a closer economic cooperation with China is believed to bring the potential for Malaysia to become a crucial technological hub at the regional level.
Navigating the U.S.-China Tech War
The case of Malaysia is not unique. In responding to disruptions in global supply chains as a result of geopolitical tensions, African countries have exercised their agency in several ways, such as by trying to avoid overreliance on either Western or Chinese technologies and choosing from several suppliers in addition to developing local platforms. Gulf states are welcoming Chinese tech firms despite efforts from the U.S. to halt their expansion. Latin America has similarly been open to investments by Huawei and other Chinese firms. These developments highlight a crucial element in the competition for rewriting the rules of the international order, be that regarding technology or political alliances more broadly: countries in the Global South do not want to pick sides.
Asia in particular has emerged as a primary theater for Sino-American rivalry and it is in this region that countries are feeling the pressure the most – from both Washington and Beijing. Many leaders in Southeast Asian nations have stressed their preference for multilateral agreements that give ASEAN a central role and do not view the U.S.-China rivalry as a matter of democracy versus autocracy; rather, survival is their primary concern. In this context, China's rise is perceived as concerning, but also as an opportunity. Given these complex dynamics, Southeast Asia has tried to balance between long-term risks and short-term gains, as put by Cheng-Chwee Kuik, including by hedging against the uncertainties brought about by the rise of China. They have done so also by welcoming U.S. engagement in Asia, especially following the Obama administration's "pivot to Asia."
Increased engagement in Southeast Asia's digital landscape, however, requires a deeper understanding of the strategic choices (and the underlying motivations) of countries that depend on China and the U.S. for the build-out of their IT networks. Fanning the flames of ideology and cautioning against a false moral equivalence between the two countries is counterproductive. Rather than choosing between the U.S. or China, Southeast Asian nations might have to choose, in the words of Bonnie Glaser, "between a future in which there are shared rules and norms within a rules-based order that everyone upholds, and a future in which power prevails, the strong bully the weak, and rules are disregarded in favor of a 'might makes right' approach."
Rather than further escalating the rhetoric of their confrontation with China, the U.S. and its allies should take a pragmatic approach to cooperation with Southeast Asia. This approach will take into account the multitude of overlapping domestic interests and actors in each context.
Research funding for this article was supported by the Research Council of Norway under the grant "Shaping the Digital World Order: Norms and Agency along the Digital Silk Road in Southeast Asia," project no.: 325129.