Harvest of Duds: What Cluster Munitions in Laos Can Teach Ukraine
Unexploded cluster munitions in Laos are a reality check for Ukraine.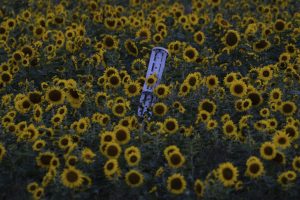 A tennis ball-sized bomblet was recently defused in the river town of Kasi in northern Laos. The munition was discovered shortly before the 50th anniversary of the Paris Peace Accords of 1973, the treaty that ended U.S. military involvement in Southeast Asia.
The Vietnam War has faded into history, yet a zombie army of munitions marches on killing and maiming civilians to this day. Of the 270 million cluster bomblets dropped over Laos, an estimated 30 percent made soft landings in the countryside. Submunitions like the bright yellow "pineapple bombie" with pop-out drag vanes for stabilization tended to get stuck in trees, scrub brush, or rice paddies. "Little kids mistake them for toys. Farmers mistake them for rocks," Karen Coates wrote in her 2013 book "Eternal Harvest: The Legacy of American Bombs in Laos."
As recently as 2021, the country experienced a sudden spike in fatalities from unexploded munitions: 63 people died that year, a figure higher than the previous two years combined.
An international treaty prohibiting the use of cluster munitions was adopted in 2008. The U.S. was not a signatory to the convention, but the Department of Defense stopped producing the weapons that year. Congress has included a ban on U.S. cluster munitions with a dud rate above 1 percent since 2017.
In early July, the Biden administration sidestepped the 1 percent failure rate restriction by invoking a rarely used provision in the Foreign Assistance Act of 1961. Under the exception, the president has the authority to assist a foreign government if he determines that doing so would be critical to the national security interests of the United States.
A Pentagon spokesperson said officials were "carefully selecting" rounds with a failure rate no higher than 2.35 percent, based on tests performed as recently as 2020. In an interview with CNN, President Joe Biden admitted that "it was a very difficult decision on my part" but added, "the Ukrainians are running out of ammunition."
The announcement dredged up bitter memories in Southeast Asia. The government of Laos released a statement reminding nations seeking or supplying cluster munitions that duds were an ongoing, persistent threat to the "lives and livelihood" of a population that has been the world's "largest victim" of cluster bombs. Prime Minister Hun Sen of Cambodia underscored the limitations of clean-up operations: "It has been more than half a century. There have been no means to destroy them all yet."
In Washington, D.C., critics of the decision included the president's allies in Congress. "These weapons should be eliminated from our stockpiles, not dumped in Ukraine," declared Rep. Betty McCollum (D-MN), ranking member of the House Appropriations Subcommittee on Defense.
A recent Congressional report called cluster bombs "an indiscriminate area weapon in an era where precision weapons are increasingly becoming the military norm." But the paper conceded that the weapons offered distinct tactical advantages when deployed by a small army against a larger adversary.
The two types of artillery shells selected for use in Ukraine have a history of poor performance on the battlefield. The M864 and M483A1 projectiles are included in the "dirty dozen" cluster munitions list compiled by Human Rights Watch. The 155mm rocket-fired shells are packed with DPICMs (dual-purpose improved cluster munitions).  The bomblets nicknamed "dee-PICK-'ems" are erratic exploders. An assessment conducted by the Pentagon two decades ago estimated a failure rate of 14 percent.
Some military experts believe the Pentagon may have arrived at a lower dud rate of 2.35 percent by improving the submunition's capability to self-destruct. Mary Wareham, advocacy director of the Arms Division of Human Rights Watch, told the Washington Post, "The lack of transparency on how this number was reached is disappointing and seems unprecedented."
A New York Times report on cluster munitions suggests the official dud rate is an optimistic assessment that may not accurately reflect how the bombs fare on the battlefield. Primarily designed to deter tanks, vehicles, and soldiers, the munitions detonate as expected when they hit hard surfaces. The U.S. Army's testing site in the Sonoran Desert likely yields better-than-average success rates given the topography: hard-packed soil with few trees. Bomb disposal experts say the fail rate is significantly higher when submunitions land on softer surfaces like swamps or cultivated fields.
Another factor that might affect the failure rate is the age of certain discontinued "legacy" munitions in the U.S. stockpile. One shipment of M864 projectiles spotted in Ukraine had a lot number indicating they were manufactured in 1995 at a Tennessee ammunition plant.
The post-war clean-up will be monumental. "We expect this to be one of the largest landmine and unexploded ordnance challenges since World War II," remarked a U.S. state department official last December in a statement condemning Russia's use of cluster munitions in eastern Ukraine. The Russian munitions have an estimated dud rate ranging from 10 percent and 30 percent, comparable to the failure rate of the bomblets dropped in Laos.
In a tweet, Ukraine's defense minister Oleksii Reznikov welcomed the U.S. decision to supply his country with cluster munitions. He offered assurances that Ukraine would restrict its use of the weapons to sparsely populated areas, unlike Russia, which had attacked cities. "Cluster munitions will be used only in the fields," he explained.
The Ukrainian battlefield, however, is also prime agricultural land and one of Europe's most productive wheat-growing areas.
A former U.S. Air Force pilot assigned to the 56th Air Commando Wing during the Vietnam War feels Ukraine's enthusiasm for cluster munitions is misplaced. "All that was accomplished by using these inhumane weapons was to leave a trail of destruction that remains to this day and a deep sense of regret for U.S. veterans like myself," wrote Mike Burton, who participated in the bombings over northern Laos more than 50 years ago.