How Did Pakistan Become Geopolitically Irrelevant?
Shifting geopolitical currents, internal instability, India's rise and China's indifference underlie its declining stature on the world stage.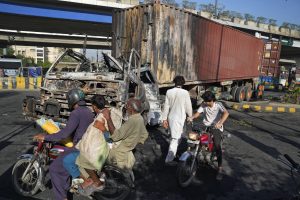 Pakistan has drifted into geopolitical oblivion. This, despite its important geostrategic location, large population — the fifth greatest in the world — a powerful military, nuclear weapons and semi-industrial economy. It lurches from crisis to crisis and is close to becoming a non-player on the world stage.
There are four primary reasons for its declining geopolitical relevance: shifting geopolitical currents, internal instability in Pakistan, India's rise, and China's indifference.
Shifting Geopolitical Currents
Much of Pakistan's utility a decade ago derived from its location between India, China, Iran, and Afghanistan. While the United States was engaged in Afghanistan, Pakistan was a vital partner as it provided it with access to landlocked Afghanistan. With the U.S. withdrawal, Pakistan's role in serving as a conduit for the U.S. in Afghanistan has ended. Afghanistan is now primarily Pakistan's problem.
Likewise, Iran, despite its regional influence, remains isolated and under sanctions. Much of the economic and cultural development in the Middle East has largely bypassed Iran for the Gulf region, with the United Arab Emirates and now Saudi Arabia courting investment and seeking to emerge as global powerhouses in realms as diverse as museums and sports. The Arab countries of the Middle East can trade with the West, India, and China largely by sea, further diminishing both Iran and Pakistan's geographic utility. Given the relatively small markets of the Central Asian states, instability in Afghanistan, and issues in developing the port of Gwadar on Pakistan's Indian Ocean coast, Pakistan can get little from its position as an overland link between Central Asia and the Indian Ocean. Furthermore, the border between Pakistan and Iran, encompassing the insurgency-ridden Balochistan region, is hardly a hub of connectivity and stability.
This leaves India and China. Because of the unique nature of Indo-Pakistani relations, Pakistan's location is of little utility to India; Pakistan is seen as a barrier to be circumvented. The vast majority — 95 percent by volume — of India's trade is by sea. China's equation with Pakistan is much better, but the majority of China's population and economic output are located in eastern China and utilize the Pacific coast for trade, while its overland trade with Europe and Central Asia goes through Kazakhstan and Russia. There is only so much that Pakistan can do for China.
China's Indifference
While China and Pakistan maintain a close relationship, both sides have recognized the limitations of what each can do for one another. Pakistan has continued to cultivate ties with other powers, including the United States, Russia, and countries in the Middle East. This is partially because the country has been seeking to diversify its economic partnerships in light of an economic crisis that has lasted over a year, exacerbated by political instability and borrowing from China.
Pakistan's political and military culture is heavily influenced by the West, and not China, which limits the extent to which its elites can connect with China. Meanwhile, China's geopolitical concerns remain oriented toward its east, toward Taiwan, Japan, the South China Sea, and the U.S. naval presence in the region, not toward its remote western frontier.
While Beijing is investing around $62 billion in the China-Pakistan Economic Corridor (CPEC), this is merely one of many initiatives it is currently pursuing throughout the world as part of its Belt and Road Initiative. While CPEC was supposed to be a game-changer for Pakistan, many of its projects have stalled due to economic instability in Pakistan, China's own economic slowdown, and chronic violence in parts of Pakistan. It will take decades for the project to bring in returns that are useful for China, and even then, China's economic and strategic relationships with other countries will likely be more important than its relationship with Pakistan. Even though China has cultivated Pakistan in the context of its own rivalry with India, China may ultimately choose to work more closely with India, despite that continuing rivalry, to improve stability throughout South Asia and to pursue common aims through global forums.
Internal Instability in Pakistan
It is true that population and economics are not everything and countries can punch above or below their weight internationally based on how well they use their diplomatic, economic, and military influence. This, however, requires political and economic stability, something that Pakistan does not have. There is nothing as useful as a government promoting its own interests on the global stage. For example, the government of Narendra Modi in India constantly talks India up, urges companies to invest in India, and speaks about India's role in the world.
Since Imran Khan's ouster from power in a no-confidence vote in April 2022, Pakistan has experienced political instability, compounding its economic crisis. Khan and his supporters have engaged in protests, which have sometimes escalated into violence, since then. While the unrest has reduced substantially with Khan's arrest and a caretaker government in charge until elections, uncertainty over when elections will be held and the role of the military in the current set-up persists.
Its opaque political situation presents difficulties for foreign countries in deciding which actors within Pakistan to engage with, and to what extent they should do so. Even if the military controls policy, a civilian government remains its face, yet often engaging with the civilian government is pointless. As various civilian factions and political parties continue to vie against each other and the military, and as the economic crisis continues, Pakistan remains unstable and self-absorbed.
Such a country, with this level of chronic instability, can hardly implement the necessary economic policies, prioritize growth, serve as a stable partner for other countries, or promote its own interests internationally. It can hardly articulate a vision of its own geopolitical goals and take advantage of its location and resources. Compared to its neighbors and other countries with similar populations, military prowess, and resources, such as Turkey, Indonesia, and Bangladesh, Pakistan is totally stagnant.
India's Rise
In the last few years, there is no doubt that India has arrived on the world stage in a big way. In the past, India was often bracketed with Pakistan in foreign contexts, especially on the Kashmir issue and in discussions on nuclear proliferation. The United States and other world powers sought to mitigate instability in South Asia by engaging with the Indo-Pakistan relationship, particularly as the West was then heavily involved in Afghanistan and Pakistan was an important ally and battlefield in the now-forgotten global war on terrorism. This fed a perception in the West that India and Pakistan were roughly similar in terms of power and importance, but that is no longer the case. In fact, it never was — India's economy is eight times Pakistan's size and its population is at least seven times larger — but now perception has caught up with reality.
It is widely recognized that India is a leading global power with influence in major clubs such as the G-20, and the newly expanded BRICS, and in countries ranging from Greece, France, Saudi Arabia, and the United States. Today, India is more often than not bracketed with China, not Pakistan.
Unfortunately for Pakistan, there is little it can do to match this, economically or militarily. In a world that has moved to focusing on economic growth and development and old-fashioned great power politics, any militancy and terrorism emanating from Pakistan would not gain it any favor, and it seems to have exhausted the goodwill of many of its friends in the Middle East with its incessant need for bailouts.
Pakistan already has little military leverage vis-à-vis India, but now has even less diplomatic leverage, as fewer countries care enough to continue to humor it on Kashmir or India, when ultimately, what they really want is for Pakistan to get its own house in order.
These factors, working in tandem with each other, reinforce the fact that Pakistan has rather quickly become geopolitically irrelevant. It will take a lot of time and effort, and more than anything, a competent, stable government and political system, to reverse this process.