How Vietnam's Infrastructure Incapacity Undermines Its Geoeconomic Ambitions
The lack of progress on the 555-kilometer railway linking Vung Ang to the Lao capital Vientiane contrasts starkly with the recently completed Kunming-Vientiane line.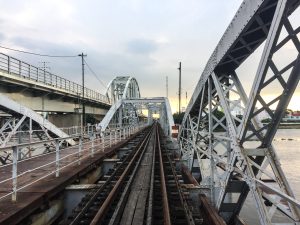 For a number of years, Vietnam and Laos have attempted to get a railway project rolling to little fanfare and less success. The construction for the planned 555-kilometer Vientiane–Vung Ang railway, which would connect the Lao capital to the Vietnamese seaport where Laos has privileged access, was supposed to begin in November 2022, then in March 2023, and now by the end of 2023 or early next year, "if things go as expected."
As is tradition for Vietnamese railway developments, things have not gone as expected. One such surprise, besides the delays, was the highly publicized arrest of the chairman and president of the FLC Group in in March 2023, the week after the corporation inked an investment deal for the railway in the presence of multiple high-level Lao and Vietnamese officials. Given the silence on the project over the past three months, it is unlikely that the train will leave the station any time soon.
The Vientiane-Vung Ang railway and its tribulations are an example of how Vietnam's political and geoeconomic interests are hamstrung by its inability to build transport infrastructure. It is important to note that the project is not in fact new. Following a Lao request, both countries agreed to look into the possibilities of building a railway back 2003. This agreement follows an earlier one in 2001 that gives landlocked Laos rights to access and use Vietnam's Vung Ang port, which remains the former's most direct access to the sea. While the proposed railway is modern, its route is not. The railway essentially expands upon the long-abandoned Thakhek-Tan Ap railway, originally conceived by the French in the 1930s to transport goods between Savannakhet and Saigon, France's perle de l'extreme orient and now Vietnam's biggest economic center. The French, however, did not finish the train route and instead complemented it with a novel aerial tramway, only for both to later fall into disuse when Vietnam's resistance wars began.
After nearly seven decades, concrete efforts to get the railway project rolling began in 2007 when the Lao Minister of Land Transportation met with the Vietnam Railway Corporation. The initial plan was for a modest track from Vung Ang to Cha Lao on the border with Laos, which would have cost an estimated $247 million, according to a 2010 study by Japan Development Institute. The project was then expanded to its current scope after the conclusion of an undisclosed two-year feasibility study by the Korea International Cooperation Agency in 2017, which puts the estimated costs to $5 billion, though a more recent estimate came in slightly higher, at $6.3 billion. In 2019, both countries formally committed to building the railway, which will link up with the Chinese-built railway running from Vientiane to Laos' border with China, and hence onto Kunming, the capital of Yunnan province.
The project bears some curious similarities with the more well-known Chinese rail line, which begun operations in late 2021. For one, both projects run across Laos' rugged territory and come with an accordingly hefty price tags. The Vietnamese railway likewise has been questioned for its usefulness and costliness, though not to any extent comparable to the now typical scrutiny for Chinese overseas infrastructure projects. In a display of foreign policy proactiveness, it was also Laos that began discussing a railway with China in 2001. To realize its "landlocked to land-linked" ambition, Laos has no qualms reaching out to its rivalrous socialist brothers and dragging them back to Vientiane.
Besides clear political intent, both the Chinese and Vietnamese projects are motivated by geoeconomic interests. Just as the Kunming-Vientiane railway and the Belt and Road Initiative (BRI) are a product of China's desire to bolster its frontier economy and deepen the economic integration between China and Laos, the Vientiane-Vung Ang railway will also link to the coastal Vung Ang Special Economic Zone in Ha Tinh province, where Vietnam has been corralling investments in a bid to transform it into an industrial center for metallurgy, tourism, energy, and seaport services.
The geoeconomic needs in Laos are, however, more pressing for Vietnam. The unveiling of the Kunming-Vientiane rail system has prompted a number of responses in Vietnam, including praise for its efficiency, skepticism over its gargantuan debt risks, and anxiety over losing to greater flows of Thai and Lao exports to the Chinese market. There is thus a real pressure for Vietnam to accelerate the railway project not to only improve its "special relationship" with Vientiane but also ensure Vietnam's own regional competitiveness.
Unfortunately, the difference between the Chinese and Vietnamese railways is that only the Chinese one is completed. While the Kunming-Vientiane railway was enabled by China's infrastructure overcapacity, the proposed Vientiane-Vung Ang railway is bogged down by Vietnam's intractable infrastructure undercapacity. The Vietnamese train system is grossly inefficient and underutilized. According to a 2021 report by the Vietnam National Railway Authority, the train system from 2011 to 2019 only accounted for a measly 0.17 percent of overall traffic passengers out of a target of 1-2 percent and 0.24 percent of overall trafficked goods out of a target of 1-3 percent. Even worse, these volumes of passengers and goods are part of an overall decline.
In contrast, the Vietnamese road system is consistently responsible for nearly two-thirds of Vietnam's goods and passenger transport while sea routes carried less but vastly outperformed the government's targets. This overreliance on roads has contributed to a systemic neglect of train infrastructure that recently saw exorbitant and comically delayed projects like the metro lines in Hanoi and Ho Chi Minh City, despite their more modest scales.
Vietnam's infrastructure ineptitude goes further than just trains and railways. Even politically important projects that are smaller, cheaper, and less complex, like the expansion of the Vung Ang port, the terminus of the proposed railway from Laos, have struggled in Vietnam. Despite being a project of strategic priority that commands bilateral political attention, the seaport has still not finished adding two additional berths and upgrading the existing two since construction began in 2015. In a twist, Vietnam and Laos agreed in 2022 to increase the latter's shares of the Vung Ang port from 20 percent to 60 percent, thus giving Laos more responsibility in the port management and expansion. Such development does not reflect well on Vietnam's capacity to maintain the health of its relationship with Laos, especially in light of the "pride" that Laos has expressed in the Kunming-Vientiane railway.
The comradeship between Vietnam and Laos is born out of their mutual struggle during more than three decades of war and is unlikely to be severed by divergent economic interests. However, the development of the Chinese railway in Laos – and the progress of the BRI more generally – should alert Vietnam to how infrastructure is intimately linked to its geopolitical interests. The Vientiane-Vung Ang railway, or lack thereof, serves as an urgent reminder for Vietnam to address its infrastructure deficit, should it want to improve its standing vis-à-vis both its ally and its adversary. Infrastructure bears implications not just to the Vietnam-Laos relationship but its own economic ambitions. Policymakers in Vietnam should heed the slowing growth in the country due to its power supply crunch and poor infrastructure as a sign of more to come, if they fail to expeditiously resolve these issues in time.