The High Stakes of Indonesia's $20 Billion Just Energy Transition Partnership
Last November, the U.S. and its partners promised to supercharge the country's green energy transition, but their efforts are already facing obstacles.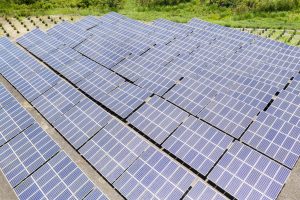 Indonesia's $20 billion Just Energy Transition Partnership (JETP), announced last November by U.S. President Biden, Indonesian President Joko Widodo, and Japanese Prime Minister Kishida Fumio, is reaching an early critical juncture. The stakes involved are high, encompassing climate change, economics, U.S.-Indonesian relations, and geopolitics.
Under the Partnership, an International Partners Group (IPG), made up of the G-7, Norway, and Denmark and led by the United States and Japan, promised to mobilize $10 billion in financing, while a private sector alliance committed an equal amount. Indonesia agreed to accelerate the retirement of coal-fired power plants and promote renewable energy, setting targets of capping emissions from its power sector, making that sector carbon neutral by 2050, and tripling the share of renewable energy in the power mix by 2030.
If the partnership succeeds, Indonesia – one of the world's largest greenhouse gas emitters – will be on a path toward significantly reduced emissions. Moreover, success will demonstrate that the JETP model is viable, encouraging similar partnerships elsewhere. Failure would undermine the JETP concept and discourage efforts by other developing countries.
For Indonesia, JETP provides an opportunity not only to shift away from dirty coal power but also to enhance its attractiveness as an investment destination. Although Coordinating Minister Luhut Panjaitan, who has been overseeing its implementation, has sought to put all the pressure on the IPG, saying "we don't lose anything if the deal doesn't materialize," a failed deal would mean Indonesia leaving billions of dollars on the table, and would reinforce perceptions that it is a difficult place to do business.
The stakes for the United States are equally high. Washington led the negotiations and will get much of the credit or blame for JETP's success or failure. Also, the recent U.S. track record on economic issues in the Asia-Pacific region has been poor, the result of its withdrawal from the Trans-Pacific Partnership, avoidance of other trade agreements, and failure to deliver on its "quality infrastructure" initiatives. The United States is widely viewed as losing economic influence in the region to China. The Indonesia JETP deal is a chance for Washington to demonstrate that it can deliver and thereby boost its geostrategic position. Failure would do just the opposite.
Finally, JETP offers a means to improve U.S.-Indonesian relations. Indonesia is important – the world's third-largest democracy, the biggest Muslim-majority nation, a rising economic power, and a leader of the Association of Southeast Asian Nations (ASEAN). While security ties have improved, economic relations have stagnated, the Indonesian public remains cool toward the United States, and Washington worries about Jakarta's growing ties with China, which provides it with needed infrastructure financing.
JETP already is facing significant challenges. It was always going to be difficult for Indonesia to shift away from coal, an industry that has produced powerful conglomerates and employs around 250,000 people. The country has a surplus of power capacity in key regions and a relatively new fleet of coal plants, making early retirement costly. Moreover, the current regulatory environment, including Jakarta's local content requirement, makes investing in renewable energy unattractive. There are other challenges, but discussions with experts suggest most can be overcome with sufficient will and financing.
Therein lies the bigger, more immediate problem. Following an April visit to Washington, Indonesian officials complained that the IPG was asking Jakarta to take difficult steps without doing its part. Minister Luhut told the press that Washington had not "shown" them any money or clarified how Indonesia can access JETP funds. He also emphasized that the money needed to come on concessional terms. An Indonesian official involved in JETP said privately that they are informed that grants would make up only a small fraction of the $20 billion in financing and that only one-third of the money would consist of truly concessional loans. "The [financing] package," the official added, "is not aligned with the spirit of the partnership and ambitious transition required in JETP, which without real financial support will add significant financial burden to Jakarta."
Other conversations suggest increasing doubt in Jakarta about whether the money will materialize, along with what one Indonesian expert called a growing worry that JETP will fail before it gets started. U.S. officials say it will be "bankable" projects identified in the JETP investment plan, expected next month, that should trigger the flow of money. They insist the financing will be there.
Given the stakes, Jakarta and Washington need to redouble efforts to move the partnership forward. For Indonesia, that means completing an investment plan with bankable projects, offering regulatory reform to make renewable energy investments more attractive, and addressing the contracts behind the current energy surplus. It also will mean accepting less concessional financing than it wants. For Washington, it involves quickly demonstrating that it and its IPG partners will meet their financing commitment with reasonably concessional terms and clarify the mechanism for accessing the JETP funds.
Time is of the essence. To bolster lagging confidence, the parties need to announce several pilot projects soon and move vigorously to implement them. The opportunity presented by the JETP initiative is too good to miss, and the cost of failure is high.