The Journeys of Ustad Noor Bakhsh: A Baloch Musician Beyond Compare
This summer Bakhsh performed in 10 countries in Europe to great acclaim, a journey that began with a viral video following a life of music and hardship.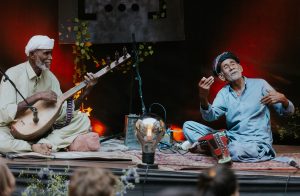 Daniyal Ahmed kept returning to a video he first saw in 2018 while studying for his master's in Germany, titled "Great music by poor fisherman – Ustad Noor Bakhsh, Pasni." The video featured an elderly man playing an electric benju (a keyed zither). In the ensuing years, humanity withstood a global pandemic and much changed, but the spell that Bakhsh's music cast over Ahmed didn't fade.
In January 2022, Ahmed finally set off on a quest to find Bakhsh. He traveled from Karachi to Pasni, a fishing port on the Arabian Sea in the neighboring province of Balochistan, circling villages, asking everywhere if anyone knew where Bakhsh lived. It was clear that the man was a legend in the region as everyone questioned knew of him as Noor Bakhsh benju-wala – "Noor Bakhsh, the benju player." 
The journey took a serendipitous turn when Ahmed finally found Bakhsh on the side of the road, with his broken motorcycle, waiting to hitch a car ride. 
An anthropologist and musician, Ahmed teaches at Habib University and has dedicated his time to finding masters of traditional music in remote areas of Sindh and Balochistan to help promote traditional talents in a country where musicians do not have enough opportunities and support. Bakhsh was already a well-known maestro of the Balochi benju with a career spanning more than five decades, much of it working as the accompanist of Sabzal Sami, a legendary Baloch singer. Bakhsh has also played his tunes for renowned Baloch singers such as Arif Baloch and Noor Khan Bezanjo.
Over the next few days, Ahmed recorded Bakhsh's music against the backdrop of the picturesque Shadi Kaur river. With a kaleidoscopic quilt layed out, as the slanting rays of the setting sun fall on the water, Bakhsh is seen seated cross-legged, his left-hand fingers hitting the keys rhythmically on the neck while his right hand moves up and down on the base of his electric benju. Bakhsh is accompanied by two other musicians, Doshambay and Jamadar Guahram, with their damburag, a long-necked plucked lute indigenous to Balochistan.
Neither Ahmed nor Bakhsh had any idea how far a journey this first meeting would send them on.
Ahmed shared his journey on Instagram and videos of Bakhsh playing went viral. Soon the media in Pakistan and across the border, in India, picked up the story. Ahmed felt "a burden on his shoulders" most of the year, trying to figure out how Bakhsh was going to get a financial return for his newfound online fame. 
Eventually, in September Ahmed released his recordings in an album titled "Jingul," named after a bird that inspired one of the tracks which received critical acclaim from the U.S. music publication Pitchfork.
From the proceeds of the sales of "Jingul," Bakhsh installed a water tank in his house and built rooms for his children. "For a long time we had no water. Things have changed for the better after meeting Ahmed," 78-year-old Bakhsh told The Diplomat after his return from his debut tour in Europe, where he performed in 10 different countries along with Doshambay. 
Life Before
Bakhsh was born in Gadani, a coastal town in Balochistan, to a nomadic family. Growing up he worked with his father as a shepherd – the duo often sat together during their time herding cattle, listening to birds chirping as Bakhsh's father played the suroz, a bowed string instrument considered traditional to Baloch people). Bakhsh is well-versed not only in Balochi music but in classical raag, which is a better known form in South Asia and the region beyond; however, Bakhsh's passion lies in playing his native music. During the interview, Bakhsh immediately jumped into the conversation by explaining Balochi zahirook (a genre of song expressing loss and separation). 
"I grew up hearing zahirook and birdsong. It is a thing of remembrance and nostalgia. When a child is in a foreign land and he feels nostalgic for his homeland – he seeks a bittersweet comfort in the zahirook," Bakhsh explained enthusiastically. Throughout the interview, at various instances Bakhsh would break into chanting Balochi poetry, some his own, from memory in a melodic voice.
More than six decades later, Bakhsh still remembers the fateful day when he first heard Ustad Khuda Bakhsh (not related to Bakhsh) playing the benju. 
"He was playing Balochi zahirook on the benju – when I heard him play I was enchanted. I left my herd to hear him perform," recounted Bakhsh who became the student of the master at the age of 12.
Three years later Sami heard Bakhsh play his benju outside his home. He immediately called for him. "I still remember he said 'kid, come here with your instrument. I will sing some of my songs, you accompany me on the benju.' I was interested so I leaped on," narrated Bakhsh. All these years later, he still remembers the song Sami played and he followed on his benju. What ensued was more than a four-decade old musical companionship. 
Sami went on to become one of the most famous Baloch vocalists, but at that time he was a peon at the National Bank of Pakistan in Turbat. Sami got Bakhsh married in Turbat so the duo could be together.
"We played at mehfils [traditional indoor performance venues] and slowly Sami became famous and we started playing everywhere from Dubai, Quetta, Iran, Bahrain, to Abu Dhabi etc. Then I didn't know if I had a father or mother– all I knew was Sami," said Bakhsh . He stayed with Sami till the age of 52 before shifting to a small village near Pasni.
His decision to leave Turbat stemmed from artistic differences and growing security concerns as the city was no longer safe.
"There was constant firing and I didn't enjoy performing in a fearful ambiance. I knew nature was still there for me. If someone called me for mehfils, then good. If not, I would have my jungle, which had taught me everything – the tunes I had learnt were from hearing a bird chirping or goats bleat or camels grunting. So I moved to a village," Bakhsh explained. 
From then on Bakhsh performed in weddings and healing ceremonies (guwati in Balochi). His dedication to his craft didn't wane regardless of a hard life filled with personal tragedies, including the death of his first wife and the drowning of two sons, aged seven and 11, who were learning the benju keenly. 
A lesser known fact about Bakhsh is that he is not only a master of the benju but a skilled poet. Some of Sami's famous songs feature Bakhsh's poetry. He weaved his grief in words and composed the tunes as an ode to his sons.
"If I saw something in nature, I made poetry around it, but since I was not educated, I remembered them," said Bakhsh. He recited decade-old poems of his that were sung by Sami as his empty hands mimicked the action of playing.
جمبران وُشین وُشین گِرَنداگے  ذرتگ۔
دل منی دوستے دوستے ترانگان کپتگ۔
شُما بچارے دوستان نورجان حالا
بس کن ھو سبزل سبزل گوانڈ بداراں گالاں۔

Gently the thunder roared
I'm reminded of my beloved
Behold! O folks how distressed is Noor Jaan
Halt! O Sabzal, shorten your song

چاردھی ماہ ئے منی ارواہ ءُ ساہ ۓ
تو اگاں بیائے منی زند ءِ سپاہ ئے
قاصد منی دوست ءَ را سلام سر کن
نورجان ءَ گُشتگ وتی ھاتر ءَ جم کن

You're the moon of the fourteenth night, you are my heart and soul
If you were to come, you'd lighten my life
Convey my greetings to my beloved O, messenger
Noor Jaan has said: don't worry, everything will work out.
Regardless of their artistic differences, in 2018, Sami demanded that Bakhsh accompany him if he were to perform in a concert arranged by the Baloch Music Promoters Society to pay tribute to his career. Organizers went looking for Bakhsh in Pasni and from there the master resurfaced once more. A video from his rehearsal sessions with Sami went viral on social media and reached Ahmed in Germany.
A European Tour
This summer Bakhsh performed in 10 countries in Europe, accompanied by Doshambay, who started playing the damburag at the age of eight, but had to give up his love for playing to make a livelihood as a driver.
"I spent my life with a lot of hardships, in order to make a livelihood, I had to give up my love for music but now I want to dedicate my life to my tunes," Doshambay told The Diplomat over the phone. Doshambay resumed playing five years ago. Although Doshambay and Bakhsh have been neighbors for a long time, the duo had never played together before.
"It has been two years since I have been playing with Bakhsh – when Ahmed first came to our village to meet him, Bakhsh asked Jamadar Guharam to invite me over for the recordings," Doshambay added.
The tour was in the making for more than half a year, initially scheduled for November 2022 but owing to Bakhsh's ailing health, it was postponed to June 2023. 
"I had an idea that his music would be appealing in Europe – people there are more interested in instrumental music. It was a slow and gradual process," Ahmed said. 
Video after video went viral on social media from the tour. One such video features a crowd in a Berlin bar where the duo performed dancing and clapping to the tunes. In another video from Düsseldorf, Baloch and non-Baloch women are seen grooving to Bakhsh's charming music. The duo even performed in one of the largest music festivals in Europe, the Roskilde festival in Denmark.
Since the tour was independent of any government arrangements, Bakhsh, Doshambay, and Ahmed faced troubles at the Karachi airport before their departure. 
"When the airport management saw three men clad in shalwar-kameez with musical instruments going to Berlin – they couldn't believe it. They started questioning us incessantly from the check-in line and again on the immigration desk," Ahmed said of the difficulty.
"Although one officer recognized Ustad from his videos on the internet, still we were made to go for higher clearance – it wasn't clear that an indigenous artist could be traveling abroad for a tour independently," Ahmed said of the difficulty. 
However, later on, Bakhsh performed for the airport security, thus starting his massive debut tour early.
He ultimately gave 25 performances, each receiving applause. The highlights for Bakhsh from the tour were a reunion with a long-estranged friend, Abd-ur-Rahmân Surizehi, who used to play the benju, in Norway, and his performance in Geneva, Switzerland, where he played by a lake. 
"No one wanted me to stop playing – whether they were Balochs or non-Baloch. So many Europeans greeted me, hugged me – all because of the tunes I played. I have traveled and played in almost every part of Pakistan but the kind of love and respect I received in Europe, I haven't received elsewhere in all these years," Bakhsh told The Diplomat with a raised pitch as he got excited recalling his time in Europe.
Doshambay had the same to say: "Everyone was happy with us and showered us with immense love and respect."
Although Bakhsh's career spans over more than half a century, the virtuosic player of the benju had a life filled with challenges.
"For the longest time, I didn't have proper rooms or even a good enough motorbike. I had contributed to bringing forward the culture of Balochistan yet I didn't get the respect I deserved. 'Go call Nooruk to play,' that's how they'd call me," Bakhsh shared dejectedly. 
This is because the Pakistani nation is "conflicted and confused" about music, Ahmed believes. "We enjoy music but we wouldn't want our children to be musicians; hence there is no industry to promote and support artists," he added. 
Yet while in Europe, Bakhsh's heart felt for his homeland, echoing the zahirook that he played on his instrument. 
"I got everything I desired for in Europe, but still I yearned for the air and rain of my motherland. I am who I am because of the mountains and jungles of Balochistan," he said. 
Doshambay quotes the famous Balochi proverb wae watan o husken dar – "one wails for the homeland even if it is as dry as a piece of wooden land" – when asked if he missed his home during the tour. "I often thought of Balochistan when in Europe," he said. "When I saw the lush green grasslands, I wondered how fitting it would be for my goats back home."
Bakhsh's poetry was translated to English by Fazal Baloch.