The Nepali Guards Caught in the Chaotic US Evacuation of Afghanistan 
A sizable contingent of Nepali contractors provided security for U.S. personnel in Kabul. For them, the withdrawal meant a dangerous evacuation – and sudden unemployment.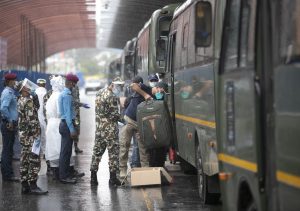 Hearing blasts and gunfire, he could see how horrifying the situation was. From a tower in the U.S. Embassy, he witnessed the chaos ensuing at the airport as evacuations began. Crowds were flooding in. He thought of his family back home in Nepal, and what his future might hold.
These were the recollections of a Nepali was was employed as a security guard in Kabul, Afghanistan, amid the frantic withdrawal of U.S. troops and the Taliban takeover in August 2021.
From one end of the Himalayas to the other, thousands of Nepalis recruited as security guards to protect embassies and compounds in Afghanistan left their families and homes behind for pay of about $4 per hour. During a typical 12-hour shift, they held dangerous positions, risking their lives to guard the perimeters of facilities where U.S. troops and diplomats resided.
The centuries-long history of the recruitment of Nepali people into foreign armies started with the British army in 1815. The tradition created a global perception of Nepalis as strong, loyal fighters. Meanwhile, a lack of opportunities at home makes taking up arms abroad look like an appealing prospect for many young Nepalis.
In a modern manifestation of this phenomenon, Nepal were chosen as a main source for the recruitment of security guards in embassies and compounds across Afghanistan following the U.S. invasion in 2001.
Since 9/11, the U.S. Department of Defense has increasingly relied on hiring contractors, mainly foreign nationals, for support in military operations abroad. Around the time of the evacuations, the U.S. Central Command reported that out of the nearly 27,000 contractors working for the United States in Afghanistan, only 11,000 of them (around 40 percent) were American.
While contractor deaths are largely underreported, at least 12 Nepali guards hired under U.S. government subcontracts were killed or injured in Afghanistan.
Nepali security guards sacrificed their lives so Americans didn't have to, yet received virtually no recognition from the American public.
Dipesh Shrestha (all names in this story have been changed) guarded the U.S. Embassy for five years. He knew that working in Afghanistan would be dangerous, but he took the risk in order to better provide for his family. He wanted a better life and education for his children, a sentiment echoed by several other former Nepali security guards that I interviewed.
Leading up to the evacuations, many of the guards had no idea that the Taliban had slowly been taking over the country and inching toward Kabul. None of them had been informed formally by their supervisors of their imminent evacuation until a few days before they boarded a U.S. Air Force cargo plane out of Kabul.
Despite the lack of formal communication, rumors about the United States' plans to pull out had been spreading from local Afghan guards and other coworkers. As they witnessed U.S. Embassy staff downsizing and destroying documents, the Nepalis realized that their job might be coming to an end.
"I heard that the Taliban had captured different cities and U.N. compounds where Nepalis were working; and that in one or two days they would reach Kabul," Shrestha said.
He recalled the moments leading up to his evacuation. "I was on duty the night of August 14th when [my commander] ordered me to change into civilian dress. After that, I continued to hold my post, guarding against threats until the last minute… As I was boarding a helicopter to the airport, I was told to leave my luggage – that only people could be brought on the plane."
Prakash Maharjan, another Nepali guard, detailed his experience as well. "It was 11 p.m. I was at my post in a tower [of the U.S. Embassy]," he said. "I could see the [Afghan] police camp below where the Taliban had come and started firing, but the police didn't fire back. I thought maybe the Taliban was coming towards us and I was ready to defend [the Embassy], but they didn't fire at us. I knew then that the evacuation was starting."
Neither the U.S. nor Nepali governments were responsible for evacuating the guards safely. Instead, their safety and well-being was left in the hands of GardaWorld, the private security company which had contracted them.
As they evacuated, U.S. military personnel stepped in to assume security of the Embassy and compounds. Support staff, those who did not carry weapons, were evacuated first.
Once it was the guards' turn, they were taken via helicopter to Bagram air base, where they waited for some hours. Finally, they boarded U.S. Air Force cargo planes, packed into rows like sardines.
Their first stop on their abrupt journey home was in Qatar, where they stayed on the open ground of an airbase for a couple of days. Many described seeking out shadows under planes to escape the heat.
From Qatar, the Nepalis had one layover in Kuwait before finally reaching Kathmandu. At Kathmandu airport, they were given PCR tests to determine whether quarantine was required before returning to their families.
Other than receiving some compensation for their lost belongings and salary, they never heard from GardaWorld again. Two years later, most are still unemployed.
All of the U.S. Embassy guards that I interviewed are now in their 40s and 50s, past the age where they can find new employment in the security sector. Many do have pensions from serving in the Nepal and Indian armies earlier in life, but the pensions are not enough to live off of – let alone ensure a bright future for their families.
The abrupt loss of income has caused financial hardship for many of the evacuees. Several of the guards interviewed explained that they are struggling to pay for housing costs and their children's education.
Looking to the future, they are hoping that GardaWorld or the U.S. government will help them find new employment opportunities to be able to provide for their families. After sacrificing their safety to work in a U.S. warzone protecting American forces, they deserve more than to be forgotten as a result of the abrupt evacuations.
The war in Afghanistan was the longest war in American history. With the military industry changing rapidly and a large share of American taxpayer dollars allocated to support it, having awareness of its impacts is critical to preventing harm caused by war in the future.
Two years after the chaotic withdrawal from Kabul, Americans must not remember just the U.S. troops and diplomats who served there, but also the invisible workers who for so long kept those troops and diplomats safe.