What Does Pakistan's New Caretaker Prime Minister Mean for Balochistan?
Anwaar-ul-Haq Kakar is from the troubled province, but he has consistently supported giving the military free rein in Balochistan.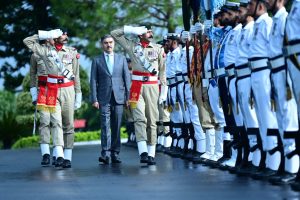 After weeks of speculation, predictions by journalists, and media reports, Pakistan's outgoing Prime Minister Shehbaz Sharif and leader of the opposition Raja Riaz Ahmad surprised analysts in their choice of the caretaker prime minister on August 12. Senator Anwaar-ul-Haq Kakar was sworn in as Pakistan's eighth caretaker prime minister on August 14, on the country's Independence Day. Kakar, known as a media-savvy politician and a staunch supporter of the Pakistan Army, will oversee national elections in the coming months.
Kakar hails from Pakistan's troubled southwestern Balochistan province, which has been the scene of a violent separatist insurgency and Islamist militancy since early 2000. Kakar is the third prime minister of Pakistan who comes from Balochistan. Earlier, Mir Zafar Ullah Khan Jamali, a tribal elder, and Mir Hazar Khan Khoso from Balochistan served as Pakistan's prime ministers from 2002 to 2004 and in 2013, respectively.
Kakar, 52, has championed himself as one of the most ferocious defenders of the Pakistan Army and is known to staunchly support harsh military actions in troubled Balochistan province. Notably, although Kakar is from Balcohistan, he is not an ethnic Baloch; he is an ethnic Pashtun.
Kakar earned his university degree in political science in 1990 from the provincial capital, Quetta. In his student life, Kakar was an active member of the Pashtun Students Federation (PSF), a Pashtun nationalist, secular, and leftist student group in Pakistan. However, he later distanced himself from leftist politics. One of his friends, talking about Kakar's separation from leftist politics, quoted him as saying "it lacks a promising future in Pakistan."
Kakar went to the U.K. later and enrolled in the Birkbeck, University of London law program in the early 2000s. He did not complete his degree and returned to Pakistan in 2005, telling his close friends that his future was in Pakistani politics. Kakar returned to Pakistan during the reign of a military dictator, the late General Retired Pervez Musharraf. After arriving in Pakistan, Kakar joined the Pakistan Muslim League Quaid-e-Azam (PML-Q), a brainchild of the then-military dictator who had carved it out of Nawaz Sharif's party to back his rule. Kakar formally began politics in 2006 by joining the PML-Q.
He contested one election in 2008 when Musharraf's PML-Q had weakened, but lost. Later he joined the Pakistan Muslim League-Nawaz (PML-N) led by Sharif. However, he continued to align himself with the military and actively defended its security-centric approach toward Balochistan.
Kakar stood with the army during the tumultuous first decade of the 2000s, defending every military action amid chaos, political uncertainty, and bloodshed in his native Balochistan. During the peak of the ethnic nationalists' Baloch insurgent movement from 2007 to 2013, amid severe criticism of military abuses in Balochistan, Kakar staunchly defended the military's actions in the province. He openly supported the military, even in cases of alleged grave rights abuses during counterinsurgency operations. Kakar has consistently downplayed the issue of missing persons in Balochistan, often accusing India and Afghanistan of fomenting the unrest in his native province.
Kakar became the spokesperson for Balochistan's government in 2015 due to his vocal support for military actions in the province. He held this role until 2018, during which time he established a media-savvy reputation that he still maintains today.
While serving as the provincial spokesperson, Kakar established an NGO named Voice of Balochistan (VOB) in 2016. Kakar is the CEO of VOB, which operates a vast network of pro-military social media accounts countering reports of rights abuses, enforced disappearances, and alleged fake encounters by armed forces in Balochistan. As per the government record, VOB was not registered until March 2021 despite its establishment in 2016.
In Balochistan, which is prone to natural and man-made disasters, and where state machinery remains dysfunctional, NGOs and charitable organizations face severe restrictions to operate. Around 3,250 NGOs had their licenses cancelled in 2017 under the National Action Plan, established by the government of Pakistan in December 2014 to crack down on terrorism. Still, Kakar's NGO operated without registration, receiving funds from the national exchequer to control narratives.
In 2018, Kakar left the PML-N and was elected a senator in Pakistan's upper house. Kakar and like-minded individuals established the Balochistan Awami Party (BAP) shortly before the 2018 general elections in Pakistan. Kakar's party, made virtually overnight, won the polls in Balochistan. Ethnic Baloch and Pashtun nationalists alike raised concerns that the BAP had been formed to manipulate and rig the 2018 elections in Balochistan.
Kakar has now been appointed as the caretaker prime minister to oversee the upcoming general elections throughout the country, a move that surprised many in Pakistan. Whether outgoing Prime Minister Shehbaz Sharif, as PML-N's leader, wholeheartedly endorsed Kakar's nomination remains unclear. Kakar's close ties to the military establishment likely influenced the decision. The PML-N had to agree on Kakar in order to avoid potential confrontation with the powerful army, which is known for asserting influence over politicians.
Some in Pakistan believe that Kakar's appointment as prime minister could better represent Balochistan and address ethnic Baloch longstanding grievances, since he himself hails from the province. However, there is much reason for skepticism. Throughout his political career, Kakar has always advocated for a military solution to Balochistan's political issues, despite all evidence that such an approach cannot provide a lasting solution. Kakar has repeatedly endorsed violent military crackdowns that only exacerbate resentment and resistance rather than resolve the underlying problems.
As of now, elections are supposed to be held in October, but could be pushed back as late as spring 2024, should the government insist on completing a new census and drawing up new constituencies ahead of the polls. If the issues surrounding Imran Khan – a popular former prime minister currently in jail on corruption charges – are not adequately addressed by then, the polls could be postponed, potentially extending Kakar's time in office and thereby giving him more power. Given his longstanding alignment with the military, Kakar is expected to completely surrender to the military and back its actions, which will ultimately undermine democracy in Pakistan and aggravate Balochistan's already volatile security situation.
Balochistan has been grappling with violent attacks, with the latest happening in the port city of Gwadar on August 13 when gunmen targeted a convoy transporting Chinese engineers. This incident occurred just a day before Kakar was sworn in as caretaker prime minister.