Why Australia and Vietnam Should Create a Visa Exemption Program
The move would help advance several core areas of cooperation in the burgeoning bilateral relationship.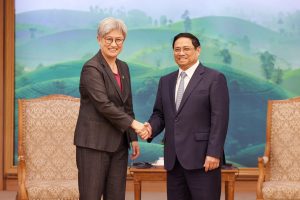 On August 17, at their regular press conference, the Vietnamese Ministry of Foreign Affairs' spokesperson announced that Australian Foreign Minister Penny Wong will make a three-day official visit to Vietnam, commencing on August 21. The purpose of the visit will be to co-host the fifth Australia-Vietnam Foreign Ministers' Meeting (AVFMM) with her Vietnamese counterpart Bui Thanh Son. Since the two countries established their strategic partnership in 2018, AVFMMs have been rotationally held in each country on an annual basis. The fourth meeting was organized in Canberra last year.
In a media statement released on the eve of her trip, Senator Wong said she will be also meeting with Prime Minister Pham Minh Chinh and other senior leaders and taking part in several activities aimed at cementing the strategic partnership between Canberra and Hanoi. Wong will be visiting Ho Chi Minh City for the first time. Though it was not mentioned in the statement, Wong is also expected to reach an agreement with her Vietnamese hosts on when the two countries will upgrade their current strategic partnership to a comprehensive strategic partnership – the highest designation in Vietnam's hierarchy of diplomatic relations. According to Nguyen Tat Thanh, Vietnam's ambassador to Australia, the upgrade will be officially announced after the two sides have completed various internal procedures, implying that the basic content of the partnership has been agreed upon.
As indicated on various occasions by the two sides, trade and investment, people-to-people exchanges, and tourism among others will remain important pillars and priorities of the comprehensive strategic partnership.
In 2022, total two-way trade between the two countries reached approximately $16 billion, making Australia Vietnam's seventh-largest trading partner. Meanwhile, Vietnam is Australia's tenth-biggest trading partner.
More Vietnamese and Australian visitors are coming in both directions. In 2019, before the outbreak of the COVID-19 pandemic, 125,000 Vietnamese visitors came to Australia and more than 300,000 Australians visited Vietnam. In the first quarter of 2023 alone, nearly 82,000 Australian visitors arrived in Vietnam, an increase of 14.4 percent as compared to the same period in 2019, whereas the number of Vietnamese visitors to Australia made up 10 percent of Vietnam's outbound travelers. Many Australians have chosen Vietnam as their favorite destination because of the low cost in comparison with other countries, while others have migrated to Vietnam with their families to live and do business. Vietnamese visited Australia because of some linkages with the country such as kinship or to return to the place where they once studied. There are more than 300,000 Australians of Vietnamese background, and approximately 80,000 Vietnamese men and women have studied in Australia.
To raise trade and investment to a level commensurate with the strategic partnership, the two countries have signed a range of agreements and established about 20 bilateral mechanisms. These include, for example, the Australia-Vietnam Enhanced Economic Engagement Strategy (AVEES, 2021); the MoU between the Vietnam Chamber of Commerce and Industry and the Australian Chamber of Commerce in Vietnam to establish a new Business Council of leading investors from both sides; the MoU between Vietnam's Ministry of Trade and Industry and Australia's Department of Foreign Affairs and Trade to establish a Ministerial-level Dialogue Mechanism on Trade, which is scheduled to have its first session this year.
In addition, both Vietnam and Australia are members of the ASEAN-Australia-New Zealand Free Trade Agreement, the Regional Comprehensive Economic Partnership, and the Comprehensive Progressive Trans-Pacific Partnership. However, what has been done thus far is insufficient to accelerate a breakthrough in growth in trade, business, investment, and tourism from both sides. More favorable conditions and simplified customs procedures are required to promote freer flows of trade, commodities, and to remove barriers that hinder travel by the citizens.
Recently, the Vietnamese government has taken bold administrative reforms to promulgate policies that allow foreign citizens to enter the country more conveniently and for a longer period. For instance, as of August 15, visitors from all countries and territories can now apply for e-visas and stay up to 90 days with multiple entries. At the same time, citizens from 13 countries are now eligible for visa-free stay of up to 45 days and up to 90 days for citizens of 12 other countries. Notably, of the 25 countries to which this policy applies, nine are members of ASEAN and 13 are strategic or comprehensive strategic partners.
On the other end, as of July, Australian passport holders can travel without a visa to 144 countries and territories, including the five founding members of ASEAN – though not Vietnam. At present, only Australians and Vietnamese (excluding dual Vietnamese-Australian citizens) holding an APEC card can enter visa-free in both directions.
During talks on her first visit to Hanoi last year, Wong and her Vietnamese counterpart agreed to promote cooperation in the post-COVID-19 era in the fields of tourism, education, and labor. The two countries are finding ways for the tourism industry to make a speedy recovery and to minimize the impact of the war in Ukraine on trade. As such, there is a good argument that the time is ripe to establish visa-free travel to Vietnam and Australia for citizens of the two nations.
It is hard to understand why this has not already been executed earlier given the high levels of political and strategic trust, the complementarity of the two nations' economies, the determined expansion of trade and investment, and Australia's demand for labor in the construction, agricultural, and hospitality sectors.
There may be concerns about security and social stability from both sides relating to illegal migration or "terrorist" elements. However, measures are available to manage these concerns. The best method is not to employ the visa application procedures as filters to stop the entry of elements that would also negatively affect the public. Instead, as trusted strategic partners, enhanced security cooperation and control at the border-gates with state-of-the art identification technologies, in addition to constructive and candid dialogues, would soundly address each side's potential concerns.