ASEAN Summits Highlight Familiar Shortcomings
The bloc managed to adopt stronger language on the conflict in Myanmar, but remains adrift in the South China Sea.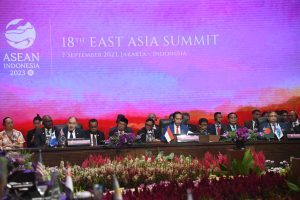 Indonesian President Joko "Jokowi" Widodo closed out this week's run of Association of Southeast Asian Nations (ASEAN) summits and meetings by calling on world leaders to step back from the brink of confrontation.
Speaking at the close of the 18th East Asia Summit (EAS), which was attended by ASEAN leaders and key foreign counterparts including U.S. Vice President Kamala Harris, Chinese Premier Li Qiang, and Russia's Foreign Minister Sergei Lavrov, Jokowi said that in an era of increasing tension, cooperation and multilateralism risked being replaced by "the rule of the strong."
"We all have a responsibility to not create new conflict, new tension, new war, and at the same time we also have a responsibility to reduce tensions," Jokowi said, according to Reuters. He added, "The world will be destroyed if conflicts and tensions in one place are taken to another place."
The EAS capped off a week of ASEAN-led summits and meetings in Jakarta, which have taken place against an increasingly benighted regional backdrop, darkened by Myanmar's deadly civil strife, recent flare-ups in the disputed South China Sea, and the intensifying Sino-American competition. Later, at the summit's closing ceremony, Jokowi handed the chair's ceremonial gavel to Laos, which will chair the organization in 2024.
During his EAS address, Jokowi gave voice to his region's wariness of the growing tensions between big powers, which are vying for influence in Southeast Asia. But ASEAN is struggling to respond to some of the most pressing regional challenges, threatening to undermine its prized position of "centrality": its ability to serve as a forum for great power interaction and dialogue.
The first of these, a perennial agenda item for ASEAN, is the increasingly tense situation in the South China Sea. Recent months have seen a number of dangerous incidents in which China Coast Guard vessels have aggressively confronted and interfered with Philippine and Vietnamese boats in contested waters, against a backdrop of steady Chinese encroachments into these nations' exclusive economic zones.
Despite Jokowi's warnings about the "rule of the strong," this week's summit statements, despite the efforts of Philippine President Ferdinand Marcos Jr., did not advance substantially on those of past years.  The EAS Chairman's Statement issued after the close of yesterday's meeting "reaffirmed the need to enhance mutual trust and confidence, exercise self-restraint in the conduct of activities that would increase tension, complicate or escalate disputes and affect peace and stability." It also "emphasized the importance of non-militarization and self-restraint in the conduct of all activities by claimants and all other states." The corresponding statement issued after Tuesday's 43rd ASEAN Summit did reference member states' concerns about "land reclamations, activities, [and] serious incidents in the area, including actions that put the safety of all persons at risk," but otherwise recapitulated much of the same language.
Both statements affirmed ASEAN's commitment to negotiating with China for the long-awaited Code of Conduct (COC) on the South China Sea. The COC has been under negotiation since 2002 and, while ASEAN has pledged to finalize an agreement by 2026, it is widely seen outside the region as a way for China to play for time while slowly encroaching on the waters of rival claimants.
The other obvious trouble spot is Myanmar, where a nationwide conflict has raged since shortly after the military coup of February 2021. While Myanmar does not directly endanger regional peace, the fact that ASEAN is unable to enforce even a minimal standard of behavior on one of its newest member states has undermined its reputation outside the region. In comments to CNBC, Indonesia's former foreign minister Marty Natalegawa said that Myanmar was "not only a litmus test for ASEAN, but in my view is an existential threat to ASEAN."
To be fair, ASEAN leaders this week issued a statement that adopted stronger language on the conflict, for the first time calling out the military specifically for the violence that it has unleashed since 2021. It also agreed to continue excluding the military junta from high-level ASEAN meetings, and announced that Myanmar would be stripped of its chairmanship in 2026, which will now be taken by the Philippines – the second time that Myanmar has been forced to do so, to spare the organization the embarrassment of having an international pariah state host its summits. Even if one admits that there are hard limits to what ASEAN can do to coerce the generals in Naypyidaw, however, these represent a difference in kind rather than in substance.
Both of these challenges perhaps point to something more fundamental: the fact that ASEAN's brand of consensus- and process-based diplomacy has failed to keep pace with regional and global developments.
It is hard to improve on the verdict rendered by Euan Graham of the Australian Strategic Policy Institute in an article yesterday: "The dimming of ASEAN's diplomatic fortunes is an inevitable consequence of the grouping's increasing struggle to maintain internal coherence," he wrote, "which has undermined its role as an institutional hub for the region's multilateral security architecture and raised fundamental questions about the organization's ability to live up to its founding purpose."
It is perhaps no surprise that the golden age of ASEAN expansion and consolidation, in which the notion of "ASEAN centrality" gained widespread currency and its summits became key events on the regional diplomatic calendar, was the irenic interregnum between the end of the Cold War and the return of China as a great power. The question now is not only whether the bloc can remake itself for a new era of confrontation much as it founded itself in the maelstrom of the Cold War, but where the energy for such a renovation might possibly come from.
Over to you, Laos.