Criminal Justice Campaigns in Vietnam: From Legal Mobilization to Dissenting Collectivism?
In recent years, campaigns to save prisoners on death row have become more audacious in criticizing the country's authoritarian party-state.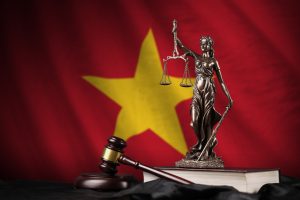 Social media in Vietnam is currently flooded with calls to save death-row inmate Nguyễn Văn Chưởng. Arrested in 2007, Chưởng was sentenced to death for masterminding the murder and robbery of a police officer and has spent 15 years on death row.
Since his conviction, Chưởng and his family have continued to claim his innocence. The Supreme People's Court (SPC) rejected his appeal in 2008 and an application for cassation review by the Soviet-inspired Supreme People's Procuracy (SPP) in 2011. The SPP functions as a public prosecutor and supervises judicial work, and has the power to request that the SPC review its decisions on certain conditions.
In Chưởng's case, the SPP challenged Chưởng's role as a "mastermind" and therefore argued for a reduced punishment. Technically, Chưởng's conviction could still be reconsidered through either a revision review (a further technical review available on application by the SPP) or on referral of the matter for reconsideration by the National Assembly. In practice, these procedures have rarely or ever been used.
To date, attempts to help Chưởng have achieved a stay of execution. On August 4 of this year, Chưởng's family received a letter from the local court, asking how they want to receive Chưởng's corpse. The letter triggered a campaign that has mobilized public support to stop the scheduled execution and press the authorities to reconsider Chưởng's conviction.
The campaign to save Nguyễn Văn Chưởng has precedent in contemporary Vietnam. Since the early 2000s, efforts to mobilize public support with a view to urging the party-state to overturn alleged wrongful convictions have become increasingly common. For example, a campaign was recently waged to reverse the conviction of Hồ Duy Hải, also on death row, before and during the SPC's review of his case in 2020. The campaign was unsuccessful. Nevertheless, the cooperation between lawyers and journalists in 2001-2005 to mobilize state media and top party-state authorities eventually cleared seven people convicted of murder.
Such campaigns appear to have peaked around the mid-2010s, as many of those convicted, including Nguyễn Thanh Chấn, Huỳnh Văn Nén and Hàn Đức Long, received an apology from the party-state after their release, and were declared innocent and compensated. To a considerable degree, the campaign for Chưởng replicates previous criminal justice campaigns in which lawyers and other campaigners strategically mobilized the legal system and, in so doing, upheld its authority. Nonetheless, in a break with the past, it has also, at times, escalated from legal mobilization to "dissenting collectivism," a form of legal protest that exhibits a collective rejection of the legitimacy of state law.
As in earlier campaigns to redress a perceived miscarriage of justice, efforts to save Chưởng feature cooperation between family, lawyers, and journalists in a bid to seek help from top party-state authorities and mount public support at strategic moments. Going beyond the legal proceedings, these efforts take place substantially online and regularly involve the media.
The ongoing campaign for Chưởng appears to have been initiated by three Facebookers: Lê Văn Hoà, the family's lawyer; Nguyễn Đức, a legal journalist for a state-affiliated newspaper; and Nguyễn Xuân Diện, an activist scholar. Soon after Chưởng's family became aware of his forthcoming execution, these Facebookers circulated the news on their pages, calling for a stay of execution and mobilizing action to save the death-row prisoner. Each has published dozens of Facebook posts on the topic, while also contributing to interviews in state, foreign, and/or social media.
The Facebookers garnered extensive support from netizens; their posts received thousands of reactions, comments, and shares. Some of their interviews have reached approximately 86,000 and 171,000 views on YouTube. Numerous lawyers, journalists, social media influencers, academics, writers, social activists, political dissidents, and retired and incumbent party-state officials have openly expressed their support for Chưởng. More than 5,000 people signed a petition online. Although only one domestic newspaper was vocal, foreign media, especially Vietnamese-language publications like Luật khoa Tạp chí, BBC Vietnamese, and VOA Vietnamese, have covered the case extensively.
Moreover, Chưởng's family and supporters, including parents of other death-row prisoners and other protesters, gathered in front of top party-state agency offices with banners to protest his innocence. Several reportedly followed journalist Nguyễn Đức to message the state president via mobile phone while others sent petitioning letters, hoping that the head of the state would halt the execution and direct criminal justice authorities to review the case. Some have also worked less visibly, drawing on relationships with party-state officers, such as National Assembly delegates, to mobilize for Chưởng.
As in other Vietnamese justice campaigns, Chưởng's supporters have deployed both legal and extra-legal resources and strategies. They have pointed out problems relating to his conviction, including disregard of alibi evidence; reliance on unclear and conflicting testimonies; signs of torture and extortion; lack of physical evidence; and police errors in collecting and preserving evidence. Concurrently, they have shared the tragic experiences of the death-row inmate and his family and their desperate efforts to pursue justice.
Sharing stories written in effective and emotional language, Chưởng's supporters circulated statements, interviews, photos, videos, and materials such as his letters from prison, some said to be written secretly. Among these was a poet. They also included paper cranes that Chưởng made and sent to family members from prison; his father's petitions in blood; images of his mother demanding justice on the street; and a video narrated by his now deceased brother, who was convicted of concealment of crimes for collecting alibi statements for him.
The attempts to help Chưởng and others outside the courtroom indicate a lack of trust in criminal justice authorities and procedures. Nevertheless, these attempts often simultaneously uphold the utility and legitimacy of the state legal order because they are based substantially on state law, as exemplified by criticisms of criminal justice authorities' failure to properly collect, preserve, and assess evidence and observe procedural laws in handling the case. They seek to secure intervention from the party-state to address a perceived individual injustice. Put differently, despite the existence of a negative conception of state law, such law is still perceived as a means that can be strategically mobilized to pursue justice.
The campaign for Chưởng, however, differs from previous justice campaigns in some respects. In addition to the actions which uphold the legitimacy of the legal order, Chưởng's supporters have, on occasion, gone far beyond the limited critique of errors in legal implementation to question the very legitimacy of the legal system and social order itself. Lawyer Lê Văn Hoà, for instance, wrote on his Facebook page: "Stop the execution of Nguyễn Văn Chưởng to reconsider the wrongful conviction will save not only the justice system, but also people's belief in the regime."
More specifically, many advocates attributed the miscarriage of justice in Chưởng's case to the absence of judicial independence, systematic failures to prevent torture, the lack of recognition of presumption of innocence, and the inhumanity of capital punishment. As such, they have sought to not only address an individual injustice, but also uphold collective interests and reshape the features of the criminal justice system that they believe unjust.
The campaign also exhibits a greater degree of collective action. Prior to 2020, criminal justice campaigns often centered around a group of lawyers and journalists who operated largely in state newspapers and other sanctioned fora. Meanwhile, the campaign for Chưởng involves a wide range of activists, including those operating essentially outside sanctioned spaces, effectively exploring spaces used by political dissidents. Further, there is a collaboration between Chưởng's family and other protesters against injustice, indicating the fight for collective goals. These changes seemed to begin in the campaign for Hồ Duy Hải in 2020 and have become more visible in the ongoing campaign.
In short, the attempts to save Chưởng have, in some ways, developed into a protest that features collective dissent challenging the legitimacy of the state legal order. This development can be described as a consequence of accumulated negative experiences with the state-sponsored system of criminal justice, as indicated by Chưởng's father in a short film. It is also likely to reflect an increased awareness of human rights and criminal justice in Vietnamese society. It is worth seeing if the development will continue and become a new tendency in future.
At the time of writing, the party-state remains silent on Chưởng's fate. Historically, some justice campaigns led to the overturning of a conviction. The party-state also responded in some cases by introducing some procedural reforms, including those introduced in 2015, which recognized the right to silence, eased procedural impediments for defense counsel, and mandated the use of video recordings during interrogation.
However, after the introduction of these reforms, it appears more concerned about the ways extrajudicial activism may undermine the Party-state. Facing a robust campaign for Hồ Duy Hải in 2020, the SPC declined to reverse its conviction, although it continued to delay the execution. This is likely to also happen to Chưởng. Among this uncertainty, the campaign to save this death-row inmate signifies a likely shift from legal mobilization to dissenting collectivism in future efforts to pursue criminal justice in Vietnam.