Does God Need To Be Defended By Law?
An Indonesian influencer was this week sentenced to two years in prison for blasphemy under the country's infamous Article 156a.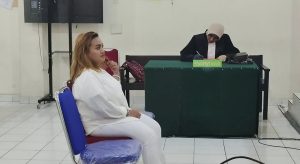 A frequent topic of this column is how Indonesia's legal system is often unfairly derided.
According to Transparency International's Corruption Perception Index, Indonesia ranked 110 out of 180 countries in 2022, with a score of just 34 out of 100 – something often referenced when the legal system makes decisions that jar with public opinion.
Yet despite the country's reputation for corruption, the judiciary is one of the more trusted law enforcement agencies in Indonesia, with the Attorney General's Office ranking above the Corruption Eradication Commission and the National Police in terms of public trust, according to an August 2022 poll by Indonesian pollster Politik Indonesia.
Much of Indonesia's Criminal Code, and other laws outside this code, are well written and much needed, and corruption within the judiciary is less widespread than many give it credit for. Even some of Indonesia's more controversial laws, such as criminal defamation, arguably still have a place in the legal system, for all that they may sometimes be too broadly, or unpopularly, applied.
But of all of Indonesia's laws, one that many would like to see struck off the books permanently is the infamous Article 156a, better known as the blasphemy law.
This law is once again the topic of discussion following the news that an Indonesian TikToker has been jailed for blasphemy for eating pork skin while on holiday in Bali, and uploading the video to the popular Chinese-owned social media site.
In the clip, posted on March 9, influencer Lina Lufiawati, also known as Lina Mukherjee, sat in front of a plate of rice, vegetables and crispy pork skin.
"Bismillah, I think I will be taken off my family register because I'm curious about pork skin," she said, before taking a bite.
Within a week, the video had over 13 million views, and Indonesia's Ulema Council, the country's top clerical body, said it considered the clip blasphemous and issued a fatwa, a non-legally binding pronouncement on Islamic law, against Lufiawati.
A Muslim cleric in Palembang, a religiously conservative city in South Sumatra, reported Lufiawati to the police, and she was sentenced to two years in prison by Palembang District Court on Tuesday.
The issue with the video appears to have been the eating of pork which is considered haram or forbidden in Islam (and Lufiawati is a Muslim), coupled with the utterance of the word Bismillah before it, which means "In the name of Allah, the merciful and compassionate."
At the reading of the verdict in Palembang, the court found that Lufiawati was guilty of "spreading information that was intended to incite hate or individual/group enmity based on religion" and also ordered her to pay a 250 million rupiah ($16,249) fine.
Lufiawati, who apologized for the video, said that she was not surprised by the verdict, although she had not expected a two-year sentence.
Indonesia's blasphemy law has its roots in 1965, the time of Indonesia's first president, Sukarno, who issued a Presidential Decree called the Prevention of Blasphemy and Abuse of Religion, which prohibited the "deviant interpretation" of religious teachings.
In its early years, however, it was rarely used.
The law really found its legs under Indonesia's second president, Suharto, when it was more frequently invoked to prosecute individuals critical of his authoritarian regime.
Over the years, there have been a number of attempts to strike Indonesia's blasphemy law from the country's Criminal Code, and one of its most famous critics was Indonesia's fourth president, Abdurrahman Wahid, better known as Gus Dur, who tried to have the law changed to no avail.
He was also responsible for the words, Tuhan tidak perlu dibela, or "God does not need to be defended" – the title of a 1982 article that he penned for Tempo magazine.
Yet Indonesia's blasphemy law has survived all attempts made to erase it, in part due to vocal support from religious groups that see it as an essential way to guard against religious intolerance, although the law – which disproportionately affects minorities including non-Muslims and women – is often accused of having the opposite effect.
In 2017, Jakarta's former governor Basuki "Ahok" Tjahaja Purnama, who is a Christian, was sentenced to two years in prison for blasphemy, on charges widely criticized as politically motivated.
In 2019, Indonesia's Supreme Court upheld an 18-month jail sentence for an ethnic Chinese Buddhist woman who was convicted of blasphemy after she allegedly complained that a nearby mosque's loudspeakers were too loud.
The counter-argument in both of the above-mentioned cases, and the most recent involving Lufiawati, was whether there was any degree of criminal intent in any of the accused's actions, and to what extent any of these actions constituted the criminal act of blasphemy in any case.
It is also not just Indonesia that has blasphemy laws on the books.
Four in ten countries and territories worldwide had blasphemy laws in 2019, including 14 countries in Europe and 17 countries in the Asia-Pacific.
With blasphemy laws continuing to flourish, should it continue to be the job of the courts, not just in Indonesia but worldwide, to decide if someone has committed blasphemy? In other words, does God really need to be defended by the law?