Indonesia Bans E-Commerce on Social Media Networks
The ban is set to impact the Chinese social media network TikTok, which has launched an aggressive expansion into the e-commerce space.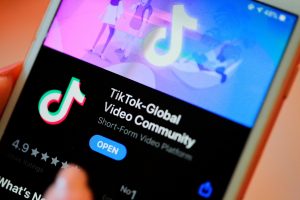 On Wednesday, Indonesia's Trade Minister Zulkifli Hasan announced that the country was banning e-commerce transactions on social media networks, dealing a major blow to the regional plans of the Chinese firm TikTok.
According to a Reuters report, Zulkifli told a news conference that the regulation is intended to protect offline merchants and marketplaces. He added that predatory pricing on social media platforms is threatening the country's millions of small and medium-sized enterprises.
"Now, e-commerce cannot become social media. It is separated," Zulkifli said, according to The Guardian, describing the regulation as a means of ensuring "equality in business competition." He also said that the ban "is to prevent the domination of the algorithm and prevent the use of personal data in business interests."
Zulkifli said the ban, which takes effect immediately, aims to "create a fair, healthy and beneficial electronic commerce ecosystem by prohibiting marketplaces and social media sellers from acting as producers and facilitating payment transactions on its electronic systems," according to a statement released by the Trade Ministry on Wednesday.
The main social media platform that will be impacted by the move is the short video sharing network TikTok. Owned by China's ByteDance, the platform has 125 million active monthly users in Indonesia, the most of any nation except the United States, and is seeking to translate this into a major source of e-commerce revenue through TikTok Shop, which allows users to post video advertisements that directly link to their products. ByteDance claims that some 6 million sellers and nearly 7 million affiliate creators use TikTok Shop in Indonesia.
Indonesia saw nearly $52 billion in e-commerce sales in 2022, most of which took place on dedicated e-commerce platforms like Tokopedia, run by the Indonesian tech firm GoTo, Singapore's Shopee the Chinese e-commerce giant Alibaba's Lazada. Since its launch in 2021, Tik Tok Shop has managed to capture around 5 percent of the e-commerce market, according to data from consultancy Momentum Works.
Zulfikli said that if social media platforms wished to conduct business online, they would need to apply for a separate e-commerce license. He said that there will also be a provision in the new rule that will set a minimum price of $100 for certain imports, which will apply also to established e-commerce companies.
In a statement quoted yesterday by The Associated Press, TikTok said that it regretted the Indonesian government's decision, but that it would respect the new regulation and "take a constructive path forward."
"We deeply regret the government's announcement, especially how it will impact the livelihoods of the six million sellers and nearly seven million affiliate creators who use TikTok Shop," it said in the statement.
The move comes at an awkward time for TikTok. In June, the company's CEO Shou Zi Chew gave a speech in Jakarta in which he announced that the firm is planning to pour "billions of dollars" in Southeast Asia over the next few years, much of it aimed at expanding the firm's e-commerce presence. Despite only launching in 2021, TikTok Shop sold $4.4 billion worth of goods in Southeast Asia last year. That is expected to jump to $15 billion this year, according to research firm Momentum Works.
The ban reflects the Indonesian government's willingness to flex its regulatory muscles, through subsidies, export bans, and other measures, in order to support its political and economic interests. In this case, it appears that President Joko Widodo's administration is concerned about the possible political unrest if rampant e-commerce pushes the country's 64 million micro, small, and medium enterprises to the brink of survival.
According to the AP, Minister of Cooperatives and Small and Medium Enterprises Teten Masduki paid a visit to the Tanah Abang wholesale market, during which he denounced TikTok Shop of being involved in "predatory pricing." He said that that he found many sellers at the market were experiencing a more than 50 percent loss of profits because they could not compete with imported products sold online at much lower prices.
As Anshuman Daga wrote yesterday in a commentary for Reuters, the country's millions of local shop and business owners represented "a sizable bloc of votes politicians can't ignore – and national elections, including for a new president, are less than five months away."