Malaysian Court Dismisses 47 Corruption Charges Against Key Anwar Ally
The dismissal of the case against Deputy PM Ahmad Zahid Hamidi has again called into question Anwar's anti-corruption credentials.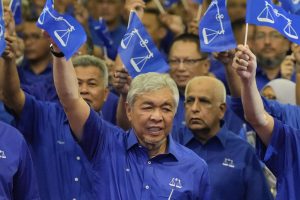 Malaysian prosecutors yesterday dropped a raft of corruption charges against Deputy Prime Minister Ahmad Zahid Hamidi, a key member of Prime Minister Anwar Ibrahim's ruling coalition, again raising questions about the Malaysian leader's anti-corruption credentials.
According to Reuters, the Kuala Lumpur High Court accepted a prosecution request to grant Ahmad Zahid a discharge not amounting to an acquittal, or DNAA, after the Attorney General's Chambers (AGC) chose not to continue pursuing the case.
"This court makes an order of discharge not amounting to an acquittal," Kuala Lumpur High Court Judge Collin Lawrence Sequerah said in delivering his decision. He then went on to rebuke the prosecution. Should the AGC decide to drop charges completely, he said, "much precious judicial time would have been wasted, and a great amount of taxpayers' money will also have been wasted."
Ahmad Zahid, who was facing 47 charges of criminal breach of trust, bribery and money laundering, is the head of the United Malays National Organization (UMNO), part of the Barisan Nasional (BN) coalition that is an important component of Anwar's unity government.
Although the ruling fell short of a full acquittal, Zahid told supporters outside the courthouse that "politically motivated accusations against me have ended." "Our task in UMNO and BN is to continue this struggle so that the accusations that have been politically motivated can be stopped," he said. Zahid's lawyers have now pledged to push for a full acquittal of the charges, which UMNO claims were politically motivated.
Zahid's charges, which relate to the alleged misuse of millions of dollars at a charity he founded to fight poverty, were brought after UMNO was voted out of power for the first time in Malaysia's history in 2018. This was the same period that saw numerous charges filed against former Prime Minister Najib Razak, who is currently serving a 12-year prison sentence for his involvement in the multi-billion-dollar 1MDB corruption scandal, with more cases pending. Widespread anger over the corruption allegations against Najib, Ahmad Zahid, and other UMNO grandees contributed to the party's sensational defeat.
For years, Anwar opposed UMNO, but after last November's inconclusive general election, he was forced to rely on BN and UMNO in order to form a government.
If Anwar's appointment of Zahid as deputy prime minister last November were not enough, the prosecutors' decision to request a DNAA in the case against him has called into question Anwar's status as tribune of Reformasi and clean government – and attracted accusations of political interference in the courts.
The outcome is all the more jarring given that the court said in January of last year that the prosecution had succeeded in establishing a prima facie case against Zahid and had asked him to enter his defense.
In a statement, the anti-corruption group Bersih ("clean," in Malay), said that the verdict brought the reformist, anti-graft credentials of the Anwar government into "serious doubt."
"Malaysians are sick of seeing this correlation: Those who stay in power forever stay innocent, while those who lose power also lose their innocence," it said in a statement, according to BenarNews. "We also wonder if this is a prelude to the dropping of all remaining charges against former prime minister Najib Razak?"
Ambiga Sreenevasan, the former president of the Malaysian Bar Council, described the case on X, formerly known as Twitter, as "an utter waste of public funds" and said that "an explanation is definitely owed to the public." There have even been rumblings of discontent about the decision from within Anwar's own People's Justice Party.
The former Malaysian diplomat and columnist Dennis Ignatius said that the acquittal was logically entailed by Anwar's decision to partner with UMNO after the last general election. "That was the plan all along; the price Anwar willingly paid to be prime minister," he wrote on X. "All that anti-corruption and good government baloney was for the gullible people out there who still believe in reformasi."
Accordingly, the acquittal is likely to be used with relish by the opposition Perikatan Nasional (PN) to undermine Anwar's anti-graft credentials, given that that Najib was successfully convicted under the administration of Prime Minister Muhyiddin Yassin, the current leader of PN, while Anwar's saw Zahid's case dismissed.
Following state elections last month that saw gains for the PN coalition, the accusations of legal double standards only add to the political liabilities weighing down Anwar's unity government.