Thailand's New Government is Failing the LGBTQ Community
Despite vowing respect for human rights at the U.N. General Assembly, Prime Minister Srettha Thavisin has been largely silent on the issue of marriage equality.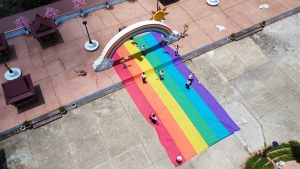 When Thailand's new prime minister, Srettha Thavisin, addressed the U.N. General Assembly a couple of days ago, his proclamation of "respect for human rights, dignity, and freedoms" rang hollow for those aware of the significant disconnect between government pledges and its actual pace of progress. As it stands, in the first test of his commitment to these values, Srettha failed miserably. Despite having an immediate opportunity to reintroduce the marriage equality bill­ – a proposed law that provides full and equal rights to marriage for LGBTQ couples – Srettha's government failed to put this legislation back on parliament's agenda ahead of the September 1 deadline. The disappointment felt within the Thai LGBTQ community at this latest snub cannot be overstated.
Thailand has long been hailed as a haven for LGBTQ people, parading its tolerant culture and marketing itself as a friendly space for the community. But when you dig a little deeper, it's hard to ignore the glaring hypocrisy. Despite making some strides in recognition and acceptance, the current Thai government's inertia on marriage equality reveals an uncomfortable truth. While they may roll out the rainbow carpet for Pride events, the absence of legislative progress to ensure equal marriage rights for LGBTQ couples shows a reluctance to commit to equal rights for all.
Srettha's recently formed government, which came to office earlier this month amid promises of modernization and economic reform, has been largely silent on the issue of marriage equality. Despite Srettha's own commitment during the election campaign, the issue was pushed into the long grass in his latest policy presentation speech as a "medium- to long-term" agenda item. This reluctance isn't just disappointing; it's a failed prioritization that affects lives and undermines the country's claim to inclusivity.
For those facing daily discrimination and the legal hurdles that come with a lack of marital rights, including the right to welfare, child adoption, healthcare consent, property co-management, inheritance, and access to spousal benefits like tax deductions and government pensions, the future may feel perpetually postponed. Putting marriage equality away to some distant horizon after vying for votes from Thailand's LGBTQ community is not just an insult but also a strategic sleight of hand. In doing so, the government is not just delaying justice; it is actively participating in the ongoing marginalization of Thai LGBTQ people. The message to its own citizens is clear: wait your turn.
When youth-led protests calling for political reforms erupted nationwide in Thailand in 2020, the agenda for reforms included calls for LGBTQ rights alongside broader calls for democratic change. The LGBTQ community's primary demand for marriage equality in Thailand led to the development of the marriage equality bill and the introduction of the bill into parliament two years later. While the bill made it to the second reading in November 2022, it failed to progress. Eventually, it lapsed after a series of delays in the legislative process, followed by the closure of parliament at the end of the regular session on March 1, 2023.
Despite having the constitutional authority to reintroduce the lapsed bill 60 days after the opening of parliament, the prime minister's office ignored the urgency and allowed the window to close, leaving the LGBTQ community back at square one.
The disappointment felt by many cannot be overstated. This is not just a missed opportunity; it's a public letdown that reverberates across the nation. There was a glimmer of hope, a moment where it looked like Thailand could take a monumental step forward and set a precedent for Southeast Asia. But that light dimmed the moment the government chose inaction over progress. In a society where family values are often held up as cultural cornerstones, the government's unwillingness to legitimize all families is a disheartening contradiction that casts a long shadow over its credibility and commitment to equality.
As of September 2023, the Rainbow Coalition for Marriage Equality, a network of over 40 civil society organizations and activist groups, has collected more than 362,000 signatures in support of the marriage equality bill. Rights groups, such as Fortify Rights, have also weighed in, asserting that the marriage equality bill has the potential to eliminate the discrimination that exists between LGBTQ couples and other couples and, in doing so, will bring Thailand's laws in compliance with international standards as well as its constitution.
At a time when progressive policy changes should be the order of the day, Srettha's foot-dragging on marriage equality has already left a stain on his tenure, eroding faith in his commitment to equal rights for LGBTQ citizens. Our message to the newly formed government is clear: marriage equality is not a side issue that can wait – it's a matter of fundamental human rights that the new government needs to prioritize.