Thailand's New Government Takes Office After Being Sworn-in
As a product of political compromise, Prime Minister Srettha Thavisin's cabinet contains a number of familiar faces.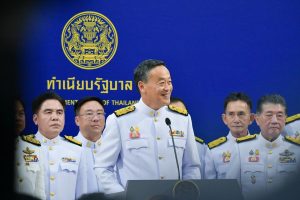 Thailand's new government has officially taken office, finally bringing a nearly four-month-long post-election interregnum to a close. In a ceremony yesterday, incoming Prime Minister Srettha Thavisin and the 34 members of his Cabinet, dressed in gleaming white uniforms, took their oaths of office in front of King Vajiralongkorn at Dusit Palace in Bangkok.
Srettha, who belongs to the Pheu Thai Party, was named prime minister by Parliament on August 22, after a protracted period of political negotiation and horse-trading following the general election on May 14.
After the swearing-in ceremony, Srettha, 61, who will also serve as finance minister, posed with his cabinet – a full list of its members is available here – for a group photograph at Government House.
"I assure you that the administration is the people's government. All who come here, to this place, represent all the people," Srettha told the press following the photo, the Bangkok Post reported. "We will work tirelessly… every day and every minute. People-based needs will be our work."
Starting on September 8, the new leader said that he would pay a visit to Khon Kaen, Udon Thani, and Nong Khai provinces in Thailand's northeast "to hear the people's problems." The new government will then unveil its policies in Parliament on September 11, with the first official cabinet meeting expected to occur the following day.
Yesterday's swearing-in brings to an end a long period of political limbo that followed the election, which was won by the Move Forward Party (MFP) on an ambitious progressive platform that took direct aim at Thailand's concentrations of power and wealth. However, due to the staunch opposition of the military-appointed Senate, which votes along with the House of Representatives to select the prime minister, the party was unable to form a government under its leader Pita Limjaroenrat.
The Pheu Thai Party, which placed second in the election, then formed a broader coalition but was forced to drop MFP in order to win the Senate's support and eventually to join hands with two pro-military parties, despite the party's campaign pledge not to work with the forces associated with the coup that overthrew a Pheu Thai government in 2014. The pact formalized a significant realignment in Thai politics, as the locus of democratic energy in Thai politics passed from Pheu Thai, once the bête-noire of the country's royalist elite, to the MFP. The shift was also symbolized by the return of Pheu Thai's spiritual leader, former Prime Minister Thaksin Shinawatra, from self-exile on August 22.
Given the compromises that produced the cabinet, it is no surprise that it features a number of familiar faces. These include former Public Health Minister Anutin Charnvirakul of the Bhumjaithai party, who has been appointed Interior Minister in the new government, and his party colleague Phiphat Ratchakitprakarn, who has been shuffled from the tourism ministry to the labor ministry. Varawut Silpa-archa of the Chart Thai Pattana Party has been moved from the post of natural resources minister, which he has held since 2019, to the post of social development minister. Five members of the military-backed Palang Pracharath Party (PPRP) have retained roles in the cabinet, in some cases as deputy ministers.
Moving forward, Srettha and Pheu Thai are now under pressure to demonstrate to the Thai public that their controversial compromise with the PPRP and other military-backed parties will produce concrete gains. Given his own background as a real estate developer, Srettha is focusing heavily on economics, in particular on a raft of populist economic policies designed to benefit the party's supporters, particularly in rural areas.
For this reason, Srettha chose to hold onto the post of finance minister, while Pheu Thai will hold the ministries of commerce and transportation. While the party also holds the ministries of foreign affairs and defense, a number of security-related ministries, including justice and interior, have been granted to more conservative parties, ensuring a high degree of continuity with the military-backed administration of Prime Minister Gen. Prayut Chan-o-cha.
As Zachary Abuza noted in a commentary on September 1, the need for quick economic wins will discourage Srettha from any sort of confrontation with his conservative allies, some of whom may still be leery about an alliance with Pheu Thai.
"To achieve his economic goals," Abuza wrote, "Srettha will need to be careful not to take on the military or its core interests. He will be using enough political capital with them to secure Thaksin's request for a royal pardon."