The Implications of Terry Gou's Taiwanese Presidential Election Bid
The election just got more interesting.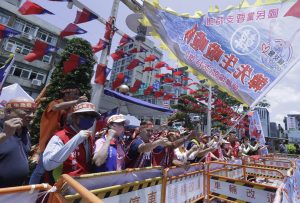 Taiwan will be holding its presidential elections in January 2024. The outcome has been further complicated by Terry Gou's decision on August 28 to run as an "independent."
For now, William Lai (the incumbent vice president) of the Democratic Progressive Party (DPP) remains the leading candidate. However, Lai's approval rating has been below 50 percent, and if other candidates were to join forces, they may have a chance of an upset win. Ko Wen-je of the Taiwan People's Party (TPP) enjoys the support of younger voters. Meanwhile, Hou Yu-ih of the Kuomintang (KMT) seems to have a ceiling on his popularity, but he does have a certain number of organized votes.
Terry Gou may well enter into a coalition with Ko Wen-je. If Gou were to become the presidential candidate with Ko as his vice presidential candidate, they could attract significant support. The KMT has a long history with Gou, so it will likely be difficult for the party to accept him as the presidential candidate and Hou Yu-ih as the vice presidential candidate.
Speculation about a unity ticket took a hit on September 14, when Gou announced actress Tammy Lai as his running mate. However, Lai, who played the role of the president in the hit Taiwanese drama "Wave Makers," has no political experience and no power base to alienate should Gou potentially drop her to join forces with Ko or Hou. Lai herself seemed to keep that door open, saying she saw it as her "mission" to help Gou unite the opposition forces.
It should also be noted that Gou is thought to have support from China, and if evidence were to emerge of China's clear backing, he may quickly lose public credibility.
The main issues for voters are economic stagnation, population decline, and a sustainable social environment (including energy issues), with young people highly dissatisfied with the status quo. However, while the young generation may be dissatisfied, quite a few younger voters are Tsai Ing-wen supporters, while others are more inclined towards Ko Wen-je. One can argue that young Taiwanese tend to place more importance on their "sense" of politicians than on ideology.
Of course, this does not mean that relations with China are not an issue. But with more than 50 percent of the population wanting to maintain the status quo and one-quarter wanting a degree of independence, the question of whether to opt for unification or independence is not really a matter of contention. There are differences between the candidates over how much distance to maintain with China and how to handle the 1992 Consensus, but this has not in itself become a major point of contention within Taiwanese society.
One reason why the Chinese factor has more limited impact now is the transformation of Taiwan's trade structure. It is true that the Taiwanese economy depends on the semiconductor industry, which generates significant profits from its business with China. However, under the Tsai administration, Taiwan's trade dependence on China has declined. Moreover, following Beijing's response to COVID-19 and the backlash against its measures when Taiwanese expats in China were evacuated, the number of Taiwanese businesspeople living in post-pandemic China has yet to recover. Whether you call it the steady advancement of "desinicization," China plus one, or another name, from China's perspective it means that the various options for leverage over Taiwan are gradually decreasing.
While Lai may remain the frontrunner in the presidential election, the DPP will find it tough to win a majority in the Legislative Yuan elections. President Tsai's win in 2016 was accompanied by a DPP victory in the Legislative Yuan elections, the first time the DPP had won both elections. Repeating this feat in 2024 will, however, be difficult. Since its triumph, the DPP has already lost to the KMT twice, in local elections in 2018 and 2022. Local elections do not have a direct bearing on the presidential election, but they are closely related to the Legislative Yuan elections. If neither the DPP nor the KMT can win a majority in the Legislative Yuan, the TPP could end up with the deciding vote.
This possibility adds to the increased uncertainty that accompanies Terry Gou's decision to run. Expect additional twists and turns in the coming months.