The Truth About Pakistan-Russia Ties
A close look at the substance of the relationship shows a marked lack of political will, or even interest, on both sides.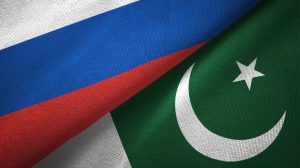 Pakistan's relationship with Russia, especially following the outbreak of the Russia-Ukraine war, needs some serious analysis, but not with regards to whether relations have potential or should be improved or downgraded. Rather, it is important to assess the relationship as it is without aggrandizing or relegating any of its aspects.
While working on a research paper some years ago, I sought to probe into the real prospects of the relationship between Pakistan and Russia, two erstwhile adversaries. This was a time when zero-sum relations were being set aside and independent policies were being pursued – tales of another lifetime for another life, perhaps.
Back then, there was a need to establish how Russian policymakers viewed Pakistan and how Russian diplomats were geared toward achieving the targets and objectives set by the Kremlin. As someone who always looks at the practical rather than whimsical side of the story, I inquired into this dynamic of Pakistan-Russia relations. Fortunately, the answers were straightforward and not left to be deciphered or read between the lines. 
That Pakistan does not fall into the first, second, or third tier of Russia's important relationships should be understood and taken as a reality check. As seen in the "The Concept of the Foreign Policy of the Russian Federation," published by the Russian Foreign Ministry in early 2023, Pakistan does not figure in or even get an honorary mention in the rundown of basic principles, strategic goals, major objectives, and priority areas of Russian foreign policy. This information should by no means be seen as disappointing, disconcerting, or a fact to be exploited against the current or former governments. It is just a fact that needs to be appreciated as it is. 
Of course, there are plenty who will cite examples of former trade and investment deals, current projects which have long been approved, and military engagement between the two states. And they are not wrong; these elements of Pakistan-Russia ties do exist. That said, it is important that relations are judged by the quality and quantity of interactions, engagements, and shared objectives. 
So, what are some of the objectives shared by Pakistan and Russia? These are both short-term and long-term interests, which are placed on different levels of priority or urgency depending on their implications for Russia and for Pakistan. Of these, training against militancy, one of Russia's main concerns owing to its own domestic security imperatives, has helped Pakistan foster friendly ties with the Russian military. Similarly, in 2014 Russia lifted a self-imposed arms embargo on Pakistan, which further opened the room for arms trade and allowed Pakistan to import Mi-35 attack helicopters to meet its defense requirements. Similarly, Pakistan and Russia have a counternarcotics partnership that is facilitating the training of Pakistan officials to prevent the illegal drug trade in the region.
On the other hand, the North-South Gas Pipeline is currently stalled, the reasons for which could be the ongoing Russia-Ukraine war as well as a lack of funds required for this mega project. Likewise, the option to purchase cheap crude oil from Russia also did not materialize as expected or projected.
With regards to Pakistan, one must not neglect the fact that these limitations are, essentially, an interplay of domestic, geopolitical, and economic pressures that keep both states from fully exploiting the potential of their relations. Moreover, the motivation to foster close ties is also rather sporadic and short-lived. Whether that, again, is a product of domestic or international pressures is also worth investigating. 
The Russian side usually toes an independent foreign policy line and has, of late, fomented ties with Saudi Arabia and the UAE despite its closeness with Iran and Syria. However, there seems to be little enthusiasm in Moscow for cultivating a real, long-term, multi-faceted, and mutually beneficial relationship with Pakistan. Russia's close ties to Europe, Central Asia, China, India, and Iran have helped it meet almost all its needs. 
The Kremlin's decision to look east, especially amid the sanctions following its annexation of Crimea, was once viewed as a policy shift likely to unlock the trade between Russia and states in South and East Asia with potential markets for Russian products and vice versa. That, however, also did not materialize owing to a plethora of reasons that have already been discussed elsewhere.
One might still ask, however, whether this stalled relationship can be improved with the current level of engagement. And the short answer is, no – not unless there is serious willingness from the Russian side, and an even more fundamental change within the Pakistani political mindset. 
A small but effective change was seen in 2020 when Pakistan repaid $93.5 million against the Russian exporters' claims pending since the disintegration of the Soviet Union, which had frozen any economic activity between the two states due to Russian law on financial claims. It took three decades for these claims to be settled, which is indicative of the sluggish attitude toward bilateral ties between the two states. 
At this point, there is little change expected unless there arises an hitherto unseen willingness by both states to take a methodical approach toward serious and realistic improvement in ties, leading to increased bilateral trade and economic activity, defense deals, and people-to-people contact in the areas of education, work opportunities, and tourism.