The Unfolding Humanitarian Crisis in Myanmar
Families are fragmented, people are struggling for jobs and education. Essential commodities are scarce, and their prices are skyrocketing.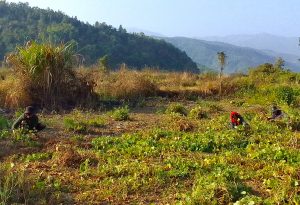 Myanmar had already been reeling under a public health and economic crisis due to the COVID-19 pandemic. The military coup in February 2021 only made the situation worse. Its adverse ramifications can be felt in every sector of the country.
The determined fight of opposition groups resisting military rule has prompted the military-appointed State Administration Council (SAC) to embark upon the "four cuts" strategy, which relies on the burning of entire villages, the use of airstrikes and artillery shelling, as well as arbitrary arrests, torture, and killings. The primary objective of this policy, which has been pursued for decades against the ethnic armed organizations (EAO) in regions such as Kachin and Karen states, is to sever grassroots support for the resistance groups.
The consequences of the "four cuts" policy can be gleaned from data compiled by the United Nations human rights office, which revealed that between February 2021 and April 2023, at least 3,452 persons were killed by the military and its affiliates, 21,807 people were arrested, and 5,839 were convicted. Around 1.5 million people have been displaced due to the conflict and another 75,000 people have reportedly fled to neighboring countries.  The junta troops had burned 70,324 civilian houses through the end of May 2023 in 13 of the country's 14 states and regions. Around 18 million people — comprising about a third of Myanmar's population — need humanitarian aid because of the conflict and the post-coup economic crisis.
Between January and March, The Diplomat traveled covertly to four areas in Myanmar's Chin State and Sagaing Region, which are among the worst affected by the ongoing conflict.
According to the Chin Human Rights Organization (CHRO), 421 people, including 385 civilians, of which 75 were women and 25 children, were killed by the end of January. Data released by the Thailand-based Assistance Association for Political Prisoners reveal that the figures are much higher for Sagaing Region, where about 1,800 civilians lost their lives. This constitutes almost 45 percent of the total death toll in the country.
It is evident that the humanitarian crisis in Chin State and Sagaing Region is not only serious but intensifying.
Deserted Roads, Markets, and Fields
When I embarked upon my journey on January 19 on a motorbike accompanied by resistance fighters, I was struck by how deserted the roads and fields were on the 130-mile pot-holed highway between the border town of Zokhawthar in India's Mizoram state and Kalay in Myanmar's Sagaing Region.
The first big settlement on the way was Tedim in Chin State, which I reached in five hours. It resembled a ghost town with very few people on the road. This town has seen little opposition to the military regime. It is under the control of the Zomi Revolutionary Army–Eastern Command (ZRA-EC), which had joined hands with the junta against the opposition.
The stretch from Tedim to Kalay was the real conflict zone, which was even more desolate, barring a few shops that were open in the three villages we crossed.
During my stay in Kalay between January 19 and 29, I visited Santai and Natchaung villages, Letpanchaung, and Kalaymyo city for interviews with people including functionaries of resistance squads. Only once in this period did I see farmers – four of them, including a woman – working on a field near Santai where vegetables were being cultivated.
"The farmers are avoiding the fields.  Some of them were apprehended by the military, jailed and killed for assisting the resistance groups," said Black Cat, the nom de guerre for the commander of the Chin Rifles, who accompanied me to these places.
People come to markets at Letpanchaung for only about three hours starting in  6 a.m. There were hardly any customers in the shops in the afternoon from where we purchased food and other commodities. A shop owner of a department store claimed that his sales registered a "drastic decline" after the coup. The same refrain was heard from a shop owner selling burgers in Kalay city, where very few vehicles were seen on the road even at 10 a.m.
The streets and markets at Tlanglo and Tlangpi villages along the 80-mile stretch between Camp Victoria — the military headquarters of the Chin National Front (CNF) — and Thantlang township had more people on the streets than in Kalay. The sense of insecurity among the people in this part of the Chin State was far less as it is under the control of resistance groups. CNF Vice Chairman Dr. Sui Khar claimed in an interview on February 6 with The Diplomat that the junta controls no more than 30 percent of the entire Chin State.
In sharp contrast was the situation in the border district of Tamu in Sagaing Region, across the border from the Indian state of Manipur. In Tamu, a fierce battle was raging between the military and the opposition for control of the border district. I did not spot a single person over a distance of three miles that I traveled with resistance fighters on a narrow and secret route in Tamu from the border at Moreh in Manipur to interview some functionaries of the People's Defense Forces (PDF).
The only distinctive activity of people in Tamu is that a few of them cross over to Moreh every morning to sell vegetables and other items. But there has been a huge drop in the daily sales of their products, locals in the town told me.
Slashed Family Budgets, Inflation, and Concern Over Famine
For more than two years now, the sharp depreciation of the kyat and rising inflation have led to mounting food and fuel prices that have hit people across all income groups in Myanmar. A U.N. report says that food prices escalated by 63 in 2021 and by 177 percent in 2022 respectively. Most of the people in Chin State and Sagaing Region I spoke to, including local residents, admitted that increasing prices have compelled them to reduce their food intake, which was particularly evident among those of lower-income groups.
A teacher who joined the Civil Disobedience Movement in Kalay and was teaching students at a school established by the Pa Ka Pha (Local Defense Force) gave me a list of some commodities sold at the markets in Letpanchaung, whose prices have sky-rocketed since the coup. A kilogram of pulses that was 2,500-3,000 kyat ($1.19-1.43) before the coup had spiraled to 5,500 kyat ($2.62). Rice is sold at 50,000-60,000 kyat, up from 30,000-40,000 kyat earlier, and a gallon of petrol (about 5 liters) is 14,000 kyat, compared to 4,500 kyat before the coup. These three items sell for less at Thantlang in Chin State due to the supply from India.
The increase in food prices is coupled with dwindling supplies to the markets. The owner of a roadside grocery shop near Kalaymyo explained that the selling price of most commodities was fluctuating as the supply routes from Mandalay and Yangon had become erratic. There are reports of roads being blocked sometimes by the military to prevent the transportation of food items. Last year, there were reports of food scarcity at Matupi and Mindat townships in Chin State after the military prevented trucks from driving on some routes.
Functionaries of resistance groups and the CDM have no doubt that the country is hurtling toward greater food scarcity if the conflict continues. Zaw Tuseng, president of the Myanmar Policy Institute, told me in an online interview that the country's economic situation over the next year could be "deeply concerning." Pointing to the "near zero" foreign direct investment (FDI) in Myanmar and the fall in border trade, he said that these trends are crippling the economy and limiting income opportunities.
"The burning down of villages is causing widespread displacement and instability, further disrupting rural agriculture. These conflicts not only lead to the loss of livelihoods but also damage critical infrastructure, hindering agricultural productivity and access to markets," Zaw Tuseng said, stressing that the "economic fallout from this will likely be felt for years to come."
Life in the Jungles and Along the Border
More distressing is the condition of the displaced people in Myanmar who are living in the jungles of Sagaing Region and the zone contiguous to the Indian state of Manipur. These people are unable to reach safe areas and are apprehensive about crossing over to Manipur as the government there has been reluctant to give shelter to more Myanmar nationals fleeing the conflict.
According to the Burma Refugee Committee of Kabaw Valley, about 5,000 refugees have taken shelter in Manipur, mostly people from the villages of Yanglinphai, Khomunnom, and Namontar that were burnt by the regime forces at the end of 2021.
In January this year, 81 refugees were arrested in Manipur for illegally entering India. Another 718 were pushed back by the border police two months ago as they were about to set foot in the state. Afraid of persecution by the governments in both countries, around 100 families are staying in temporary bamboo and tarpaulin shelters on the border near Moreh in Manipur, the refugee committee said.
Demo Htoo, a former police sergeant who heads a resistance group in Tamu, told me in an interview on March 26 that "almost half of the IDPs in Sagaing Region, including Tamu, are women and children. A large number are in the jungles and moving from place to place for fear of the military. They are suffering from scarcity of food and diseases."
His claims could not be verified independently, but they were echoed by another functionary belonging to Battalion 3 of the PDF in Tamu.
Sagaing Region, along with Kayah and Karen states, has the highest number of internally displaced persons (IDPs) in Myanmar.  Thang Sei, a member of parliament from Tamu, said that although the National Unity Government (NUG) "has established healthcare units in many places, around 50,000 people in Sagaing Region do not have access to medical facilities." Children are suffering from ailments and the "availability of potable water is a major problem."
Many reports have surfaced about sick children in Sagaing Region being unable to access medical treatment owing to restrictions imposed by the military. A U.N. agency highlighted how the regime has been preventing access to emergency health services at many places across the country, including in Chin State and Sagaing Region. There are also reports of aid workers and volunteers being arrested and killed in Chin State. This was confirmed by CNF functionaries.
A health clinic set up at a border zone of Manipur by two doctors from Tamu, who are part of the CDM, previously provided some relief to IDPs and refugees. However, this unit has not been functioning since May 3, when the ethnic conflict engulfed Manipur.
No Education for Many Children
Sityanlin had hopes of enrolling in a college after passing out of school. But within four months of his completing Class 10, junta troops burned down his village, Tamul, which is located 5 miles from the border with India in Manipur. The family of four, which includes his parents and younger brother, relocated to Manipur a day after the incident happened in mid-November of 2021.
On March 27, I spoke to Sityanlin in the small house they had taken on rent at Haolenphai near Moreh. He said he was not currently attending school because his identity documents were burned along with his village. "No school gives admission without these documents," Sityanlin told me.
"We will have to just wait for the situation to improve in our country so that we can return and resume our normal lives."
Sityanlin's experience is typical among the roughly 30 children who have been living in temporary huts on the border near Moreh.
Students lucky enough to have access to documentation can access schools run by Christian missionaries in Moreh, where at least a hundred students from Tamu have been admitted. These students would cross the border every morning at 8 a.m. and return to their homes in the afternoon. However, these facilities have halted following the conflict in Manipur, which adversely affected Moreh.
The turmoil in Manipur has also led to the closure of the "Spring Schools" that were established in some border areas of the state by the Burma Refugee Committee of Kabaw Valley, with the support of the NUG, to educate the children of the refugees. A teacher who had joined the CDM and is currently based in Manipur claimed that around 800 students were admitted to these schools, including about 40 students from across the border.
"This program is sustained through donations received from expatriates living abroad. There could be around 700 students who have not yet been enrolled. We are hoping for an early end to the disturbances in Manipur so that an adequate infrastructure can be created for inclusion of the rest of the students not attending schools," he told me on condition of anonymity.
Hundreds of thousands of students in Myanmar are reported to have abandoned their studies after the coup. Around 300,000 teachers and other school staffers joined the CDM, leaving schools severely understaffed. In June of 2022, when the Ministry of Education ordered the reopening of schools across the country, around 5 million students did not turn up.
To fill the gap, the NUG had set up its own schools throughout the country in areas controlled by the resistance groups. NUG Education Minister Zaw Wai Soe has claimed that the shadow government was implementing an interim education system throughout the country, with about 90,000 students taking its 10th grade exam. At some places in Chin State and Sagaing Region, where the NUG has not been able to extend its education program, community-based schools have been set up by local committees and resistance squads.
In north Kalay, I was allowed to visit three schools established by the Pa Ka Pha. About 150 students are attending classes, but a larger number avoid coming to these schools.
"Most of the teenagers don't want to attend school anymore," Sir John, who heads the Pa Ka Pha in north Kalay, told me. Schools have remained shut since the pandemic started three years ago. "Our efforts are on to enlarge the existing schools and convince the students to return.  But there is also the constant threat of raids by the regime troops," he said.
Broken Families Everywhere
Broken families are a common phenomenon in most of the places I visited in Myanmar's Chin State and Sagaing Region and in the refugee camps of Mizoram. Members of the same family are scattered at far-off locations for different reasons that range from the necessity of earning money for survival to engagement with resistance groups.
At a refugee camp in Mizoram's Zokhawthar, I met two sisters who identified themselves as Khrih Lang Nei and Esther Lal Nei from Sekan in Kalay.  They relocated with their parents, elder brother, and his family, including his wife and 4-year-old daughter, after their village was burnt by the military in 2021. The younger brother stayed back to join a resistance group. The elder brother was compelled to take up a menial job in a far-off city on India's mainland to support the family.
At the IDP camp in Salen village of Chin State, families are mostly from Thantlang, Hakha, and Matupi. Here I met a woman in her mid-30s, who has four children. Her husband was detained by the military in July of last year. Two weeks later, his body was found with grievous injuries in a paddy field. While the woman's eldest son joined a mobile health care unit under the Chin Health Organization, another son crossed the border to Mizoram to take up a job as a daily wage worker.
Communication between the scattered members of such families is maintained through cell phones. But those who are functionaries of resistance groups are cut off from their families for months on end. This is true of the hundreds of young teenagers at the rebel camps in remote locations, where the cell phone network is absent.
Pu Vela, a founder member of the Kalay PDF, explained that there were more "fragmented families" in Sagaing Region than in Chin State. "The battle is more intense in Sagaing Region.  And there are more young people with the PDFs here, who are determined to fight the military regime," he told me on January 29 at a camp deep in the jungles between Kalay and Tedim.
For two-and-a-half years, Myanmar's junta has brutalized the population, which has courageously opposed the military rule. Unlike previous phases of military rule, this time around, the resistance movement is powerful, involving a larger number of functionaries and covering larger swathes of territory, which the junta failed to envisage. Neither side is willing to negotiate, and both are determined to fight to the end.
The outcome of the war is uncertain, which also means that the humanitarian situation can be expected to deteriorate to more alarming levels.