UN Human Rights Chief Demands Urgent Action to End 'Unspeakable Tragedy' in Myanmar
Volker Turk shone a long overdue and much-needed spotlight on a particular tragedy that the rest of the international community has chosen to ignore.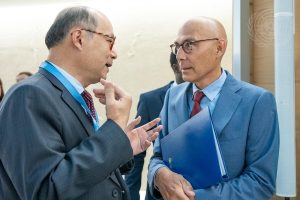 Volker Turk, the United Nations High Commissioner for Human Rights, has done what every world leader has so far failed to do: He has called for radical action to end "an unspeakable tragedy" unfolding in Myanmar.
In doing so, Turk has lived up to the very highest qualities of his office, acting as the conscience of the world. He shone a long overdue and much-needed spotlight on a particular tragedy that the rest of the international community – due to a combination of overload, fatigue, and short-term strategic self-interest – has chosen to ignore.
In a powerful address to the United Nations Human Rights Council, Turk described the human rights violations unleashed daily by Myanmar's illegal military regime upon the people of Myanmar as "inhumanity in its vilest form."
And he called for "new thinking" in order to "bring this unspeakable tragedy to an end." 
Turk repeated the call he had previously made for the U.N. Security Council to refer Myanmar to the International Criminal Court. 
In his latest report and speech, the high commissioner laid out the scale of the crisis in Myanmar, which too many policymakers and journalists have ignored for too long. 
"Each day," he said, "the people of Myanmar are enduring horrifying attacks, flagrant human rights violations, and the crumbling of their livelihoods and hopes."
In particular, he described three specific aspects of the brutal campaign by Myanmar's military regime: "airstrikes, mass killings and burning of villages." 
He cited 22 documented massacres, in which the junta's troops – in his words – "used unimaginable pain on their victims, including burning them alive, dismembering, raping, beheading, bludgeoning, and using abducted villagers to shield themselves against attacks and landmines." 
He reported at least 687 airstrikes between the start of April 2022 and the end of July 2023 – a 15-month period – and "a minimum" of 4,108 deaths. Over 75,000 structures – including homes and food storage facilities – have been destroyed. Hundreds of places of worship have been bombed.
Turk also reported that since the coup in 2021, at least 24,836 people have been arrested, 19,264 are detained, and 150 have been sentenced to death "by military-controlled courts that lack any independence or adherence to due process or fair trial rights."
Myanmar, in other words, is turning into a vast prison camp and a very large execution ground.
On top of all this direct barbarity, the junta's "denial of humanitarian access throughout the whole country" is, Turk said, "having dramatic consequences." Rice – a basic staple in Myanmar, which well over half a century ago was the "rice bowl" of Asia – is now in short supply in much of the country.
The systematic prevention of life-saving medical care, shelter, and clean water by the junta is a further contributor to a major humanitarian catastrophe. This has especially been compounded by the blocking of aid to areas affected by May's Cyclone Mocha. 
General Min Aung Hlaing's military regime claims only 116 people died in the cyclone – and anyone who reports a higher figure is threatened with arrest. Earlier this month, a photojournalist was jailed for 20 years for his coverage of the post-cyclone crisis in Rakhine State.
Turk has courageously challenged the international community to rethink and respond. Unusually direct for a U.N. official, he tells us that the junta's "increasing use of air power, along with heavy weaponry and other material, can only be purchased from foreign sources." We all know what there "foreign sources" are: principally China and Russia, but not them alone.
"The military is relying on access to foreign currency to purchase military hardware, support services, and aviation fuel," Turk added. He is spot-on. And while Western democracies have done their part in imposing targeted sanctions, including against aviation fuel, there is more to be done. 
We should be blocking insurance companies from insuring the transfer of aviation fuel to Myanmar.
We must also intensify pressure on powers in the region to stop their complicity with this barbarity. That means urging the morality-free Association of Southeast Asian Nations (ASEAN) to develop a backbone. Even if they won't back other sanctions, ASEAN member states should be pressed to support a ban on provision of jet fuel and call for an arms embargo. 
Pressure should be increased on India to stop arming and funding this criminal dictatorship. And Min Aung Hlaing's two biggest providers of economic, financial, diplomatic and military support – Xi Jinping's China and Vladimir Putin's Russia – must be increasingly called out. Indeed, secondary sanctions on Beijing and Moscow for complicity with genocide, crimes against humanity, and war crimes should be on the table.
"People in Myanmar have long suffered with insufficient attention being paid by the international community to their plight. This must change," Turk said in Geneva yesterday. He is right. Since the February 2021 coup, eight reports have been presented describing the "horrific situation" to the Human Rights Council – and little has been done and nothing has changed. 
Turk concluded that "we have no reason to believe that the military will radically change and break the cycle of impunity that has characterized its operations for decades."
The world should listen to a brave U.N. official who has the guts to speak truth to power about a benighted corner of the world that has been ignored for too long. In doing so, Turk has shown more courage than both Secretary-General Antonio Guterres, who has remained extraordinarily silent, and previous High Commissioner for Human Rights Michelle Bachelet, who appeared all too keen to appease Beijing.
The U.N. must act to protect the civilians of Myanmar, whose plight Turk described so starkly. As he rightly said, "There is no time to lose."