Vietnam Sentences Environmental Advocate to 3 Years Prison
Hoang Thi Minh Hong is the fifth climate activist to be sentenced to a lengthy prison term on tax-related charges over the past two years.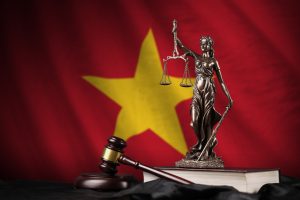 Yesterday, a Vietnamese court sentenced a climate activist to three years in prison on charges of tax fraud, state media reported, the latest in the government's offensive against civil society activists working on climate change.
Hoang Thi Minh Hong, the founder of the environmental campaign group CHANGE, was convicted after a one-day trial in Ho Chi Minh City, according to reports in state media. The 51-year-old was also fined 100 million Vietnamese dong ($4,100).
In June, Hong was detained in the southern metropolis along with her husband and two former employees. Prosecutors later accused her of evading taxes amounting to 6.7 billion dong ($274,702) from 2012 to 2022, The Associated Press reported, citing a state media report.
As the founder and head of CHANGE, Hong campaigned to raise awareness around climate change, sustainable development, and the need to fight the trade in endangered animals, a capacity in which she has accrued a long list of international awards and recognitions. She has been garlanded at the Elle Style Awards and the WeChoice Awards, and Forbes magazine. In 2018, she was named as an Obama Foundation Scholar.
As Radio Free Asia noted at the time of her arrest, Hong is also known for bringing the Earth Hour initiative from Australia to Vietnam and for becoming the first Vietnamese woman to set foot in Antarctica.
In a statement yesterday, the climate advocacy group 350.org said that it was "deeply dismayed" by the sentence. Ben Swanton, co-director of The 88 Project, a human rights group, described the conviction as a "total fraud" and "yet another example of the law being weaponised to persecute climate activists."
Hong is the fifth environmental activist to be imprisoned on tax-related charges over the past two years. In June of last year, a Vietnamese court sentenced Nguy Thi Khanh, another prize-winning environmentalist, to two years in prison for tax evasion. This followed the sentencing of the activists Dang Dinh Bach and Bach Hung Duong and the journalist Mai Phan Loi on similar charges. Mai Phan Loi has since been released, seemingly as a gesture on the eve of U.S. President Joe Biden's visit to Hanoi earlier this month, when Vietnam and the United States upgraded their relations to a Comprehensive Strategic Partnership.
A sixth name was added to this list two weeks ago, when the authorities detained Ngo Thi To Nhien, the director of a think tank that works on energy issues in the country. The exact charges against her remain unclear. Interestingly, at the time of her arrest, Nhien was working with the United Nations Development Program to help implement the Just Energy Transition Partnership, a $15.5 billion deal to help Vietnam phase out use of fossil fuels, with the support of the Group of Seven advanced economies. Swanton of The 88 Project said that Nhien's detention "signals that research on energy policy is now off limits."
The reasons for this likely involve the powerful interests involved in Vietnam's mining industry, which has helped fuel the country's economic emergence over the past three decades. Despite its ambitious green energy targets, the country remains the world's tenth-largest coal power generator and has seen coal rise steeply as a proportion of its total power supply. In this respect, it is perhaps no coincidence that CHANGE played a pivotal role in halting the development and funding of coal-fired power plants.
Above all, as I've noted previously, the assault on environmental activists reflects the Communist Party of Vietnam's ever-present fear that advocacy on indirectly political issues like climate change could attain an explicitly critical valence.