What to Make of Pakistan's Renewal of CISMOA With the US
The renewal of the agreement raises the prospects of reinvigorated defense cooperation between Pakistan and the United States. However, hopes shouldn't rise too high.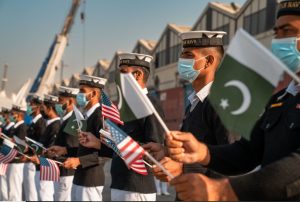 Pakistan has reportedly renewed the Communications and Information Security Memorandum of Agreement (CISMOA), a foundational defense agreement with the United States, three years after it had lapsed. The Pakistan-U.S. CISMOA was originally signed in 2005, in the thick of the post-9/11 Global War on Terror. A year earlier, Pakistan had been designated a major non-NATO ally by the U.S. for being the frontline state in the counterterrorism campaign. Since its signing, this defense accord served as the bedrock for counterterrorism cooperation between Pakistan and the United States for more than a decade – until it expired in 2020.
Now that CISMOA is back in force, what are the prospects for Pakistan-U.S. defense ties?
First, some background on what CISMOA actually is. To maintain its global defense partnerships, the United States has routinely signed defense accords with its allies and partners for sharing and securing classified military information. These agreements establish a standardized framework that amplifies operational compatibility among allied armed forces. Beyond enhancing interoperability, they ease the legal and bureaucratic impediments invariably associated with the acquisition and transfer of sensitive military technologies – a compelling prerequisite, as such agreements are mandated by U.S. legislation governing high-tech exports.
These four types of foundational agreements – the General Security of Military Information Agreement (GSOMIA), Logistics Support Agreement (LSA), Communications and Information Security Memorandum of Understanding (CISMOA), and Basic Exchange Cooperation Agreement (BECA) – therefore constitute the cornerstone of the United States' international military cooperation.
CISMOA was integral for Pakistan-U.S. military cooperation during the Global War on Terror. However, as the war in Afghanistan prolonged and became a strategic liability for the United States, there was a discernible shift in U.S. foreign policy against an evolving geopolitical backdrop. Washington began to pivot away from the primacy of counterterrorism toward countering China's rise in global politics. In an era of strategic competition, India's significance for the United States was revitalized, as New Delhi presented itself as an indispensable partner in addressing China's ascendant global influence.
In stark contrast, relations between Pakistan and the U.S. deteriorated, marred by mutual distrust, discordance over Afghanistan, and mounting frustrations that ultimately culminated with the suspension of U.S. military assistance to Pakistan in 2018.
India and the United States cultivated their strategic partnership by fortifying the foundation laid by GSOMIA, the inaugural foundational accord signed in 2002 to facilitate the exchange of military intelligence. Key developments such as the India-U.S. nuclear accord in 2008 and commencement of the Defense Technology and Trade Initiative (DTTI) in 2012 envisaged a transformative decade for the trajectory of the bilateral defense partnership, shifting from a transactional "buyer-seller" dynamic to a partnership underpinned by co-development and co-production. However, the transfer of cutting-edge U.S. military technology to India remained circumscribed by bureaucratic hindrances. This bureaucratic logjam catalyzed the signing of the remaining three foundational agreements, furthering the objectives envisioned under the aegis of DTTI.
Since the elevation of India as a Major Defense Partner of the United States in 2016, both countries have spent considerable political capital to finalize the LEMOA, COMCASA, and BECA agreements after extensive negotiations. These have had profound implications for regional stability by solidifying India's pivotal role as a "net security provider" in the Indo-Pacific. The agreements also served to increase conventional asymmetries in South Asia between India and Pakistan through the transfer of latest military hardware to India and granting to India of real-time access to U.S. geospatial intelligence. These foundational agreements have effectively acted as a force multiplier for the Indian military as they have emboldened the adoption of an assertive regional military posture.
In the background of these transformative developments, the United States has prudently navigated its concurrent engagement with Pakistan, despite pessimistic commentaries about the future trajectory of Pakistan-U.S. relations amid burgeoning India-U.S. defense ties and the U.S. withdrawal from Afghanistan. Pakistan's geostrategic significance as a key regional partner has stood the test of time as prominent U.S. officials realize the imperative of remaining engaged with Islamabad.
This was exemplified by successive visits of the CENTCOM commander and the second inter-agency Pakistan-U.S. Defense Dialogue held in February 2023. The proceedings echoed resolute reaffirmations of shared commitment to counterterrorism and expressions of U.S. readiness to ameliorate Pakistan's economic woes.
Earlier, in 2022, the Biden administration demonstrated the political will to maintain defense ties with Pakistan by approving and justifying a $450 million sustainment package for Pakistan's F-16 fleet, notwithstanding vociferous criticism from its "global strategic partner" India.
During a seminar in April, Pakistan's ambassador in Washington, Masood Khan, made a case for reinvigorating defense cooperation in the context of the resurgent insurgency in Pakistan since the U.S. withdrawal from Afghanistan.
The CISMOA renewal hence raises the prospects of a breakthrough in the reinvigoration of defense cooperation between Pakistan and the United States. It's noteworthy that CISMOA often serves as a precursor to the deepening of military ties, as it grants legal legitimacy to Foreign Military Sales conducted by the United States. This institutional mechanism will undoubtedly facilitate robust cooperation and streamlined communication within an ever-volatile geopolitical environment, as well as contribute substantively to Pakistan's counterterrorism operations.
Nevertheless, a realpolitik analysis undermines optimistic expectations for the future of Pakistan-U.S. relations. Short-term converging interests against the mutual threat posed by terrorism will keep Pakistani and U.S. officials on the same page for now. But in the long term, diverging interests shaped by regional dynamics might obstruct further strengthening of defense ties, considering the bipartisan consensus in the United States on thwarting China's regional ambitions. This underlying U.S. objective not only drives ever-closer India-U.S. military cooperation, but also raises concerns in Pakistan, which has no desire to rupture its close ties with Beijing.
Pakistani policymakers thus confront the intricate balancing act of preserving their proclaimed aversion to picking sides between China and the United States. Pakistan's policymakers "not have time for the Cold War-style bloc politics that sadly seem to be making a comeback," as Foreign Minister Bilawal Bhutto Zardari put it, but that choice is not up to Pakistan alone. It might only be a matter of time before Pakistan is forced to concede to the dictates of great power competition, undertaking otherwise undesirable strategic decisions as geopolitical forces beyond Pakistan's control are at play.