Why Was the US Ambassador's Visit to Gwadar Important?
After staying away from Balochistan for over 15 years, the United States is showing increasing interest in the strategic, China-funded and operated port of Gwadar.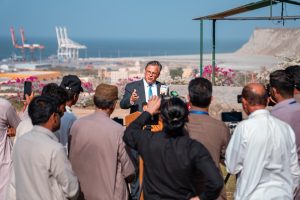 Gwadar in Pakistan's Balochistan province recently had a high-profile visitor: U.S. Ambassador Donald Blome visited this China-funded deep-sea port project on September 12. The visit received considerable media attention.
Not only is Gwadar strategically located — it is situated at the mouth of the Strait of Hormuz — but this project is also key to the success of the China-Pakistan Economic Corridor (CPEC), the flagship of China's ambitious Belt and Road Initiative.
It was in 2007 that Pakistan inaugurated the Gwadar Port project. There were expectations that the port would be operated by the Chinese. However, soon after its inauguration, Pakistan handed port operations to the Port of Singapore Authority (PSA).
Once a little fishing town, Gwadar began to receive the world's attention. However, opportunities for Gwadar's youth were still limited, with very few schools and not many opportunities for higher education.
Amid this, a local organization, the Rural Community Development Council (RCDC), received funding from the U.S. Consulate in Karachi to initiate the English Access Microscholarship program, a U.S.-style classroom experience for 48 bright but underprivileged students from different public-funded middle schools in Gwadar.
The teachers were locals of Gwadar, but they had years of experience and were specially trained for the program. U.S. diplomats would often visit the students, who had hardly met anyone from outside Gwadar, let alone people from a different culture who did not speak their language.
The program was a success. Today, most of the girls and boys who graduated from the course in 2009 have pursued higher education and are working in different fields.
Meanwhile, the political landscape in Balochistan was changing. Political chaos, insurgency, and counterinsurgency operations were adversely affecting educational and other social sector programs that had received international funding. The limited opportunities that had emerged began to dry up.
Many organizations in Balochistan shut down either of their own volition or under orders from the central government, which feared international interference in the security situation in the province. Several international non-profit organizations, including Save the Children, were shut down. Foreign diplomats stopped traveling to Balochistan and programs like the English Access Microscholarship came to an end.
Foreign powers have long had their eyes on Gwadar. For example, it was in response to U.S. concerns over China's increasing influence in the region that Pakistan handed over port operations to Singapore in 2007.
But over time, as tensions between Washington and Islamabad grew, especially over U.S. policies in Afghanistan, Pakistan began to move away from the United States and sought Beijing's support again.
In 2013, Beijing embarked on its connectivity corridor, the BRI. Pakistan handed over Gwadar Port operations to the China Overseas Ports Holding Company, and Beijing and Islamabad joined hands to implement the BRI's flagship, the China-Pakistan Economic Corridor (CPEC),
Since then, China's influence in Pakistan has grown enormously.
In 2022, Pakistan topped a list of 82 countries with regard to the extent of Chinese influence. According to the China Index 2022, published by the China in the World (CITW) network, an initiative of Doublethink Lab, a Taiwan-based anti-disinformation group, China's influence was strongest in areas like academia, domestic politics, economy, foreign policy, law enforcement, media, military, society, and technology.
Pakistan has borrowed heavily from China too. Of the $126.3 billion that Pakistan held in external debts as of December 2022, 30 percent – the largest portion – was owed to China. The Pakistani government also heavily relies on Beijing to provide most of the funds for a rollover of debts and for a bailout from the International Monetary Fund (IMF) to avoid defaulting on loan repayments.
While China is supporting Pakistan at present, the persistent delays in CPEC project completion and security threats to Chinese nationals in Pakistan may push China to reconsider its "all-weather" friendship with Pakistan. Islamabad is well aware that its relationship with Beijing could change.
Over the past decade, the United States, meanwhile, has been watching China's mounting influence in Pakistan and Balochistan in particular with deep concern. However, it had stayed away from Balochistan, and American officials rarely visited the restive province.
That changed in 2021, when Angela Aggeler became the first U.S. envoy to visit Gwadar in over 15 years. The main purpose of her visit was "to strengthen commercial and economic ties between Balochistan and the U.S.," a press release said.
Signs of U.S. interest in reviving ties with Pakistan have been growing in recent years. For example, in February this year, State Department Counselor Derek Chollet visited Pakistan and announced a $30 million relief package. He was followed by U.S. Agency for International Development (USAID) Administrator Samantha Power.
The United States extended much support to Balochistan in particular after the devastating floods of 2022. It provided food and cash assistance to 661,000 individuals and 90,000 children were given nourishing meals "to combat the threat of starvation," according to the website of the U.S. Embassy and Consulates in Pakistan. Along with renovation of 41 health facilities across Balochistan, the U.S. is also supporting two major universities in the provincial capital of Quetta.
And then came Ambassador Blome's visit to Gwadar.
In addition to meeting officials of the port administration and political leaders, Blome also met local journalists and members of the chamber of commerce. He stressed U.S. "commitment to the people of Balochistan" in particular and described it as a "partnership that remains steadfast and robust."
Many view the recent visits of U.S. officials and their meetings with the local people as not just routine diplomatic visits but a process of building trust, an American outreach amid Pakistan amid China's declining interest.
From Pakistan's side, as much as it relies on China, it also needs U.S. strategic support and in particular, support for resumption of the IMF loan packages, assistance for reconstruction of infrastructure damaged by the 2022 floods, and continuous assistance with humanitarian programs, especially in the area of education. Around 800 Pakistanis travel to the U.S. every year under different education and exchange programs.
While the pretext of the recent American visits is largely about humanitarian assistance, officials repeatedly speak during the visit of the significance of the bilateral relationship and the importance of deepening ties, which many interpret in strategic terms.
China has been silent so far on the American ambassador's visit to Gwadar.