Hasina, Macron Seal Deal on Aircraft that Bangladesh Doesn't Need, Cannot Afford
The French PM secured a lucrative contract for Airbus. In return, his lips will remain sealed on a likely undemocratic election.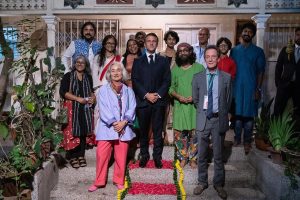 French President Emmanuel Macron's visit to Bangladesh on September 10-11 was meticulously choreographed to highlight smiles, handshakes, and cultural delights. However, behind the optics lies a more calculating economic and political agenda that merits scrutiny about who truly benefits.
During his two-day sojourn, Macron played the consummate visiting dignitary. He listened appreciatively to live folk music, rode a rickshaw through Old Dhaka, and sat down to sample rich Bengali cuisine.
Yet Macron's charm offensive could not fully disguise the more dubious motivations driving this historic visit – namely, the sale of 10 unneeded Airbus aircraft worth $3.2 billion to Bangladesh's state-owned carrier Biman Airlines, which is besieged by corruption, chronic underutilization of aircraft, and consecutive years of losses hidden by tricky accounting.
While Macron framed his visit as an opportunity to establish a "third way" in a region grappling with the expansion of China's influence, the primary objective was to capitalize on Bangladeshi Prime Minister Sheikh Hasina's gambit for clinging to power. Macron managed to secure lucrative deals favoring the French aircraft industry ahead of a general election in Bangladesh that many believe would be rigged to ensure that the authoritarian Hasina remains in power.
Bangladesh and its national carrier Biman cannot afford these aircraft, especially amidst Bangladesh's worst financial crisis in decades as the government struggles to pay fuel bills to avoid nationwide blackouts and international agencies downgrading  Bangladesh's sovereign rating outlook from stable to negative, reversing their previously optimistic outlook. The purchase seems intended to garner European backing, as a countermeasure against Washington's policy of sanctions and travel bans linked to undermining the election.
Flying White Elephants, Not Planes
Despite Bangladesh's growing aviation industry, state-owned enterprise Biman Bangladesh remains beset by problems due to poor planning and operational mismanagement augmented by a chronic shortage of qualified pilots and cabin crew.
Biman Bangladesh's fleet has an average estimated daily utilization of just five hours compared to the utilization rates of 10.2 hours and 12 hours achieved by Singapore Airlines and Thai Airlines, respectively. Although wide-body Boeing planes can operate 13-16 hours daily, Biman's aircraft utilization in June 2023 for such aircraft was restricted to just 10-13 hours per day, largely due to pilot shortages and scheduling issues. Over the past decade, Biman doubled its fleet to 21 planes but was only able to serve 21 destinations, down from 28 international routes in 2000, due to operational limitations. Aviation experts have questioned the business logic underlying the decision to purchase new aircraft amid Biman's ongoing struggles with profitability and aircraft utilization.
Second, Biman's aircraft usage has increased recently with international airlines suspending their Bangladesh routes due to the inability to repatriate revenues on account of Bangladesh's foreign exchange crisis. Yet, Biman remains a loss-making enterprise that uses creative accounting techniques to show profitability.
In 2021 and 2022, Biman Bangladesh Airlines claimed profits of around $41 million and $54 million respectively, by accruing unpaid liabilities rather than recognizing expenses when incurred.
As of November 2022, Biman has around $1 billion in unpaid bills with the Civil Aviation Authority of Bangladesh (CAAB) and the state-owned Padma Oil, which were not accounted for. If these unpaid liabilities were recognized properly, Biman would be showing massive losses instead of profits.
Third, experts have questioned Biman's decision to buy Airbus aircraft, given that its existing fleet mostly consists of Boeing planes.
Biman has a poor track record in terms of training pilots and managing flights. Experts point out that while having a mixed fleet can sometimes offer negotiation benefits, the operational and maintenance challenges could be substantial for a relatively small carrier like Biman.
With only four partially A350 certified engineers out of 60 total, Biman lacks trained maintenance staff. Pilots and cabin crew will also require costly new type-rating certification.
Finally, the most ludicrous is the decision to acquire two dedicated cargo aircraft from Airbus. According to the Air Operator Certificate (AOC) audit report, in 2022, Biman Bangladesh had the capacity to transport 498,000 tons of cargo but only transported 28,000 tons – just 6 percent of its total capacity.
Experts interviewed by The Daily Star cited three reasons why dedicated freight aircraft will lose money: first, air cargo demand in Bangladesh is highly seasonal, with only 5-6 peak months annually, meaning planes will sit idle during the off-season; second, there is little inbound Western cargo justifying Europe/North America flights; finally, minimal outbound demand to Asia means planes will often fly empty eastbound. The cargo aircraft acquisition seems poorly matched to market realities.
The unnecessary purchase of these aircraft, backed by a sovereign guarantee, occurs as Bangladesh's foreign currency reserves witnessed a drop by 19 percent in the first 9 months of 2023, leading to a rating downgrade by all three major rating agencies. The decline has forced the central bank to severely ration dollars, resulting in deferrals or non-payment for critical imported fuel, fertilizer, and basic commodities. In light of Bangladesh's plunging foreign currency reserves and import restrictions, the decision to purchase 10 Airbus aircraft could only have been motivated by political expediency rather than any genuine commercial need.
A Purchase Decision Before Techno-financial Evaluation
But worse, the government committed to ordering 10 aircraft from Airbus before Biman could establish a business case and without conducting a techno-financial evaluation based on market demand and Biman's route plan without any tender.
In 2022, Airbus showcased the A350 aircraft in Dhaka, and a Biman committee was formed to evaluate potentially acquiring Airbus planes, but the committee did not complete its evaluation.
Daily Star journalist Zyma Islam reported a series of events before the purchase. On May 3, 2023, the Biman board decided to consider "Up to eight Rolls-Royce powered A350-900/1000 aircraft (the "A350 Pax Aircraft") or "any other suitable aircraft" (wider or narrow) as per Biman's requirements."
Within two days, on May 5, 2023, an influential ally to Prime Minister Sheikh Hasina, Industry and Investment Adviser Salman F Rahman, signed a joint communique with the United Kingdom's Minister of State in the Department for Business and Trade, Lord Dominic Johnson. This communique confirmed the "Sale by Airbus and the purchase by Biman Bangladesh Airlines of up to 8 Rolls-Royce powered A350-900/1000 aircraft (the "A350 Pax Aircraft") and two Airbus freighter aircraft (subject to further discussions)."
Zyma Islam interviewed Biman insiders who, on condition of anonymity, revealed that the evaluation committees had only held a few inconclusive meetings by the time Bangladesh announced the Airbus deal shortly after, and Biman was "nowhere near the state to be able to produce any report."
The nature and sequence of events indicate that if there is a change in government, it is probable that the deal will undergo a legal review.
Macron Acquiesces to Hasina's Maneuver.
That is exactly Hasina's goal in the unnecessary Airbus deal from Europe – to balance geopolitical powers via their commercial interests, structuring the agreement as shadily as possible so they desire her governance to continue.
To wrap up, while the outcome of Hasina's tactics is uncertain, the view from Bangladesh suggests, thanks to such deals Europe is likely to take a more forgiving approach to Hasina's government on the forthcoming polls destined for manipulation, regardless of the threat of U.S. sanctions.
Macron is thus complicit in shoring up Sheikh Hasina before the election, entangling Bangladesh in debt, and depriving the Bangladeshi people of any significant chance for self-representation, all while primarily serving to enrich Airbus.