Hun Manet Backs Down On Tax, but He Cannot Deny a Hike Is Coming
If the new-look government is to fulfill its grand economic promises, it will need to vastly increase domestic revenue collection.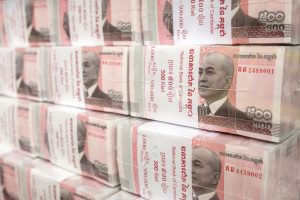 Was this Hun Manet's first gaffe since taking over Cambodia's prime minister in August? A few weeks ago, the head of the taxation department, Kong Vibol, spoke about the imposition of a new 20 percent tax on capital gains (from 2024) and increased enforcement of existing levies, amid reports that revenue collection in the first eight months of 2023 was 21 percent lower than expected. This naturally led to some consternation among Cambodian business owners, who find themselves increasingly at the whims of the taxman (as we'll see later).
Enter Hun Sen, Manet's father and the former prime minister, who publicly scolded his son. "Why is it exploding? We are not taking any action yet, but the talk is causing an outcry," Hun Sen apparently said in a voicemail that found its way onto Facebook. Hun Manet then went out and told a crowd of garment workers that his government either hasn't decided to raise taxes or wouldn't raise them, depending on which translation you read. Radio Free Asia paraphrased him as saying that his government "won't be creating any new taxes or increasing the old ones," and then quoted him: "We did not take it [the decision] and we will not take it."
Arguably, this reveals a lack of political calculation on Manet's part, since it looks like it took his father's intervention for him to realize that he needed to shut down the story and quieten public outrage. According to Joshua Kurlantzick of the Council on Foreign Relations, it also shows that Manet "still seems, at times, directly under the control of his father." Seng Sary, a Cambodian political analyst, told Radio Free Asia that it was a sign that Hun Sen continues to control the government behind the scenes. The newspaper implied the same with its headline, "After message from Hun Sen, Cambodia's new leader halts tax changes."
However, one could spin it another way. Manet was arguably right not to step in to dampen the public's outrage because, despite his later assertions, he knows that his government will need to considerably increase taxation. Listen closely and what Hun Sen was actually lecturing his son on was timing. "If we are not on top of the timing, we may go wrong. Please help with the direction of the government," he said. In other words, it was the wrong time, just after an election and the first change of leadership in decades, to thrust the issue of taxation on the public.
Anyone with sense knows that the Manet government will need to increase taxation, including through new duties. Its ambitious Pentagonal Strategy seeks to make Cambodia a middle-income country by 2030, as well as to achieve 7 percent growth rates annually; cut poverty rates to less than 10 percent; transform the healthcare sector; raise salaries; and build a more sustainable economy. Perhaps some of that can be paid for by streamlining public expenditures. It's notable that on October 5 Hun Manet announced around $200 million from the existing budget would be diverted from "several non-essential tasks" to social protection schemes and flood relief.
Read between the lines and he's undoing a decision of his father's government and subtly implying that his predecessor had been a little wasteful in his designation of "unnecessary projects." And, sure, Chinese money is still flowing into the country. However, that stream isn't endless. Moreover, Phnom Penh is petrified of increasing the national debt, yet as it moves up the development ladder it will find it more difficult to access concessional loans. New free trade deals also mean that export and import taxes are going to be less important. In 2022, direct revenue, consisting mainly of profit tax, stood at 6.1 percent of GDP, exceeding VAT collection for the first time, according to the World Bank.
As a result, it is going to be domestic revenue that pays for the government's grand schemes. If it won't borrow the money, it'll need to raise it through taxation. Just look at what has already happened. Domestic revenue increased from $247 million (or 8 percent of GDP) in 1998 to $6.8 billion (23 percent of GDP) in 2022. During the same period, expenditure rose from $409 million (13 percent of GDP) to $7.9 billion (27 percent of GDP). Actually, these figures (cited from the Pentagonal Strategy report) are misleading since most of the growth in taxation and expenditure has come over the past decade. In 2013, domestic tax revenue was just $900 million, or around $60 per capita. By last year it had spiked to $3.45 billion, or $206 per capita – more than a threefold increase in less than ten years.
To put it simply, the Manet government will have to raise taxation quite considerably if it wants to pay for the sort of economic and social development it promises. Everyone knows that. Kong Vibol was speaking the truth when he bemoaned opposition to new taxes, stating in September, "If we do not collect (taxes) from those who are registering profits, who else can we tax?" And Hun Manet was right not to immediately leap on public outrage and make populist comments that he knows he'll have to backtrack from at a later date.
The government's claquers will spin this as transparency (although they now have a problem in that Hun Manet has publicly said his government won't increase taxes). Being less generous, the Manet administration was naive in thinking it could lay the truth on the public at a politically awkward time. Hun Manet has backtracked and we probably won't see new taxes for a few years, but what we'll likely see is vastly more collection of existing taxes.
Seng Sary, quoted in Radio Free Asia, was on the money when he said that Cambodia's new leader "should announce the reform of how to collect taxes effectively and reduce corruption in the tax sector so the people can have a positive view on the government of Hun Manet." This must also be the demand of the opposition movement, which is now in ruins and needs to be rebuilt from the ground up. It would be wise to focus on the fact that most Cambodians are now taxpayers, which wasn't the case when the Sam Rainsy-led opposition movement coalesced in the late 1990s, and increasingly it is the public's money that the government is spending and potentially misspending – or, rather, that politicians and bureaucrats are stealing to pay for their lavish lifestyles.
In the past, it was slightly easier for the average person or the successful entrepreneur to ignore how the political oligarchs went about pilfering foreign aid or taking their cut from Chinese investment. The ordinary person never saw that money anyway and didn't really know how much of it was coming into their country. Things are rather different when the taxman arrives to take the money from your pocket, and then you see the son of a minister spending millions of dollars on a wedding, and you know that it's your hard-earned riel that paid for it.
A Taxpayers Alliance of Cambodia would be a welcome addition to the country's depleted civil society. If the five Funcinpec lawmakers realize that they actually have a job to do in the National Assembly, they would demand even greater transparency from the government and ministries about just how taxpayers' money is being spent. The Hun Manet government isn't about to open the jails of political prisoners and create a Scandinavian democracy on the Mekong. But it has pledged to be more transparent and technocratic than what came before. For now, it's politically sensible for Manet to listen to his father and deny any tax rises. But he must know this is disingenuous and that his government will have to stretch its hand further into the pockets of the ordinary Cambodian. If he wants to be a transparent reformer, he should explain this now.