Malaysia Could Shut Schools Due to Spiking Air Pollution
This year has seen the worst air pollution since 2019, due to the effects of the El Nino weather pattern.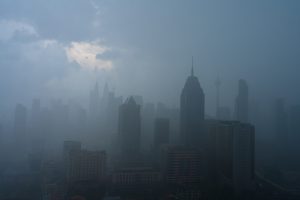 Malaysia's government is preparing to shut schools and take other measures as the quality of the air deteriorates across large parts of the country due to toxic smoke from burning peatlands, according to the country's top environmental official.
In a statement late on Monday, Wan Abdul Latiff Wan Jaffar, the director general of the Department of Environment, said that 11 areas of the country, the majority of them in peninsular Malaysia, were recording unhealthy air pollution index (API) readings.
Wan Abdul Latiff said that efforts to clear the air with rain by seeding clouds and other measures to cope with the pollution would come into effect when API readings reached 150 for more than 24 hours. He added that according to Kuala Lumpur's existing policy, schools must stop all outdoor activities when their API readings reach 100, and close when they reach 200."
As of press time, API readings along the west coast of peninsular Malaysia and Sarawak sat between 100 and 150, a range deemed "unhealthy for sensitive groups." Readings were lower in Sabah and along the eastern coast of the peninsula.
Over the past week, high levels of air pollution have also been recorded in Indonesia, Singapore, and parts of Thailand. This "transboundary haze" has become a seasonal crisis in Southeast Asia, in line with the expansion of agricultural monocultures such as palm oil, maize, paper pulp, and sugar, compounded by vehicle and industrial emissions and naturally occurring dry season forest fires. The pollution periodically forces the closure of schools and the cancelation of flights and is slowly taking an unknown toll on the health of the region's population.
Late last week, Wan Abdul Latiff blamed the pollution on a raft of forest fires in nearby Indonesia. In a statement, he pointed to satellite imagery showing 52 forest fire "hotspots" in Sumatra and 264 in the Indonesian portion of the island of Borneo, according to a report from the Singapore-based ASEAN Specialised Meteorological Centre, which tracks Southeast Asia's "transboundary haze" problem.
"Forest fires that occur in the southern part of Sumatra and the central and southern parts of Kalimantan (Borneo), Indonesia have caused haze to cross borders," he said, the South China Morning Post reported.
On Monday, Indonesia's environment ministry denied the accusations that forest fires in Sumatra and Kalimantan were to blame. "We continue to follow up any development and there is no trans-boundary haze to Malaysia," Environment Minister Siti Nurbaya Bakar said in a statement.
However, Siti did acknowledge that the country was struggling with a number of forest fires, which are believed to be the worst since 2019, when the resulting air pollution forced nearly 2,500 schools to close in Malaysia. The current blazes are the worst since 2019. More than 267,900 hectares of forests have been burned so far this year, bigger than a total of 204,894 hectares for all of 2022, Reuters reported, citing data from the Environment Ministry.
Bakar added that the Indonesian government would review and punish firms if fires were found in their concession areas.
The deterioration in air quality has prompted calls for more coordinated action to tackle the annual scourge, which renders much of the region's air unbreathable for several months each year.
The environmental advocacy group Greenpeace Southeast Asia said in a statement yesterday that Southeast Asian governments have long tiptoed around the edges of the problem, without directly challenging the large agribusiness companies whose activities have incentivized agricultural burn-off.
"Enacting a domestic Transboundary Haze Act is necessary to act as a deterrent, especially as there are bad apples in the industry," Heng Kiah Chun, Greenpeace Southeast Asia's regional campaign strategist, said in the statement. "It can provide legal grounds for each country to institutionalize checks and balances to ensure their own companies operate responsibly."