No Media Lessons Learned From Thailand's Siam Paragon Tragedy
The Thai and international media have treated the country's latest episode of gun violence as a spectacle.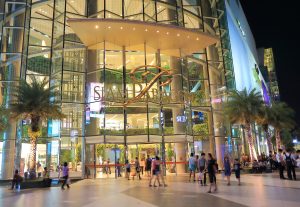 In one of the worst acts of gun violence in Thailand in recent memory, a 14-year-old gunman opened fire at Siam Paragon, a high-end shopping mall in the heart of Bangkok, killing two innocent young women, a Chinese tourist and a 31-year-old Myanmar national, Moe Myint who worked at a toy store at the mall. As is normal after national tragedies such as these, the media and the public tried to make sense of the loss, examining the mental health of the assailant, who reportedly was diagnosed with schizophrenia, the prevalence of firearms in the country due to weak national gun legislation, and the impact on Thailand's internal security.
However, the international and Thai media have yet to learn the lessons of past tragedies and in the process are making a number of dubious ethical decisions. One need only look back to a year ago, when a gunman, a former police officer, burst into a daycare center in Nong Bua Lamphu province, murdering 22 young children. While Anna Coren, a CNN correspondent, grabbed most of the headlines during that grim tragedy, filming inside the bloodstained childcare center illegally, other media organizations were just as guilty, such as Khaosod English, which filmed and photographed a visibly-shaken mother as she left toys on the coffin of her dead son.
Fast forward a year, and the same insensitive, morally questionable behavior continues. Khaosod English was quick to photograph for social media the mother of Moe Myint, as she fainted as a result of her grief at a private funeral on October 7. International media organizations have zeroed in on both public and private events, and in what has been deemed an internationally acceptable practice, circulated for authorized usage stark images of grief, loss, and anguish.
Across cultures, etiquette at private functions is taught at an early age, and often the symbols of such etiquette, as Judith Martin, a long-time former Washington Post columnist once wrote, "permit [us] to recognize such essential attributes of other persons as their intentions, status, friendliness or hostility, and thus to deal appropriately with a wide range of social situations and relationships." It is the etiquette that codifies the ritual in the "service of the sacred."
Buddhist funerals, particularly private ones, are steeped in ritual, during which the family places a series of offerings on or close to the casket. These can include flowers, incense, fruit, or items that were of significance to the deceased. They are conducted according to a somber etiquette, led by monks who recite sacred sutras – a tone that provides critical clues as to how attendees are supposed to behave.
The critical question for the media now is when has it become acceptable for journalists to intrude upon the etiquette and solemn environment of the grief process for the sake of the public's right to know? There are established international guidelines that should deter journalists from this intrusive behavior, including from the National Press Council of Thailand, which advises the media against publishing photos and stories that contribute to the suffering of the loved ones of victims. In an earlier piece on the Nong Bua Lamphu tragedy, I highlighted the international ethical code published by the Society for Professional Journalists, which calls for the media to "balance the public need for information against potential harm or discomfort." Intrusion in the grief process is not only harmful but also it represents a loss of dignity.
It need not even be a private loss that requires journalists and commentators to provide a reasonable space for both privacy, dignity, and grief. Late last year, Princess Bajrakitiyabha suffered a severe heart arrhythmia resulting from inflammation following a mycoplasma infection while preparing her dogs for a competition in northeastern Nakhon Ratchasima province. Naturally, journalists from around the world were following the story, as it had a potential impact on the royal line of succession. While the 44-year-old princess and UNODC Goodwill Ambassador remains in hospital, the Thai monarchy was subject to unnecessary criticism regarding her medical condition. Former Reuters correspondent Andrew MacGregor Marshall, an acerbic critic of the Thai monarchy, in the months after Bajrakitiyabha's collapse, repeatedly pressured the Palace, via X, the social media platform formerly known as Twitter, to formally declare the princess dead. Even while acknowledging the public and private grief of her father, King Vajiralongkorn, Marshall took it upon himself to compel the Palace to "let her go."
There is no shortage of scientific studies that suggest that the emotional trauma of losing a loved one or a catastrophic health crisis can lead to a wide range of psychosocial and physical consequences. In fact, many human experiences are framed around existential anxieties, with the unexpected and unpreventable truth of mortality at the top of a very long list. What commentators like Marshall forget is that despite their status or wealth, the members of the Thai royal family are no less human and grapple with the same psychological traumas associated with the human condition. They are no less entitled to privacy, dignity, and the space to cope with the impact of their loss, regardless of external pressure.
Whether previously unknown to the world or a member of the most influential family in Thailand, it is incumbent upon journalists and their organizations to gain a proper level of conflict or grief-sensitive approaches to covering public tragedies. As expressed in Article 1 of the Universal Declaration of Human Rights (UDHR), as well as in other regional human rights conventions such as the EU Charter of Fundamental Rights, dignity is a human right guaranteed to all and should not be curtailed by inappropriate justifications such as "in the public interest" or the "right to know." The media should let those overwhelmed by grief preserve their dignity, especially in their most vulnerable moments.