Taiwan's Drone Industry Takes Flight
Seeking to apply the lessons from the war in Ukraine, the government of Taiwan has introduced a series of initiatives aimed at accelerating the production of drones for its military.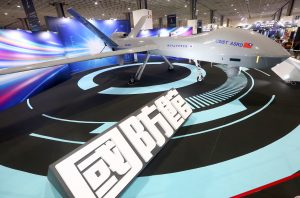 On September 14-16, drone producers and other defense firms gathered at the Taipei Aerospace and Defense Technology Exhibition (TADTE). Normally held every two years, the event was the first since 2019 and featured nearly 280 exhibitors, an increase of more than 70 percent. More than three dozen companies involved in the development and manufacturing of drones were present at TADTE. 
Seeking to apply the lessons from the war in Ukraine, the government of Taiwan has introduced a series of initiatives aimed at accelerating the production of drones for its military. Last year, the government launched a research and development cluster devoted to drones and initiated a competitive test and evaluation program for five categories of drones for the military. By marshaling Taiwan's consumer drone producers and electronics enterprises to the interests of national defense, the government seeks to build a domestic supply base free of technology from China that can meet the needs of Taiwan's military. 
TADTE 2023 represented a display of the progress these initiatives have made to date and marked a change from those of years past. Present at the Taipei event for the first time, for example, were several notable drone manufacturers from the United States, including AeroVironment and Northrop Grumman. Occupying significantly greater floorspace – and attention – at TADTE, however, was the pavilion of Taiwan's own Asia UAV AI Innovation Application R&D Center, as well as the booths of other Taiwanese drone manufacturers. 
Formed in the southern Chiayi County by the Taiwanese government in August 2022 to serve as a cluster for Taiwan's emerging drone producers, the Asia UAV AI Innovation Application R&D Center has grown from an initial 18 entities from industry, government, and academia to upwards of 40 today. The Center's pavilion at TADTE was comprised of 16 manufacturers and 35 booths.
A prominent feature at the Center's pavilion was a full-scale model of the Flyby Technology Jackal, a multirole vertical takeoff and landing (VTOL) drone. At TADTE 2023, Taiwan's Geosat Aerospace and Technology signed an agreement with Flyby Technology to produce 160 units of the Jackal in Taiwan. Jointly developed by Flyby in the United Kingdom and Turkey's Fly BVLOS Technology, the Jackal weighs 105 kilograms and is capable of equipping with short-range air-to-surface missiles. Deliveries of the first Jackals to the Taiwanese military are expected to begin by the end of 2024.
The agreement with Flyby is Geosat's latest effort to bring international expertise in drone technology to Taiwan and to market its own technology abroad. In November 2022, Geosat signed an MOU with Primoco, a Czech firm specializing in the production of mid-sized drones for intelligence and surveillance. This was followed in April by an agreement with France's CAVOK UAS to develop and produce the CK-50-T, a fixed-wing VTOL drone designed for intelligence-gathering. Finally, in September, Geosat partnered with Fortunio Japan to manufacture the Fortunio's counter-drone system. 
Founded in 2004, Geosat began developing drones for surveying and mapping in 2008. Recently, Geosat CEO Cheng-Fang Lo has emerged as an outspoken proponent of Taiwan's domestic drone industry and of the essential role it could play in the country's defense. In June 2022, Lo, who today serves as the coordinator of Taiwan's National Drone Team, gave a presentation on lessons from the Ukraine war to the leadership of the Democratic Progressive Party, following which President Tsai Ing-wen announced plans to establish the drone research center in Chiayi County.
Thunder Tiger Group, which occupied a space adjacent to that of the Asia UAV AI Innovation Application R&D Center at TADTE, made news of its own at the exhibition. One month after unveiling its Sea Shark 400 uncrewed surface vehicle in August, Thunder Tiger revealed a prototype of its Seawolf 400 autonomous underwater vehicle at TADTE. Thunder Tiger also announced a partnership with U.S. drone developer Epazz to offer its ZenaDrone 1000 to Taiwan's government.  
Since 1979, Thunder Tiger has specialized in producing remote control cars and aircraft for enthusiasts. In 2015, Thunder Tiger launched its uncrewed systems division, TTRobotix, and today it offers a variety of helicopter and multirotor drones. At TADTE 2023, Thunder Tiger displayed its TM-450 Tettron multirotor drone, which the company unveiled in August and is offering to Taiwan's military and its public safety agencies. The TM-450 Tettron features a gimbal-stabilized electro-optical and infrared package produced by Israel's NextVision, the result of a collaboration announced by the two companies in May. Also in May, Thunder Tiger revealed that the U.S. firm Imsar would provide its synthetic aperture radar for the Thunder Tiger T-400, a dual-use helicopter drone that was also on display at TADTE 2023.
Another Taiwanese company making the leap from the commercial to the military market is Coretronic Intelligent Robotics Corporation (CIRC). Founded in 2017 as a subsidiary of the electronics firm Coretronic Corporation, CIRC is known for its Kestrel quadrotor drone, which it offers as an automated drone-in-a-box solution for inspection and security services. 
CIRC has previously partnered with the Japanese logistics firm JP Rakutan to develop a delivery drone and with Japan's KDDI on using drones to inspect construction sites. In 2022, the U.S. firm Teledyne FLIR and CIRC unveiled the jointly developed SIRAS quadrotor drone, which Teledyne is offering to public safety agencies, among others. Today, CIRC offers at least four types of multirotor drones. 
One newcomer to TADTE and the wider drone market is Evergreen Aviation Technologies (EGAT), a subsidiary of the aviation and hospitality conglomerate Evergreen Group. EGAT produces a helicopter-type VTOL drone. 
KunWay Technology was another new entry at this year's exhibition. A resident at the Asia UAV AI Innovation Application R&D Center in Chiayi County, KunWay was founded in 2012 as an electronics firm, before transitioning to the development of agricultural drones in 2018. Beginning in 2022, the company began working on military drones and today advertises three types of armed and unarmed drones.
A Familiar Presence
As with previous iterations of this exhibition, the National Chung-Shan Institute of Science and Technology (NCSIST) was a mainstay of TADTE 2023. The government research institute has served as the locus of military drone development in Taiwan and remains integral to the military's drone buildup plans. 
At TADTE 2023, NCSIST displayed the Albatross II, an upgraded version of a drone that has been in service with the Taiwanese military – initially with the Army and now with the Navy – for over a decade. The mid-endurance Albatross II is said to have a range of around 300 kilometers and flight time of 16 hours. 
The Teng Yun II, a long-range UAV, also had a prominent place at the exhibition. Work on the Teng Yun began in 2009 and, in 2018, NCSIST unveiled the upgraded version of the drone. Its future, however, is clouded by the prospect that Taiwan could acquire a handful of U.S.-made General Atomics MQ-9 Reapers, which could fulfill Taiwan's requirement for aircraft of this class. Taiwan's Air Force is expected to decide the fate of the Teng Yun following an operational evaluation of the aircraft later this year.
NCSIST's newest drone offerings include various types of loitering munitions – expendable armed drones designed to detonate upon impact with a target. At TADTE 2023, NCSIST unveiled a new loitering munition known as the Type II. The Type II is a fixed-wing, tube-launched loitering munition that, according to NCSIST, is equipped with an electro-optical and infrared sensor. It was displayed at TADTE along with its vehicle-mounted launcher. 
The Type II is the second loitering munition product unveiled by TADTE this year. At an open house event in March, NCSIST unveiled the Type I, a portable, tandem-wing aircraft and the smallest in its lineup of loitering munitions. Along with the Albatross II, the Type I and the Cardinal III, a VTOL variant of the Cardinal reconnaissance drone unveiled in March, are currently under evaluation by the MND. 
NCSIST's open house in March also featured additional variants of the Chien Hsiang, a large, delta-wing loitering munition that was first publicly revealed in 2017. Unlike the original Chien Hsiang, which was equipped with an autopilot and anti-radiation seeker, the variant unveiled in March included an electro-optical sensor, potentially allowing an operator to guide the aircraft to a target. At TADTE 2023, NCSIST revealed that it was offering a third, unarmed version of the Chien Hsiang designed to serve as bait for adversary air defenses, clearing the way for an attack by the armed versions. 
Taiwan's Plans for Drones
On September 12, Taiwan's Ministry of National Defense (MND) published a white paper identifying the military threats facing the country and its plans to modernize its capabilities. One prominent area in which the MND seeks to invest is uncrewed systems. "After reviewing the requirements for overall defensive operations, the Armed Forces have decided to incorporate UAVs into their force buildup plans," the Ministry wrote in its National Defense Report 2023. By 2028, the MND intends to acquire 700 "military grade" and more than 7,000 "commercial grade" drones for the armed forces. 
NCSIST will be the primary entity responsible for providing "military grade" drones to the military. Some of these drones include the Chien Hsiang loitering munition for the Air Force and the Capricorn uncrewed helicopter for the Army, which NCSIST unveiled and provided to the Army in 2022. Depending on the outcome of ongoing tests, NCSIST could also provide the upgraded Albatross II to the Navy, Cardinal III to the Marine Corps, and Teng Yun to the Air Force. 
Meanwhile, the MND has delegated responsibility for managing the initial phase of the acquisition of "commercial grade" military drones to Taiwan's Ministry of Economic Affairs (MOEA). On December 21, 2022, the MOEA selected nine companies to submit prototypes of drones in five categories ranging from micro drones to shipboard surveillance drones for testing and evaluation, contracts for which the Ministry awarded on March 21. 
The precise requirements for the drones in question are unclear. More information regarding the proposed systems should become available later this year and into next, when the MND is expected to rule on the prototypes selected for mass production. Those selected will be responsible for providing a total of more than 3,200 in these five categories by 2024. 
Some of the companies competing for these the military's requirements for "commercial grade" drones will be familiar to those who attended TADTE 2023. For example, Geosat, Thunder Tiger, and CIRC are vying for contracts in the "micro" drone category. CIRC is also in the running for the surveillance drone requirement, while Evergreen and Geosat are offering prototypes for the Navy's land-based reconnaissance drone requirement. Other companies selected by the MOEA, like the technology firms Qisda and MiTac, have not had a presence at TADTE and appear to be relative newcomers to the drone market. 
For those drone companies in Chiayi County and beyond, the MND's contracts are likely but one opportunity on the horizon. Drawing on its deep expertise in the electronics industry, Taiwan is positioning itself to provide drones to other countries that are likewise seeking to wean themselves off technology from China. Whether these companies can meet that demand and do so at a sufficiently low price point will be a challenge, one that many other drone manufacturers have failed to overcome.