Taiwan's Homegrown Submarine at the Center of Political Firestorm
Accusations of leaking sensitive information about the submarine program – including to China – have sparked a wave of lawsuits and counter-suits.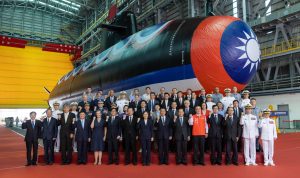 Taiwan's first domestically developed diesel submarine – the Hai Kun, first of a class by the same name – was unveiled on September 28 in a moment of great fanfare. The Hai Kun takes its name from a Chinese mythological sea monster capable of flight, although it was translated in English as the "Narwhal." 
The launch ceremony was presided over by Taiwanese President Tsai Ing-wen, who touted the achievement. "In the past, many people thought building an indigenous submarine would be an impossible task. But we have made it," she stated.
This sentiment was reiterated by Tsai in her National Day address on October 10, during which she asserted, "For the last three decades, producing a domestically-developed submarine has been a dream of presidents from different parties."
Tsai has generally framed the domestically manufactured submarine as intended to strengthen Taiwan's asymmetric defense. However, some critics of the submarine program see the Hai Kun class as a "big ticket" item that is flashy but costly, and that Taiwan should be investing its resources elsewhere. 
This links into growing criticism that Taiwan is seeking to pass off more and more security spending as "asymmetric defense" to appeal to the United States. The U.S. has continued to push Taiwan to invest more in asymmetric defense, particularly in the wake of the Russian invasion of Ukraine. Part of Taiwan's cautiousness regarding asymmetric defense, however, may be because adopting such a strategy leaves it reliant on the U.S., whose views on supporting Taiwan could potentially shift. 
It is notable that Tsai framed the development of the Narwhal as a bipartisan endeavor, an accomplishment of no small amount of national pride for many members of the public. Even still, partisanship immediately set in between both major political camps around the time of the unveiling, with the submarine used as ammo for political attacks ahead of next year's January election.  
Ahead of the unveiling ceremony, in comments to the media Admiral Huang Shu-kuang, the head of the Indigenous Defense Submarine program and a former chief of the General Staff for the military, lashed out at "certain legislators" for seeking to obstruct submarine development. Huang is the older brother of former Taipei Deputy Mayor Huang Shan-shan of the Taiwan People's Party, who unsuccessfully ran for Taipei mayor on behalf of the pan-Blue third party in 2022. 
When asked by reporters at the unveiling whom he was referring to, Huang responded, "Guess yourselves." Huang stated that the individual he was referring to had leaked information on the submarine to try and prevent Taiwan from acquiring necessary "red zone" equipment for the submarine, and that local arms dealers had leaked information to the Chinese government after losing the bid for the project. 
Later that day, retired navy captain and arms dealer Kuo Hsi asserted that KMT legislator Ma Wen-chun was the individual that Huang was referring to. Kuo stated that he had been friends with Ma and passed on reference materials to her, but that he could no longer remain silent. 
Kuo claimed that foreign experts had been arrested due to information leaked by Ma to the national security agencies of other countries. He said that this was documented by witnesses, and could be confirmed through Ma's digital footprint. Kuo also claimed that he had accompanied Ma on trips to China in the past, where she met with the Taiwan Affairs Office and was treated as a guest by Chinese authorities. He asserted that Ma was hoping to curry favor with China through the leak of information about Taiwan's submarine program. 
The two have since sued each other for libel. Ma accused Huang of raising the allegations to try and increase the budget of the domestic submarine program and using Kuo to attack her. She called on the ruling Democratic Progressive Party (DPP) rein him in over what she claims is his leaking of confidential information. 
Kuo has also made other allegations, such as accusing former Chief of Staff Admiral Lee Hsi-ming – who has since retirement become the most publicly well-known proponent of asymmetric defense in Taiwan – of being part of a secret group of naval officers that has betrayed the country. Lee has denied such allegations.
Kuo's political career is also involved, strange as it is. He is currently serving as the chair of Taiwan Mahjong Is Greatest Party, a single-issue party whose platform calls for the legalization of gambling in Taiwan and the promotion of mahjong as a healthy hobby for the elderly. Kuo, a mahjong parlor owner, is likely to be a legislative candidate for the party in next year's election. He has quipped in comments to the media that his legal altercation with Ma had brought him fame.  
It is now believed that Kuo's allegations against Ma refer to the arrest of six South Korean SI Innotec engineers after they returned to South Korea. The engineers were arrested as part of an investigation into the leaking of trade secrets. 
Political commentator Lee Zheng-hao, a former Kuomintang (KMT) politician who later became close to the DPP after being expelled from the KMT for criticizing its 2020 presidential candidate, waded into the controversy. Lee claimed to have information from former naval commander Huang Cheng-hui, which purportedly included classified information obtained by South Korea's National Intelligence Service and recordings of Kuo Hsi speaking with South Korean and British contractors. 
According to Lee, the recording proves Kuo's claims, and illustrates the difficulties that Taiwan faced obtaining technology needed for the submarine. Foreign governments have been extremely reluctant to assist in Taiwanese defense projects, as Beijing has repeatedly threatened retaliation. (The United States is the obvious exception, but it has not built diesel submarines since the 1950s and thus could not provide technological assistance for this project.) In an attempt to avoid attention, contractors had to form new companies that were not in their home countries to allow for technology transfers for submarine construction. 
Lee asserted that Ma had passed on more than 3,000 files, including voice recordings, to South Korea's de facto embassy in Taiwan. Along with DPP legislative candidate Wu Cheng, who publicly criticized efforts by Ma to cut the budget of Taiwan's submarine program as a member of the Foreign Affairs and National Defense Committee, Lee has filed a lawsuit for treason against Ma. 
Meanwhile, KMT Taipei city councilor Hsu Hsiao-hsin released recordings of Kuo allegedly speaking to a South Korean contractor to suggest that Kuo hoped to financially benefit from submarine construction. Hsu, a political firebrand who is a rising star in the KMT, has filed her own lawsuit against Kuo, stating that she hopes to see Huang and even President Tsai Ing-wen called to the stand over the allegations. 
Ma later defended herself by claiming that information about the submarine was passed onto the South Korean government by the Ministry of Foreign Affairs (MOFA). MOFA has denied this and also threatened to sue Ma. 
When questioned about Kuo's role in the submarine program, Minister of National Defense Chiu Kuo-cheng stated that Kuo was retained as a consultant despite being a controversial public figure, but he was let go after a year due to violations. 
As the lawsuits proliferate, it is probable that both pan-Green and pan-Blue politicians are utilizing the situation for political advantage ahead of the January 2024 elections. Taiwan has a highly litigious – and partisan – political culture, in which politicians of opposing camps routinely file lawsuits against each other as a means of political attack. 
More concretely, however, it has emerged that Ma did not sign a confidentiality agreement as a member of the Foreign Affairs and National Defense Committee, though other members of the committee did. Ma was further accused of leaving meetings to make phone calls and taking photos of sensitive information. 
Ma herself acknowledged that she did not sign the agreement, but stated on social media that it was absurd to think she would not comply with confidentiality requirements even if she did not sign it. Since then, the Foreign and National Defense Committee has adopted a resolution that electronic devices will not be brought into meetings, members will be searched by security before meetings, and committee members will be required to sign confidentiality agreements. 
The snowballing scandal takes place at a time when Taiwan is looking to tighten penalties for leaking military secrets. DPP legislators such as Liu Shyh-fang have argued that Taiwan is too lax, with the average jail sentence for spying cases at just over six months, compared to 30 years in other countries. Indeed, DPP politicians probably were hoping to take advantage of the controversy regarding Ma to bolster efforts to increase such penalties. 
Although there has been much discussion of military secrets being leaked to China or South Korea by politicians of the pan-Blue camp, less attention has been paid to the allegations that contractors leaked information to the Chinese government after failing to secure government bids. It is to be seen if there will be further light shed on such allegations down the line. 
For her part, Ma claims that in the past she forwarded information she had obtained to the Ministry of National Defense, but was told it was not sensitive and occurred due to disputes between contractors. 
Either way, the Tsai administration is investigating the allegations, with Premier Chen Chien-jen stating to the legislature on October 6 that the Ministry of Justice and the Ministry of National Defense are both gathering information. Whatever the outcome of this investigation, such leak allegations could further complicate the willingness of other countries to share technology with Taiwan for sensitive projects such as submarines.