Thailand's Mall Shooting Shows That Authorities Must Address Online Black Markets
All over the world, a range of new, evolving technologies are disrupting national arms control strategies. The Paragon mall shooting highlighted the deadly results.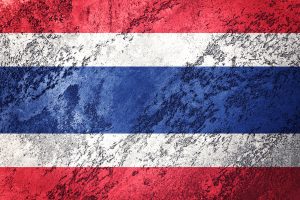 Thailand's recent mall shooting is tied to a thriving online black market for guns. The shooter – a teenager from a privileged background apparently suffering from mental illness – used a blank-firing pistol converted to fire live ammunition to attack his victims in Bangkok's iconic Siam Paragon mall. 
The perpetrator is someone who legally never should have gotten his hands on a weapon. He was able to do so through a black market for firearms hiding in plain sight. Thai authorities must decide whether they are willing to forge new approaches to policing this space in order to prevent future tragedy. 
According to a senior police official, the gunman used a weapon that he purchased online. Simple searches on Thailand's popular social media platforms like Line, X (formerly Twitter), Facebook, and YouTube quickly direct users to an active illicit market for firearms, ammunition, restricted components, and fraudulent documents. Payments are done remotely and anonymously while shipments are facilitated through courier services using basic concealment methods. 
The gunman may have even purchased the weapon legally through e-commerce platforms as blank-firing weapons are traded with few restrictions. Such guns can be easily converted to fire live ammunition, and once again, simple searches on social media turn up modification tutorials. According to the Bangkok Post, this weapon was modified with the help of a YouTube video.
All over the world, lawmakers and law enforcers are confronted with a range of new, evolving technologies (such as improved 3D printing, new hard-to-detect materials, and innovative conversion techniques) that are disrupting national arms control strategies. Such technologies reduce barriers to entry to illicit markets; increase their volume, velocity, and reach; and provide space for criminal innovation.
The Paragon mall shooting shows just how disruptive even the most mundane and accessible "emerging" technology – social media – can be. Even a troubled teenager can acquire a lethal firearm from the comfort of his own home with only a phone. 
Thai law enforcers claim that policing online black markets is a difficult task that few officers have adequate training or experience in. Other countries in the region and beyond are confronted with similar challenges as their citizens become more digitally connected. 
If emerging technologies reduce the barriers to entry into black markets, law enforcement and legislators must innovate measures to increase the costs and risks to participants. Thailand could be a prime testing ground for confronting digital black markets.
To do so, Thai authorities must be bold and decisive: Gun laws must be updated, new partnerships need to be leveraged, and law enforcers must be agile in policing these spaces.
First, Thailand's main gun law, which was enacted in 1947, must be radically updated. Piecemeal updates simply aren't enough to counteract evolving technologies and marketplaces. Nothing within the 1947 law explicitly forbids creating or posting media that shows users how to illegally manufacture, modify, sell, conceal, or ship arms and ammunition. 
Second, new technologies mean new stakeholders must be leveraged to combat gun trafficking. Authorities should consider what liability social media and e-commerce companies have in ensuring their platforms aren't used for illicit activities, and whether exchanging information online with the intent of gun trafficking constitutes digital harm. According to Mitzi Austero, a regional expert focusing on arms control policy, digital harm is still a vaguely defined legal concept that could provide governments with more leverage in holding social media platforms accountable if expanded to include already-illegal activities in the analog world.
In addition to social media, courier companies can be engaged to better detect contraband shipments. Educators can be consulted to better understand how youth engage in such markets and to better educate youth about the risks involved. Mental health professionals could be engaged to detect when patients express or manifest harmful behaviors.
Third, law enforcement agencies must be innovative in policing online markets. Machine learning-assisted research into the composition of online black markets would provide valuable and timely intelligence into how markets behave and how they can be disrupted. Collaboration between law enforcement agencies can increase the impact of investigations. Police can leverage inroads made by agencies already combatting online illicit markets, such as customs, tax, and transport authorities.
The day after the shooting, Interior Minister Anutin Charnvirakul announced seven short-term measures to improve gun control. The proposed policy changes miss the gravitational center of the online black market, which is social media. Thai authorities must avoid short-term policy tweaks that fail to address the root causes of arms trafficking and can be easily scuttled. They must also abandon a laissez-faire mentality that tolerates illicit economies so long as they don't cause problems for the government; they clearly do.
Bringing Thailand's online black markets under control will take years of effort and would likely require several other meaningful reforms not discussed here. It will also require trial and error as well as a willingness to engage international and civil society partners to develop solutions that promote security without compromising human and civil rights.
The reward will be worth the effort. A safe and vibrant digital economy is essential as Thailand seeks to become a modern, high-income country by 2027. By confronting its online black market for firearms, Thailand can be a proving ground and a global leader for a complex emerging challenge faced by governments all over the world. The next tragedy can be delayed, and even prevented, if Thailand takes meaningful steps.