Adjusting Pakistan's Tech Sector Priorities 
Pakistan's IT exports nearly doubled over the past five years, but that rate of growth is not sustainable – unless the government takes drastic action.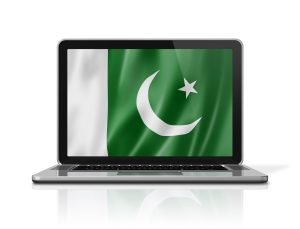 In a series of statements, top government officials have predicted optimistic figures for Pakistan's future information technology (IT) exports. The former minister of Information Technology, Syed Aminul Haque, had expressed the determination to push Pakistan's IT exports to $15 billion from the existing $2.6 billion over the next few years. The current caretaker minister, Dr. Umar Saif, has shown a similar resolve to take the sector's exports to $10-20 billion. 
These hovering claims are the result of the IT sector's positive performance over the last couple of years. With a compound annual growth rate (CAGR) of 30 percent, Pakistan's IT sector has demonstrated a phenomenal upward growth of 178 percent over the last five years. In terms of growth, the sector surpasses all other local industries in services and even the textile sector. 
The unprecedented growth in IT exports was partly the result of COVID-19 restrictions, when the majority of operations were shifted to online, web-based tasks. Pakistan's IT exports grew from $1.29 billion in 2019 to $1.72 billion in 2020 and $2.45 billion in 2021. That, in turn, encouraged the bulging youth population of the country to learn IT-related skills, which not only resulted in a boom in freelancing but also helped to elevate the sector's growth. 
However, against the towering ambition to take exports to $10-20 billion in the next five years, the sector has remained stagnant in the current fiscal year. Although the IT sector of Pakistan has demonstrated significant growth during the last couple of years, the government must take drastic measures to streamline its approach, and facilitate the private sector adopting innovative initiatives. Only then can Pakistan attain sustainable IT export growth.
According to the Ministry of IT and Telecommunications, a plan to achieve $10 billion IT exports has been approved by the caretaker prime minister. Under this plan, some 200,000 under-training IT professionals are expected to generate $5 billion in export outputs in the short to medium term. Co-working facilities for 500,000 freelancers and the operationalization of international online payment processing platforms will add another $3 billion to the export output. Furthermore, the institutionalization of dollar retention accounts, utilizing venture capital to raise investments for startups, forward-looking taxation policies, and active spectrum sharing are part of the plan to increase IT exports. 
Although the caretaker Ministry of IT and Telecom led by Saif has industry experience to execute the outlined plan, it should show more consistency to succeed in the implementation of these measures. The IT industry has long been yearning for consistency in government policies to eschew away uncertainty. For instance, it has long been contended that frequently altering the taxation regime for the IT sector has not only impacted investors' confidence but forced companies to shift their operations out of Pakistan. 
Businesses operate differently in the tech sector than the traditional industries. With consistent changes in the policy measures, companies opt to withdraw their operations and move to countries where the investment climate is favorable. Thus, instead of giving over-stretched plans, the government should ensure certainty in its policies for the facilitation of industry. 
Another major hurdle to grow the export potential of the IT sector has been the retention of export proceeds of companies and freelancers in their special foreign currency accounts. The State Bank of Pakistan, after revisiting its policies earlier this year, has allowed companies and freelancers involved in the export of software, IT services and IT Enabled Services (ITeS) to credit or retain only 35 percent of their foreign exchange earnings. These measures have further been eased recently to raise the limit to 50 percent. 
The development is encouraging, yet various entities and individuals operating in the industry still show reluctance to park 100 percent of their foreign earnings in Pakistan, instead choosing to hold them abroad. 
One of the main reasons for not allowing the retention of a full percentage of export proceedings is that the State Bank of Pakistan requires foreign currency – namely, U.S. dollars – to ensure the import of certain items for the manufacturing industry. Interestingly, unlike other industries, the IT industry's imports are almost none, as it's a services-based sector. Ergo, easing the limit on the retention of export proceeds is not only possible but indispensable for the growth of the country's exports.
Consistency in taxation and flexible banking policies for the IT sector are essential for an enabling business environment to attract foreign investors and overall nation branding. Steps to enhance an active ecosystem through access to fast and uninterrupted internet, incubation centers, and skill development programs are secondary to the above-mentioned measures. 
Moreover, political stability is the most crucial and top required ingredient for nation branding that aims to facilitate foreign direct investment and trade, boost international exchanges and partnerships, sustain development of key sectors including IT, and foster sustainable economic growth. 
The government-led and military-backed Special Investment Facilitation Council (SIFC) is primarily aimed at the nation branding of Pakistan. But without ensuring a sound political environment and undertaking structural reforms for ease of doing business, it would be unwise to expect the success of such an initiative. Therefore, the government and the Ministry of IT and Telecommunications should prioritize requirements that would have a positive impact on the export output of the IT sector in particular and overall economy in general. 
After standardizing an enabling environment and improving upon nation branding, the priority should be channeling substantial sums of investment into research and development (R&D) not only to diversify the IT services base but also to build a wide range of tech products. Currently, almost the entire IT export earning is services-based, with software development services being at the top. Meanwhile, top countries advancing in IT exports have been mastering in the production of latest technologies and tools, including but not limited to transistors and chips, drones and robotics, smart cars, 3D printers, space missions, navigation systems, digital human interfaces, chatbots, and AI transformation services. 
It's the need of the hour for Pakistan to capitalize on its fair ties with the West and better terms with China, and take tech-based government-to-government as well as business-to-business initiatives. Already, there are existing mechanisms between Islamabad and Beijing to explore opportunities in each other's markets and accelerate the collaboration on AI-based services and products. Pakistan's government should pay heed to such initiatives and facilitate and expedite such processes toward implementation. 
Second, Pakistan has a robust defense industry. It's crucial to involve the private tech sector to innovate defense products in order to diversify and increase exports. This collaboration should be aimed at substituting the current automobile industry with eco-friendly electric vehicles. Given the country's huge agricultural potential, efforts should also be made to revolutionize the agriculture sector by manufacturing and introducing drones and robotics for irrigation and other services. 
In today's world, the applicability and utility of IT encompasses almost every aspect of a nation. It is up to policymakers and authorities how they perceive and make use of it. Instead of proposing hasty plans, Pakistan must prioritize steps for sustainable long-term growth of the IT sector. It can only be achieved by tackling problems in the right order: i.e., political stability, structural reforms in taxation and banking, standardizing tech ecosystem and FDI in R&D. This is the standard step-by-step approach over which other nations have thrived and achieved a sustainable IT export base. If properly planned, prioritized, and executed, the IT industry of Pakistan, within a span of a decade, can fix the current account deficit and shape the financial future of the country.