An Indonesian Constitutional Court Scandal and an Election in Jeopardy
An October 16 ruling by the Constitutional Court could reshape the upcoming presidential contest, and even the future trajectory of Indonesian democracy.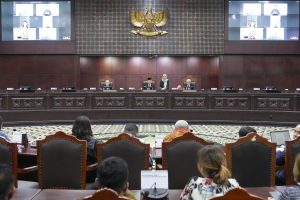 On October 16, with the bang of a gavel, Chief Justice Anwar Usman, the former head of Indonesia's Constitutional Court, ignited a firestorm deep within the heart of Indonesian law.
Chief Justice Usman, who sat cloaked in a crimson robe alongside a panel of eight other Constitutional Court judges, was presiding over seven judicial review requests to lower the minimum age for presidential and vice-presidential candidates from the current 40 years to 35, in a nail-biting ruling ahead of Indonesia's presidential election to be held on February 14 next year.
It was a verdict that had been hotly anticipated for weeks.
If the court ruled to lower the age limit to 35, it would mean that Gibran Rakabuming Raka, the 36-year-old son of current Indonesian President Joko "Jokowi" Widodo, would be eligible to run as a vice-presidential candidate and, for months, rumors had swirled that Gibran was fixing to be presidential-hopeful Prabowo Subianto's running mate.
In broader terms, Gibran's potential ascent to the vice-presidential candidacy was taken by many as a sign that Jokowi was keen to cement his political legacy, as he is ineligible to run for the presidency again having already served the maximum two terms in office.
When the verdict was finally handed down by Chief Justice Usman, who is also Jokowi's brother-in-law, many in Indonesia rejoiced.
The judges found that the determination of age limits should be the domain of Indonesia's parliament and did not have "reasoning according to law," ostensibly upholding the 40-year-old threshold.
Both Indonesian and international media reported the news in an instant, as social media exploded with praise for the independence of the court system and a rejection of so-called "dynasty politics" which has long plagued the country.
Yet buried in the judges' verdict was a caveat that almost everyone initially missed.
Candidates running for president or vice president would have to meet the current 40-year-old minimum, or have previously held public office.
That caveat, never before signed into law, would mean that Gibran was eligible to run, having served as the mayor of the city of Surakarta, also known as Solo, for the past two years.
The online celebrations quickly fell flat, replaced instead with outrage.
Almost immediately, complaints were filed to the Constitutional Court Honorary Council, which rules on alleged breaches of ethics, demanding that Usman's conduct be scrutinized and calling for the original Constitutional Court ruling to be overturned.
One of the main complaints was that Usman, Jokowi's brother-in-law, had refused to recuse himself from the Constitutional Court proceedings, as he had done in previous cases. Critics said that his involvement in this case represented a conflict of interest, especially given that Usman had cast the deciding vote.
The case was convoluted from the outset.
Mancur Sinaga, a lawyer based in the city of Medan in North Sumatra, told The Diplomat that the case was complicated by the fact that neither Jokowi nor Gibran had actually filed the initial legal challenge themselves, meaning that the issue of a conflict of interest was somewhat muddied.
"There was never any direct line between them and the judicial review," he said. "So the issue of whether Usman's ruling favored them will always be disputed."
While neither Gibran nor Jokowi launched the judicial reviews themselves, one of the petitioners included the Indonesian Solidarity Party, which has since appointed Jokowi's second son, Kaesang Pangarep, as its chair.
Just a few weeks after the fateful Constitutional Court decision, on November 7, three judges of the Constitutional Court Honorary Council helmed by Judge Jimly Assiddique, announced their televised verdict on the growing legal scandal.
Eight of the judges were given a verbal warning for breaching Constitutional Court ethics given that Usman did not recuse himself, and Usman was additionally found guilty of a "gross violation" of the court's ethics code.
In the ruling, the council found that Usman had "violated the judges' ethical code, specifically the principle of neutrality and integrity."
When the verdict was handed down, the courtroom erupted with applause, which was quickly hushed by Asshiddique, who perhaps had good reason to dampen the celebrations.
While Usman was fired from his position as the head of the court, he remains a Constitutional Court judge, although he is now no longer allowed to rule on election-related cases and is not eligible to be nominated, or nominate himself, as chair of the Constitutional Court until the end of his term.
While it may have appeared as if Usman had been rebuked, many saw the verdict as a mere slap on the wrist.
In a statement provided to The Diplomat, the Foundation of the Indonesian Legal Aid Institute branded the Honorary Council's verdict "a problematic decision, harming equality before the law and hurting the sense of justice of citizens."
The statement also described Usman's conduct as "disgraceful" and said that he should have been dishonorably dismissed, an opinion that only one of three judges on the panel, Bintan S. Saragih, agreed with in his dissenting opinion.
For his part, Asshiddique said that he chose not to fire Usman as it would have required the establishment of an appeals panel and "could result in an election process that is not peaceful."
But the election process may still be turbulent, according to experts.
Titi Anggraini, an advisory board member of the Association for Elections and Democracy and a constitutional law lecturer at Universitas Indonesia, said that the Constitutional Court and Honorary Council decisions will continue to be questioned during the presidential election contest, especially by Prabowo and Gibran's political opponents.
"This will become even stronger during the campaign period and ahead of the voting," she said. "Legal efforts will also continue to be taken by dissatisfied parties, starting from filing a lawsuit again at the Constitutional Court or challenging the election regulations at the Supreme Court."
She added, "The narrative about Gibran's candidacy being illegitimate will continue to be voiced, especially on social media, with the aim of influencing voters and gaining support."
One of the main ongoing points of contention is that the Honorary Council did not overturn the original controversial Constitutional Court decision, although, as a statutory body, it does not have the right to do so.
Yet the Legal Aid Foundation told The Diplomat that, under Indonesian law, a verdict can be deemed invalid if it is made by a judge who has a conflict of interest, and must be re-examined by a different judge, although this has never been done at a Constitutional Court level before and would have set a legal precedent.
Ian Wilson, a lecturer in politics and security studies at Perth's Murdoch University, said that, while there are no legal impediments to Gibran's candidacy, the Honorary Council's finding of a conflict of interest in the ruling casts a long shadow over its political legitimacy.
"Considering indications of broader public distaste at Jokowi's dynastic turn, his political rivals are likely to attempt to capitalize upon this. Regardless of the election outcome, it will remain a lingering question mark over his political career," he said.
The choice of Gibran as a candidate, who entered politics just two years ago and who previously owned a pancake business, has fueled criticism in Indonesia that Jokowi is trying to create a political dynasty in the world's third-largest democracy, although this in itself is not unprecedented.
Megawati Sukarnoputri, who was president from 2001 to 2004, is the daughter of Indonesia's first president Sukarno, and Prabowo is the son-in-law of Suharto, Indonesia's second president who ruled Indonesia for 30 years from 1968 onwards.
In addition to the issue of dynastic politics, Alex Arifianto, a research fellow at the S. Rajaratnam School of International Studies in Singapore, said that the Constitutional Court's decision raises further concerns regarding judicial independence in Indonesia.
"It raises concerns on whether the Constitutional Court may rule fairly and objectively next year if the losing candidates file a legal challenge against the winner, questioning the fairness of the electoral process," Arifianto said. "Many analysts are doubting it can do so again like in the 2014 and 2019 elections."
Both of Indonesia's last two presidential elections were followed by legal challenges from the losing candidate, Prabowo Subianto.
To guard against any more questions around the integrity of Indonesia's Constitutional Court, the Foundation of the Indonesian Legal Aid Institute said that Usman, who they referred to as a "perpetrator of nepotism," should immediately resign as a judge as he was "no longer fit to hold the position."
Whether Usman does this or not, many predict that there will doubtless be tensions across Indonesia if Prabowo and Gibran win.
That could well happen.
According to a survey by Indonesian pollster Indikator Politik Indonesia at the beginning of November, 39.7 percent of respondents would vote for Prabowo and 30 percent for Ganjar Pranowo, the current governor of Central Java. A third presidential candidate, the former governor of Jakarta, Anies Baswedan, has long trailed behind both Prabowo and Ganjar.
Berlian Simarmata, a law lecturer at Santo Thomas Catholic University in Medan, said that "almost certainly the election results would be challenged by somebody because of the original Constitutional Court decision," and that any legal challenge could have wider implications across the country.
"The real worry is that the election result will be seen as invalid by supporters of other candidates and that could be very volatile," he said.
"We could see wide-scale demonstrations across Indonesia and great civil unrest if people refuse to accept the new presidency and vice-presidency as legal."