ASEAN Defense Ministers Call For Gaza Ceasefire, Myanmar Solution
The calls came as the 17th ASEAN Defense Ministers' Meeting convened in Jakarta, amid a host of pressing international crises.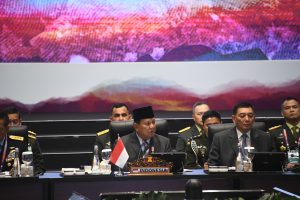 Southeast Asian defense ministers called yesterday for an immediate ceasefire in the Israel-Hamas war, calm in the South China Sea, and a resolution to Myanmar's ongoing civil war, as they gathered for a regional security meeting in Jakarta.
Defense chiefs from the Association of Southeast Asian Nations (ASEAN) are attending the two-day meeting along with key dialogue partners, at troubled time in international affairs, with crises and flashpoints raging from Gaza to Ukraine to the South China Sea.
In his speech to the opening ceremony of the 17th ASEAN Defense Ministers' Meeting, Indonesian Defense Minister Prabowo Subianto referenced the recent outbreak of conflict in the Middle East. He said that his government was "deeply saddened" by the deteriorating conditions in Gaza, and said that Israel's attacks on civilians "must stop."
"Indonesia's stance is clear and firm," Prabowo said, Reuters reported. "We push and call for immediate cessation of hostilities and the immediate setting up of corridors for humanitarian assistance."
Indonesia, which does not maintain diplomatic relations with Israel, has a long history of support for the Palestinian cause. Since October 7, when the current war was sparked by gruesome raids into southern Israel by the militant group Hamas, it has voiced strong concerns about the Israel Defense Forces' retaliatory attacks on Gaza.
Three days after the Hamas attacks, President Joko "Jokowi" Widodo called for an immediate ceasefire and said that "the root cause of the conflict, which is the occupation of Palestinian land by Israel," had to be "resolved immediately." He repeated the message in his meeting with U.S. President Joe Biden, Jokowi appealed to him "to do more to stop the atrocities in Gaza."
At yesterday's meeting, Prabowo also urged his counterparts to push for concrete progress toward a peaceful solution to the ongoing conflict in Myanmar, which has been in a state of civil war since shortly after the military coup of February 2021.
In a joint declaration, the defense ministers reiterated the significance of respecting international rules to prevent maritime clashes in the South China Sea, where Chinese and Philippine vessels have engaged in a series of dangerous confrontations in recent months. It called on all parties to exercise "self-restraint in the conduct of activities that would complicate or escalate disputes and affect peace and stability."
They also reiterated a commitment to negotiate the Code of Conduct in the South China Sea, which China and ASEAN agreed to create in 2002, but which has seen sluggish progress since. Indonesia, the Southeast Asian bloc's current chair, has previously announced its intention to negotiate the Code within three years.
The ASEAN defense ministers also addressed the ongoing civil war in Myanmar, though the military government's defense minister did not take part in the meeting, in line with ASEAN's informal policy to exclude junta representation at high-level meetings of the bloc, due to its failure to implement the Five-Point Consensus.
"We are saddened with a deteriorating situation in Myanmar," Prabowo said in his speech. "Indonesia encourages other ASEAN member states to support Myanmar to find a peaceful and durable solution to the current situation."
In their joint declaration, the defense chiefs called on "all parties concerned" to cease all violence in Myanmar and urged "full implementation" of the ASEAN Five-Point Consensus peace plan. The plan, which was brokered in April 2021, calls for an immediate cessation of violence and inclusive political dialogue aimed at resolving the country's conflict, but the military administration has repeatedly violated both its letter and spirit in the two-and-a-half years since.
None of this suggests any change in ASEAN's approach to Myanmar, which has been restrained by its consensus-based decision making model – several member states are opposed to any more forceful intervention in the country's affairs – and its conservative interpretation of "non-interference."
But the meeting of ASEAN defense chiefs come as resistance forces are making significant territorial gains in northern Shan State and other parts of the country, severely stretching the military and threatening to bring down its hated house-of-cards regime. In the end, the one thing that may force a change to ASEAN's stubbornly stagnant approach may be the rapid developments on the ground.